Red Canyon, The Blues, Powell Point, Upper Valley Graineries
Scenic Byway 12 winds through the heart of scenic Bryce Canyon Country, beginning just five miles south of Panguitch and running for 124 miles through the wealth of archaeological, natural, and recreational wonders this spectacular canyon country has to offer. Whether you have three hours or three days to experience Scenic Byway 12, you'll find the route breathtaking, intriguing, and well worth the trip.

Heading east on Scenic Byway 12, spectacular Red Canyon is one of the first waysides you'll encounter. Located in Dixie National Forest near Bryce Canyon National Park, you'll find hoodoos sculpted from red rock Claron limestone much like those found within the national park's boundaries.  Red Canyon's hoodoos, which follow the byway for about four miles, can be explored up close and personal with short hikes along the many trails, or by biking the paved five-mile Red Canyon Bike Path.  Mountain bikers will enjoy exploring the 7.9-mile Thunder Mountain Trail, while ATV riders can access the Casto Canyon Trail from the north side of Red Canyon.  Losee Canyon Trail is another popular hiking and mountain biking trail in Red Canyon.  The Red Canyon Visitor Center, run by the U.S. Forest Service, is about four miles from the beginning of Scenic Byway 12.  A campground across run by the U.S. Forest Service near the visitor center gives you the option of spending the night so you can spend more time exploring scenic Red Canyon.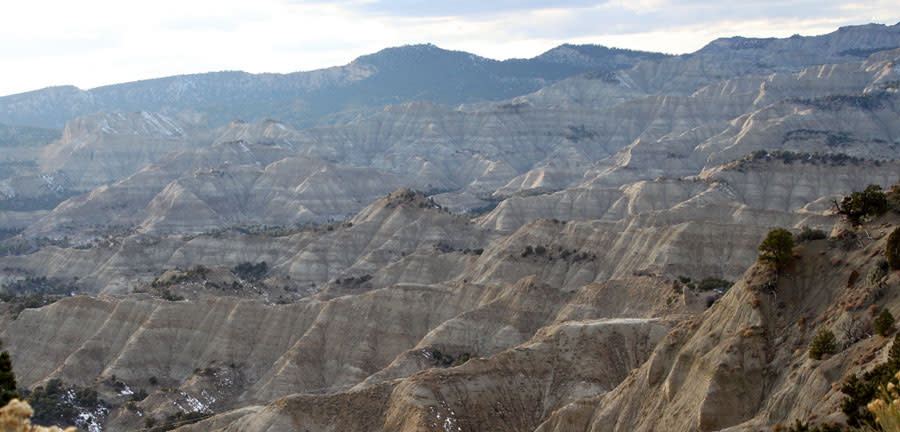 Continuing along Scenic Byway 12, about 12.5 miles east of Henrieville, you'll encounter a section of mudstone and sandstone badlands known locally as The Blues.  The almost unnatural blue-green-gray landscape is a striking contrast to the red rock canyons typically found in Bryce Canyon Country. The badlands are the result of an ancient ocean which covered the area about 80 million years ago.  Yet this seemingly sparse section of Grand Staircase Escalante National Monument, part of the the Kaiparowits Formation, is rich in fossil history from the Cretaceous Period.  From Upper Blues Overlook, you'll have a fantastic view of Powell Point's pink limestone cliffs.  Scenic Byway 12 descends through the valley to Lower Blue Overlook, for more stunning views of The Blues and of Powell Point, named for famed expeditioner John Wesley Powell.

After a short stop overlooking The Blues, the next wayside along Scenic Byway 12 is the Upper Valley Graineries, just eight miles east.  The Ancestral Puebloan relic is nestled into a cliff face, and believed to have been used as a storage structure for grains, corn, and other foods. A viewing tube helps visitors zoom in on the structure, which blends in well with the surrounding cliffs.