Horseback riding in Bryce Canyon Country is a great way to see some of southern Utah's most spectacular scenery. A variety of equestrian trails skirt in and around sections of several national parks, forests, and monuments.
Several outfitters in and around Bryce Canyon offer guided horseback rides and equestrian trail information. Ruby's Inn, at the gateway to Bryce Canyon National Park, offers a variety of half and full-day guided horseback rides. From Panguitch Lake to Escalante to Boulder Mountain, riders can join up with outfitters for true Wild West horseback riding adventures.
Thunder Mountain is one of the most popular trails in Bryce Canyon country. The 8-mile trail follows a dry wash before climbing a series of switchbacks leading to a ridge overlooking Red Canyon and the Sevier River Valley. The trail ends at the Coyote Hollow Trailhead, a shorter 2-mile riding trail.
The Cassidy, Rich, and Ledge Point Trails loop together for a total of eight to ten miles of riding trails. These moderately difficult equestrian trails climb to Ledge Point for views of Red Canyon, the Sevier River, Brian Head, and the Markagunt Plateau. There's an incredible view of Losee Canyon from Brayton Point, where hitching posts are available.
Explore More
The 3-mile Losee Canyon trail winds through the canyon floor amongst red rock hoodoos and sandstone cliffs, leading into Red Canyon. Explore this outlaw territory, once a hideout for Butch Cassidy and his Wild Bunch, located just 12 miles west of Bryce Canyon.
One of the most spectacular horseback trails in Bryce Canyon Country is the Fremont Trail. This high-elevation, 50-mile trail winds through forests and plateaus, with an elevation range of 7,880 feet to 9,030 feet and incredible red rock canyon vistas. The Fremont Trail begins at Tropic Reservoir and heads north across Highway 12 to the Paiute Trail.
Horseback riders seeking a shorter trail will enjoy the Golden Wall, Castle Bridge, and Buckhorn Trails. Combined into a 3.1-mile loop, the trails wind through yellow-gold limestone walls. The horseback trail climbs up from the Golden Wall through a series of switchbacks, climbs, and descents, to the Buckhorn Trail.
The Paunsaugunt Trail offers up to 75 miles of riding trails, with views of Grand Staircase Escalante National Monument, the Pink Cliffs of the Grand Staircase, and the Kaibab Plateau. This trail also begins at Tropic Reservoir, with the main loop heading south and intersecting the Great Western Trail. This high-elevation trail peaks at 9,200 feet.
Other popular horseback excursions include riding in Bryce Canyon National Park amongst the incredible red rock hoodoos and ancient bristlecone forests. Riders are permitted to bring their own horses or mules but there are guidelines that must be followed. Read more about bringing your own horse or mule here.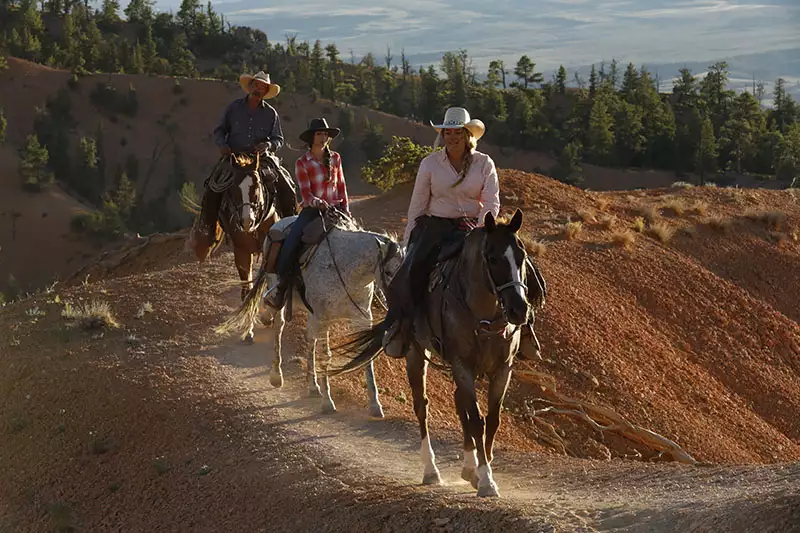 Horseback Guides