Hiking
Information
You'll find that Bryce Canyon National Park is filled with endless miles of hiking trails, ranging from pleasant walks to strenuous back-country hikes – and everything in between. In Bryce Canyon there's a hiking trail to suit the experience or energy level of just about anyone.
Most Popular Trails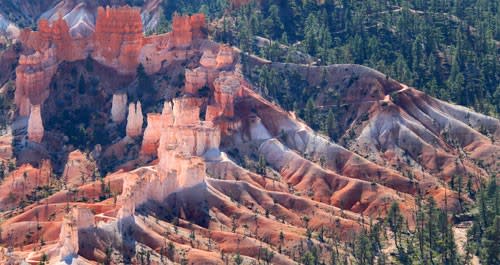 The Rim Trail (4.7-miles) connects to some of the more popular viewpoints in Bryce Canyon, including Sunset Point, Sunrise Point, Bryce Point, and Inspiration Point. You can walk along all or part of this fairly easy trail, which has an elevation gain of just 200 feet and offers spectacular views of Bryce Amphitheater. The segment between Sunset and Sunrise Points is even paved for stroller and wheelchair accessibility.
The best perspective, is obtained by hiking into Bryce Amphitheater via the Navajo Loop Trail from Sunset Point. Most trails like this offer a fairly easy descent but you'll find this to be a strenuous 2.2-mile loop as you ascend up the 521 feet from the floor of the amphitheater. Remember that you are at elevations near 8,000 feet and the air is much thinner than at sea-level, so plan accordingly. The Navajo Loop trail winds through a section called Wall Street, which is a steep-walled narrow collection of hoodoo formations, accompanied by large collections of Douglas fir trees.
From the Navajo Loop you have the option of going back up the trail or connecting to the Queen's Garden Trail. This 1.5-mile trail meanders through floor of the amphitheater through the magical section called Queen's Garden and past unique rock formations that look something like Queen Victoria (the trail's namesake), or other formations with names such as Gulliver's Castle and the Queen's Castle. The Queen's Garden Trail returns to the canyon rim at Sunrise Point, with a return elevation gain of 320 feet. In combination with Navajo Loop, this total hike is just three miles long but will likely take about two to three hours as you take time for photographs and a gradual ascent back to the rim.
A particularly beautiful trail is Fairyland Loop which begins outside the main area of the park at Fairyland Point. This is a lesser visited overlook and one very much worth the visit. The Fairyland Loop trail descends approximately 1,000 feet and can be used to connect to other trails in the park. This trail brings up close and personal views of the remarkable limestone hoodoos. Fairyland Loop is a lengthy 8.2 miles that ventures through Fairyland and Campbell amphitheaters and circles around the formation called Boat Mesa. The highest point in the park at 9,115 feet is Rainbow Point located at the southern end of the park. From Rainbow Point, you can take a stroll on the one-mile Bristlecone Loop Trail to see some of the most expansive views of the park and beyond. Don't miss the opportunity to travel on a spur trail that leads to views of the Grand Staircase Escalante National Monument at Yovimpa Point. It is here that you find a good size stand of Bristlecone pines which can live up to 1,000 years.
Backcountry Trails & Permits
Two of Bryce Canyon National Park's back-country trails begin at the southwestern end of the park. At Rainbow Point, you'll find the Under the Rim Trail which is a lengthy 23-mile trail that will take you through Bryce Canyon's rugged backcountry and conclude at Bryce Point. Stop at the visitor center to acquire a mandatory back-country permit so you can camp overnight on this trail in one of the eight designated campgrounds. Use the same process if you wish to experience the Riggs Springs Loop Trail which begins at Yovimpa Point. This hiking trail swings through an ancient bristlecone forest and aspen grove, while offering dynamic views. There is a spring on this trail but, for drinking safety, all water should be treated. Please note that open campfires are not permitted in the back-country of Bryce Canyon.
Horseback & Hiking Trails
Equestrians and hikers can both enjoy the Peekaboo Loop trail. This 5.5-mile trail has an elevation gain of 827 feet and begins at Bryce Point. The Peekaboo Loop trail follows several switchbacks down into Bryce Amphitheater, and eventually ties into the Navajo Loop trail.
Outer Trails
From Scenic Byway 12 near the town of Tropic (three miles northwest) you can access Mossy Cave Trail. This is an easy, one-mile hike venture that allows hikers to meander amidst the hoodoos without the necessity of hiking from the rim. Check a map to see the location of this trail-head.
For further information, please contact the Garfield County Travel Council. 1-800-444-6689.
Hiking in Bryce Canyon Country
The diversity of hiking opportunities in Bryce Canyon Country exceeds most destinations in America. From low desert terrain, slot canyons, through national parks and monuments, and into high mountain forests, this region has more to offer than experienced in several months of hiking. So come for a week, stay in our area hotels and lodging, and enjoy day hikes in all directions and varied elevations.
Bryce Canyon National Park offers a long list of hiking trails, but below is a list of a few other great hiking experiences you may wish to consider.
Kodachrome Basin
Offer opportunities to follow ancient paths that may date back to early Anasazi Native Americans. Evidence suggests that these native travelers were some of the first to wend their way through these otherworldly rock formations.
This ground level hiking experience offers plenty of room to get up-close-and-personal with the prevalent desert plant life. The Grand Parade Trail is a scenic 1.5 mile (2.4 km) trail on the valley floor of Kodachrome Basin, offers the chance to explore two box canyons. The trail is open to mountain bikers, hikers, and horses and gives travelers great exposure to Kodachrome's famous spires.
View this and other Kodachrome Basin trails.
The Grand Staircase
With a reasonably sturdy vehicle you can drive down Hole in the Rock Road, and visit slot canyons such as Spooky Gulch, Peek-a-boo, or areas such as The Devils Garden or Coyote Gulch.
Box Death Hollow Wilderness Area
(For rugged hikers) is remote and offers very few marked trails. There are three maintained trails in Box Death Hollow: Coleman Trail, Roundy Trail, and The Box. At 7,740 feet The Box begins at the Upper Box Trailhead and follow and sometimes crosses Pine Creek over a nine mile course. Box Death Hollow's canyons frequently are flooded after rain storms, so take extra precautions in this wilderness area. The best times to explore are late spring, summer, and fall and please note that vehicle access is restricted in much of the Wilderness Area. The view from Hell's Backbone Bridge is one of the most scenic in southern Utah.
Upper Calf Creek Falls
Upper Calf Creek Falls is an 88 foot cascading waterfall located just upstream from Lower Calf Creek. This secluded waterfall is hidden in a small sandstone canyon that is lined with volcanic boulders and obscured from trail view. This short hike, just two miles roundtrip, is a steep descent and suited to those with moderate trail experience. The trail has an unmarked trailhead, making it tricky to find. The entrance is between mile makers 81 and 80 on the west side of Scenic Byway 12, 22.4 miles Northeast of Escalante. The 300 yards of dirt road that leads to the trail is rough and sandy.
Lower Calf Creek Falls
At 5.84 miles round trip, the Lower Calf Creek Falls trail meanders alongside the serene, cooling waters of Calf Creek. Nestled in a gorgeous Navajo sandstone canyon, the trail casually winds along with the crystal clear waters of Calf Creek and culminates in a spectacular cascade that falls 130 feet into a large, aqua and emerald colored pool. The trail is a fantastic hike for families, as the the creek and steep canyon walls keep temperatures comfortable.
Hiking Tips
1. Always tell someone where you are going and when you expect to be back. Send a text or leave a voice-mail message with family or friends, and where possible, leave a copy of your map and itinerary at your place of lodging.
2. Study maps and read about the places you intend to explore. Consider your own personal abilities, along with the type of terrain, trail length, expected weather, altitude, and the amount of gear, food and water you will need and can carry. For trails that are off the beaten path it is always good to bring a compass and a topographical map.
3. Carry layers of clothing, first aid supplies, and some food and water. Water sources are unreliable and you can bring a water filter along with at least one liter of water per-person for shorter hikes, and more water for longer experiences.
4. Winter comes early and stays late in much of the region's higher elevations. Back-country roads and trails may not be well maintained during harsh weather conditions. Check for road closures, flash flood warnings.