It's time again to remind everyone about the great mountain biking opportunities in this region.  Start planning now for your next great biking adventure.
The beauty of Utah's vast deserts and unending skies can be enjoyed in many ways and mountain biking just happens to be one of the most popular (and it's the perfect way to avoid the tourist crowds). Within the borders of Bryce Canyon National Park itself, off-road biking is not permitted, but many cycle enthusiasts have discovered the majestic views of several secluded trails surrounding the most famous landscapes of Southern Utah's famous canyon.   (Read more about mountain biking in this area here).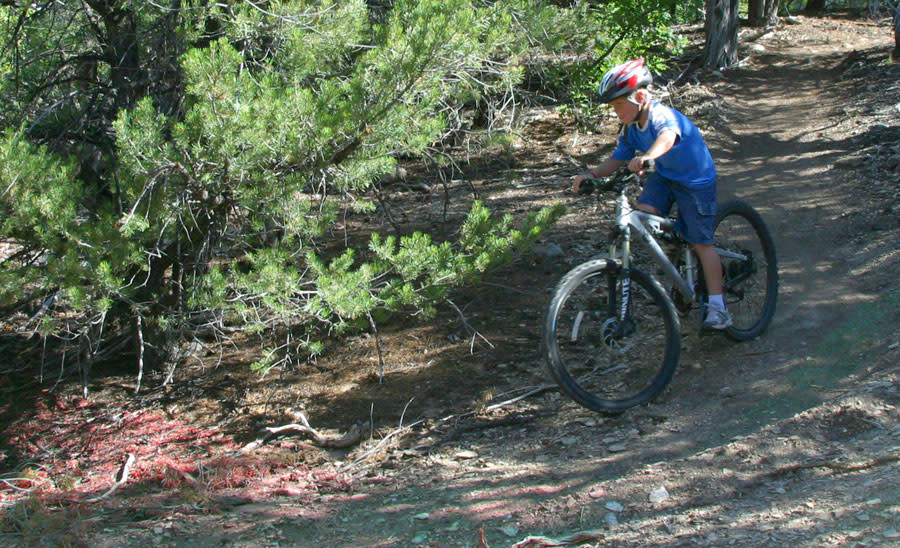 Even younger riders can enjoy some of these mountain biking trails.
The canyon's most established and well-known lodge, Ruby's Inn, provides the entrance to Dave's Hollow trail while other off-road adventures such as Casto Canyon, Red Canyon, Tropic Reservoir, Pine Lake, Kodachrome Basin, and Powell Point trails are nearby. Bicycles are permitted along paved roads within the Bryce Canyon National Park.
Trails:  (read below or visit this link) Casto Canyon Trail: Amid the tantalizing scents of pine and cedar lays the spires of orange rock that rise above the southwestern canyon walls. The lower area of Casto Canyon is bursting with Douglas firs, long-leaf pine, and sprinklings of sage brush and wildflowers. In May the trail's winter snow has all but melted, and visitors can enjoy hiking and ATV riding. Most of the trail is single-track, and it offers many twists and turns through the arid rock formations. Casto Canyon trail is a beautiful and up-close exploration of Utah's canyon lands.
Losee Canyon Trail: Connected to the infamous Cassidy Trailhead and located east of Red canyon Visitor Center on Highway 12, the Losee Canyon trail begins at the bottom of Losee Canyon and takes visitors on a scenic trip along the canyon floor. Hikers can wind their way through the dramatic red hoodoos and the multi-colored sandstone cliffs that lead into the higher elevations of Red Canyon.
Red Canyon Trail: The five mile, paved bike trail that runs through Red Canyon takes visitors on a scenic route through ponderosa pine forests to the great Paunsagunt Plateau, with access to the Grand View Trail, and the famous Thunder Mountain Trail.
Thunder Mountain Trail: The upper section of this 7.8 mile mountain trail gives riders a breathtaking view of the old growth ponderosa pine desert forest, while the lower area of the trail takes travelers through the majestic wonders of Utah's famous red rock.
Cassidy Trail: Follow in the footsteps of Butch Cassidy and his gang of outlaws on this 8.9 mile trail. Boasting rugged red rocks and dusty landscape of the Wild West, riders can wind their way through the majestic scents of ponderosa pines and perhaps ever spot one of the sought-after Butch Cassidy hideouts.