Wildlife
Information
Bryce Canyon and the surrounding canyons and forests are home to a diverse population of high desert and mountain wildlife. In the Bryce Canyon area researchers have identified 59 species of mammals, 175 species of birds, 11 types of reptiles, and 4 kinds of amphibians.
Bryce Canyon's mammal population includes porcupines, racoons, the Utah prairie dog, and the more plentiful mule deer. Mule deer tend to migrate to lower elevations during winter, along with mountain lions, bobcats, and coyotes. Elk, pronghorn antelope, fox, ground squirrels and marmots also found in this region and on rare occasions, a black bear may be sighted in the forested high-country.
With a higher altitude and generally cooler temperatures, the Bryce Canyon National Park area is home to reptiles and amphibians such as the Short-Horned Lizard, Striped Whipsnake, Great Basin Rattlesnake, and the Tiger Salamander.
The Great Basin Rattlesnake may be sighted in lower elevations areas of Bryce Canyon National Park or in and around the lower and warmer elevations of the Grand Staircase. Over 175 species of birds have been identified in this region, and are most visible between May and October. Swifts and swallows are common in summer but migrate further south for winter. Other birds frequently spotted include the Golden Eagle and a variety of owls, and jays. Perhaps most common are beautiful but brash black ravens which reside in the park year-round. Turkey vultures are not uncommon and but it is more rare to see the endangered California Condor which is the largest land bird in North America, sporting a wingspan of up ten feet. If you spot a California Condor in the Bryce Canyon National Park area it is suggested that you report this to a park ranger.
Visitors are encouraged to view all wildlife at a safe distance, and reminded to never feed wild animals.
Bird Watching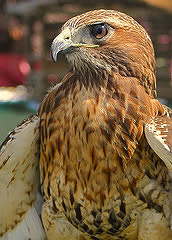 From the Broad-tailes Hummingbird to the Red-tailed Hawk and even the Turkey Vulture, Garfield County has an impressive array of avian residents as well as passers through.
A sharp eye and a good set of binoculars can lead the weekend watcher or the professional ornithologist to a treasure trove of bird species.
Local bird watching activities include: Birding in Boulder.