Astronomy
Information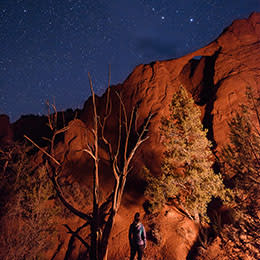 Looking up into the starry, night sky provides a sense of wonder and excitement for many. However, many individuals are missing out on the beauty, wonder and glow that comes from the stars, as most of the world's population lives surrounded by city lights. Around one-third of the world's population are not able to see the Milky Way where they live because of the light pollution that fills towns and urban areas.
Bryce Canyon Country, located in southern Utah, is a low-populated area that is far from any major cities. The red cliffs and impressive amphitheaters full of human-like spires are not the only scenery visitors enjoy in the area.
STARGAZING LOCATIONS
The combination of the towering red rocks and shimmering sky can be seen in many areas. Visit four of the best places in Bryce Canyon Country to have optimal star-viewing experiences.
Bryce Canyon National Park: can show visitors up to 7,500 stars on a moonless night. As stargazers look at the sky, the Milky Way stretches from horizon to horizon. Among the stars, some planets, including Venus and Jupiter, can be seen and are shining brightly enough to cast a shadow.
Kodachrome State Park: has clear, beautiful night skies. "The night skies over here are some of the best I've seen," said Prajit Ravindran, who has a passion for astrophotography. Night photography along with wildlife watching, camping and hiking are perfect activities in the park, with the sandstone, sandpipe columns as a backdrop.
Grand Staircase Escalante National Monument: is a large, remote monument, making it a great place for campers to experience the night sky. Visitors have an opportunity to stay in campgrounds or "primitive camping locations" and sleep under the stars.
Capitol Reef National Park: is the seventh unit of the National Park Service to become an "International Dark Sky Park" designated by the International Dark-Sky Association. Being labelled a "Gold Tier" park signifies of the highest-quality night skies that come during the annual International Dark Sky Week.
Each of these places brings a unique stargazing experience that no one should miss as they travel throughout the parks.
STARGAZING EVENTS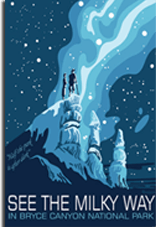 Bryce Canyon National Park also has events for stargazing enthusiasts. The staff, rangers and volunteers are qualified to give detailed astronomy presentations that occur on Wednesday and Friday evenings between May and September. During the new moon each month, night hikes are offered for 1-2 days. These guided hikes are limited and give an exclusive look at the moonlight casting spooky shadows on the hoodoos.
Another highlight during the summer in Bryce Canyon is the Astronomy Festival, which celebrates the new moon in late June or early July each year. During the festival, rangers conduct more nightly presentations and night hikes. Experts also lead telescope-viewing sessions throughout the festival. Other star-related events in the park are programs and workshops focusing on topics including selecting and operating telescopes and involving the entire family in astronomy.
To find out more about astronomy in Bryce Canyon National Park call (435)834-5322 or visit www.nps.gov. If you want to book a private night sky activity through Dark Ranger Telescope Tours click here.