COVID-19 Traveler Alerts
---
(Updated 8/10/2020)
Bryce Canyon Country recognizes that travelers are concerned about impacts related to COVID-19.  As information is continually changing, we are making every effort to be a reliable resource and provide you with the most up-to-date information to help you have the best visitor experience.  We want to support travelers during this time, to speak to our staff call 1-800-444-6689 or email us at info@brycecanyoncountry.com.  
Please be advised that Garfield County is now in the Green or New Normal Risk Phase according to the Utah Leads Together Plan-4.6.  An overview of these guidelines can be found by following this link.
---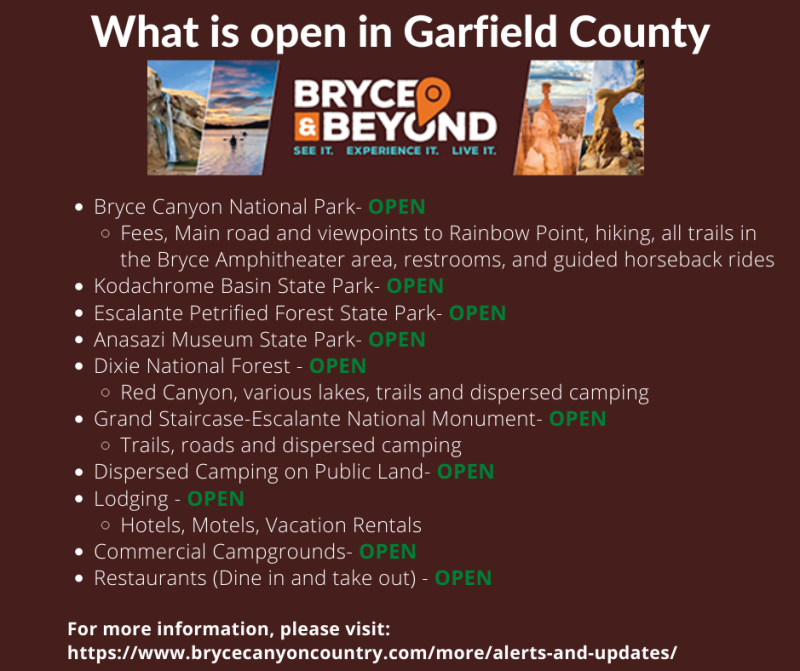 ---
National Parks
Bryce Canyon National Park is OPEN, for additional planning and tips please visit: www.nps.gov/brca
Bryce Canyon National Park is collecting entrance fees from visitors. 
Bryce Canyon National Park has resumed its optional shuttle operation.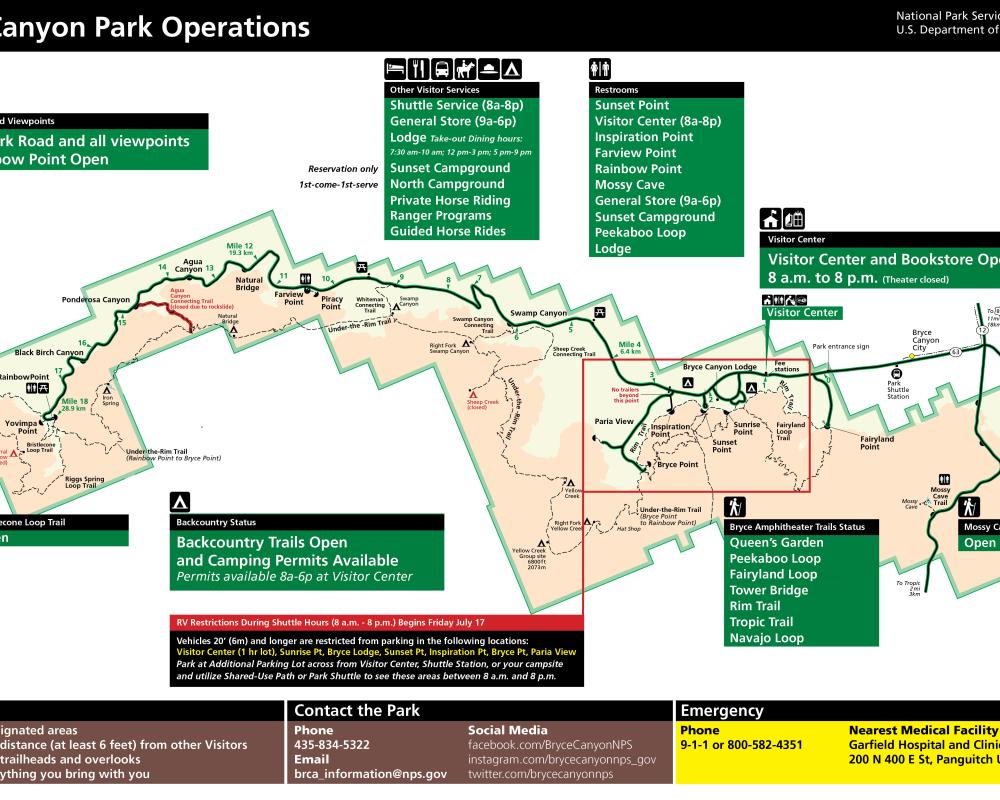 Key Areas and Services that visitors currently have access to:
RV Restrictions (Begin July 17): Vehicles 20' (6m) and longer are restricted from parking in the following Bryce Amphitheater locations:
Visitor Center (1 hr lot), Sunrise Pt, Bryce Lodge, Sunset Pt, Inspiration Pt, Bryce Pt, Paria View
Park at Additional Parking Lot across from Visitor Center, Shuttle Station, or your campsite and utilize Shared-Use Path or Park Shuttle to see these areas between 8 a.m. and 8 p.m.
The free park shuttle has resumed and will run from 8 a.m. to 8 p.m. daily in the Bryce Amphitheater; the Rainbow Bus Tour is not operating at this time; RVs are strongly encouraged to park at the shuttle station and utilize this service or the Shared Use Path. Parking is limited and congested parking lots may experience short-term closures at peak times. Current modifications to regular shuttle operations include:

Shuttle capacity is limited to 20 passengers at one time
Enter and exit through rear doors only (to accommodate plexiglass barrier installed for driver safety)
Visitor groups will be asked to sit together to maintain social distance from other groups
Passengers are asked to self-screen for symptoms posted on all busses, and to not ride if experiencing them
Free face masks will be available to all passengers
Current shuttle operations run from 8 a.m. to 8 p.m.--Check your stop for the last bus time of the day

All roads, trails, and viewpoints
Visitor Center and NHA bookstore: outdoor and indoor operations from 8 a.m. to 8 p.m. The theater remains closed, and in accordance with regional public health guidance on group gatherings, indoor visitor occupancy will be limited for retail or restroom access only
In the Bryce Amphitheater area, restrooms are available at Sunset Point (24 hrs), Inspiration Point (24 hrs)

Along the southern Scenic Drive, restrooms are available at Farview and Rainbow Points (24 hrs)

Mossy Cave parking, restroom, and trail area
Sunset Campground is to the public for camping by reservation only—visit www.recreation.gov for reservation information; North Campground is open for first-come-first-serve-camping.
Backcountry camping permits are available from 8 a.m. to 6 p.m. at the Visitor Center
The General Store and its restrooms are open from 9 a.m. to 6 p.m. showers and laundry service are open from 9 a.m. to 5:30 p.m.
The Lodge at Bryce Canyon is providing overnight lodging at take-out dining; breakfast 7:30 a.m. - 10 a.m., lunch 12 p.m. - 3 p.m., and dinner 5 p.m. - 9 p.m.
Fee booths are currently open and collecting fees / inspecting park passes
Ranger Programs have resumed, click here for additional information. 
 
Capitol Reef National Park
Zion National Park
---
State Parks- OPEN
All public spaces, campgrounds, and trails are open at the three Utah State Park locations in Garfield County. 
Anasazi State Park Museum 
Escalante Petrified Forest State Park
Kodachrome Basin State Park
---
Dixie National Forest Areas
Red Canyon, Dixie National Forest- Trails are open to the public
Dispersed camping is available on most of the Dixie National Forest

Dispersed Camping in Dave's Hollow area is closed.  
Guard stations and group camping sites are not open

Visitor Center in Red Canyon is open Thursday- Monday, 10 a.m. to 4 p.m. 
---
Grand Staircase Escalante National Monument
Visitor Centers Closed
Please remember to social distance on popular trails.
---
As you visit the community please remember things may take more time and everyone is doing the best they can.  Help our community and our visitors by following these guidelines: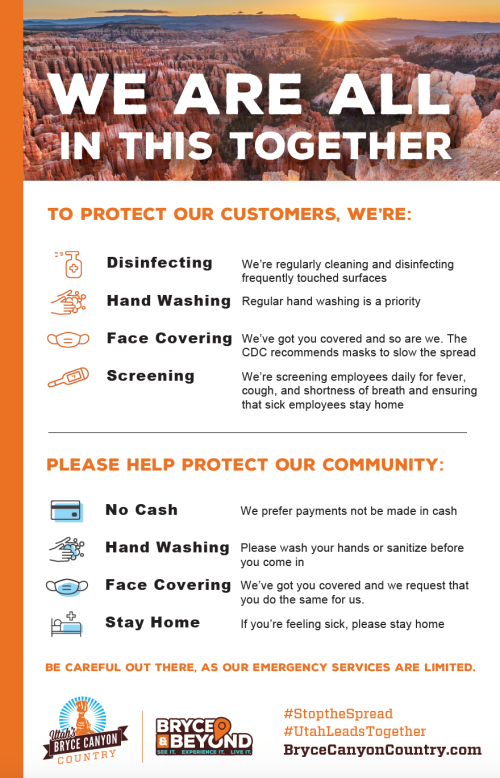 ---
COVID-19 Activity Booklet
Download our COVID-19 Bryce and Beyond Booklet, watch for special contests and prizes for residents and non-residents on our Instagram and Facebook pages (Bryce Canyon Country)
---
Additional Updates County-Wide can be found at: 
Garfield County Commissioner Updates
Local businesses are monitoring this situation closely and continue to take extra precautions to sanitize and clean all public spaces. These businesses are working hard to take their time so you can take your time in our county. The Office of Tourism is doing our best to make sure we keep information current.  Please consider supporting these local businesses, many of them have been here for years and without your support, they may not be here in the future. 
If you are a business and would like to provide an update please email falyn@brycecanyoncountry.com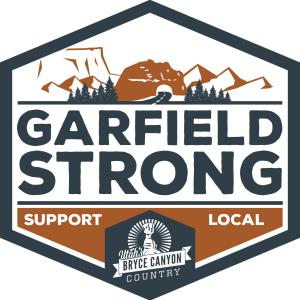 ROAD CONSTRUCTION UPDATE
---
June 12, 2020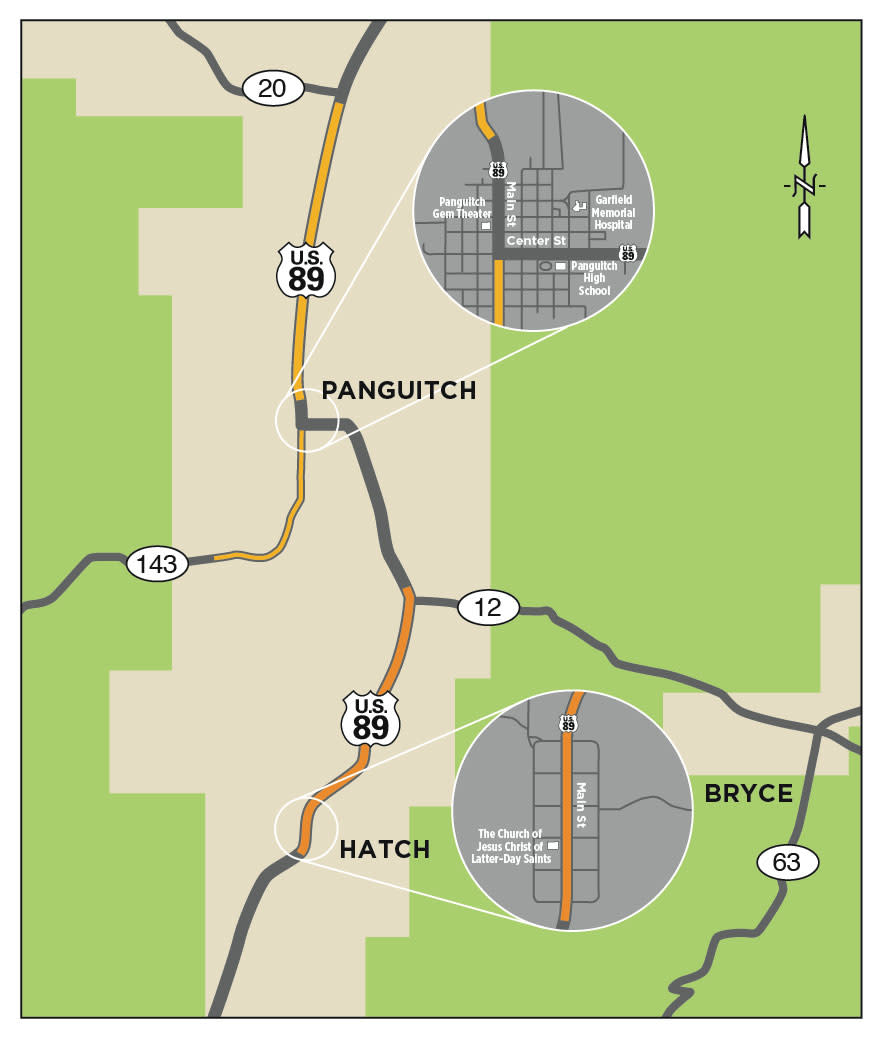 ---
The Utah Department of Transportation is working to improve U.S. Highway 89 near Hatch and Panguitch and a section of State Route 143 towards Panguitch Lake. The project will remove and replace the pavement to extend the life of the roadway.
Work is ongoing through November 2020. Work on S.R. 143 will occur in late Summer and is expected to extend through November 1, 2020. 
ACTIVITIES 
Crews are currently working on paving side streets through Hatch and will be patching U.S. 89 up to S.R. 12. This work is requiring 1-way traffic controlled by a pilot car. 
Beginning as early as Monday, June 15, crews will begin repaving U.S. 89 at S.R. 20 headed south towards Panguitch. Crews will be using an innovative technique called Cold In-place Recycling that reuses the old asphalt by mixing an asphalt recycling agent to the asphalt and laying it back down with a paver. 1-way traffic will be used where work is taking place. Please be aware and drive with caution.
IMPACTS:
Work is expected to occur during the day and will involve one-way traffic operations. Lane widths will be reduced and traffic stoppages of up to 20 minutes are planned. Motorists should plan ahead for delays.
STAY INFORMED:
Project information will be provided via regular email updates. Sign up by emailing US89PanguitchHatch@utah.gov. You can also reach the project team at 888-966-6624.
---
Community Resources
COVID-19 Toolkit
The UOT has carefully crafted a toolkit to support the tourism industry. They have created resources and talking points to host the most timely and accurate information available. Please use this resource to educate yourself on the virus along with helpful tips to protect you and your guests.
---
Local Business Resources
Garfield County has created a page to keep local businesses apprised as resources become available to aid in COVID-19.  
---
COVID-19 Traveler Information
UOT has provided information for travelers on how to make smart decisions on traveling. This is a great resource to direct visitors that may have questions or concerns regarding the safety of travel right now. 
---
Media Contact:
Relic Agency
801-704-7063