Camping in Bryce Canyon Country
Opportunities for camping in Bryce Canyon Country are wide and varied. With elevations ranging from 4,000 to over 11,000 feet, you'll have options to camp in the desert or in high mountain forests. Visitors have a variety of public lands campgrounds to choose from.
Reservations
To make reservations, call (877) 444-6777 or go to www.recreation.gov
Bryce Canyon Country also has many privately owned and operated campgrounds available for reservations.
Bryce Canyon National Park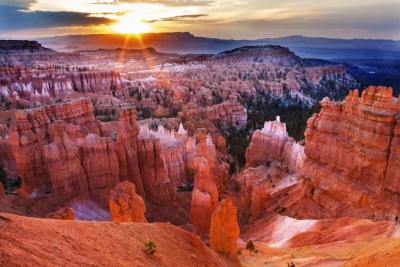 There are two campsites available inside Bryce Canyon National Park, North and Sunset Campgrounds. Setting up camp here puts you a rock-throw away from the tall, majestic hoodoos and red-rock amphitheater that make Bryce Canyon National Park famous.
Both campgrounds have around 100 camping sites with fresh water and flush toilets available. The North Campground is closer to the visitor center and the Sunset Campground is closer to the best hiking trails. Both are surrounded within the sweet smell of Ponderosa pine.
If you think running water is way too civilized when camping, you can take your backpack and be a backcountry camper. Choose from eight campsites along Under-the-Rim Trail or four campsites on the Riggs Spring Loop Trail. You can purchase your permits for overnight stays in-person at the visitor center. Backpacking takes you to places not many people see. Camp only at designated sites and Leave No Trace. Dispersed camping and open fires are not permitted inside the park.
Grand Staircase-Escalante National Monument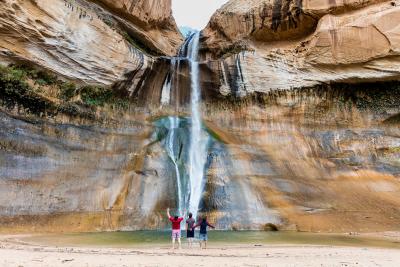 Calf Creek Falls Recreation Area
The Calf Creek Falls Recreation Area campground is the closest camping spot to the Calf Creek Falls trailhead. Calf Creek Falls is a 6-mile round trip trail leading to a beautiful 130-foot waterfall oasis amidst colorful red rocks. Around the campground, there are many activities to explore, including visiting two Fremont granaries and some pictographs located about 1.5 miles up the canyon that date back to approximately A.D. 1200. On top of it all, spring wildflower viewing and great fishing are an additional bonus to camping at Calf Creek Falls.
Calf Creek is a developed campground with restrooms and water. For more of a wilderness experience, many primitive campgrounds are located across the Escalante Canyons region. These campsites provide a secluded camping experience and many are situated near trailheads, slot canyons and monument attractions.
Boulder Mountain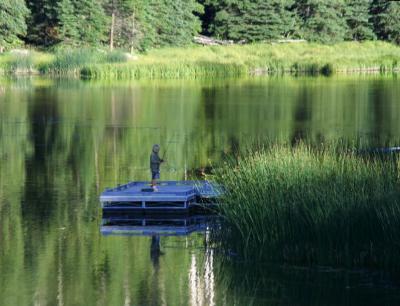 Boulder Mountain offers many camping areas. Colorful meadows, deep green pines, fresh mountain air and 80 sparkling lakes to create the picture-perfect camping opportunity. Fishing is a favorite pastime for many Boulder Mountain campers because large brook trout are plentiful. Backpacking trips allow the adventurer to experience remarkable scenery and stunning views.
Dixie National Forest
 
Red Canyon
The Bureau of Land Management (BLM) campground at Red Canyon in Dixie National Forest is located just off scenic Highway 12 on the way to Bryce Canyon National Park. Red Canyon Campground is surrounded by Ponderosa pines at 7,400 feet elevation. There are 37 campsites and a day-use area. The campground is close to hiking and biking trails, including the 5-mile Red Canyon Bike Trail. The campground is 4 miles west of the intersection of Highway 89 and Scenic Byway 12, making a great base camp for exploring Bryce Canyon Country. The campground is open seasonally from mid-May to October. Campsites are $15 per night and are available on a first-come, first-serve basis.
Pine Lake Campground
If horseback riding, four-wheeling, hiking, fishing, canoeing and mountain biking sound fun, then the Pine Lake Campground is a great place to rest your head for the night. Pine Lake Campground has 33 sites and is safely nestled among tall Ponderosa pines and sits at the foot of mountain peaks flourishing with beautiful green forests and vibrant-colored red and white layers of sandstone.
Kings Creek Campground
Seven miles from Scenic Byway 12 near Tropic Reservoir, 37 campsites in Kings Creek Campground amidst a beautiful conifer forest with fire pits, tent pads and picnic tables. The site is near two breathtaking trails, King Creek and Chimney Rock, which lead to views of hoodoos similar to those found in Bryce Canyon. Bring your fishing pole because fishing and boating are available at Tropic Reservoir. Around this area, there are also many ATV trails.
Kodachrome Basin State Park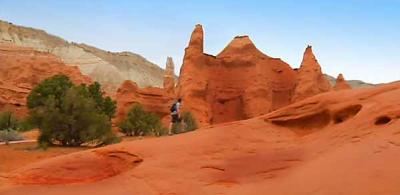 Kodachrome Basin State Park is more than 3,000 feet lower in elevation than Bryce Canyon National Park and can be a good option for camping in lower temperatures during the colder months. The lower elevation means that it will be warmer than Bryce Canyon, particularly at night.
This scenic park, with dramatic sandstone spires in vibrant orange and cream colors, is well worth exploring in its own right. Drive time to Bryce Canyon National Park is about 35 minutes.
Panguitch Lake Area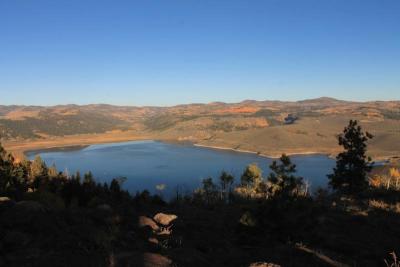 Panguitch Lake Campground is located 14 miles southwest of Panguitch, Utah. The word "Panguitch" comes from a Paiute word meaning "big fish", so it's no coincidence that some of the state's largest rainbow trout are fished from this lake each year.  Visitors also enjoy canoeing and exploring the Panguitch Lake OHV Trail System. The Panguitch Lake North Campground is the larger of the two, with single and double campsites and three group sites. The South Campground is strictly for tent camping (no reservations). Commercial boat rental and launching facilities are available in the North Campground, as well as lodging, groceries, and gasoline. 
Dispersed Camping in Bryce Canyon Country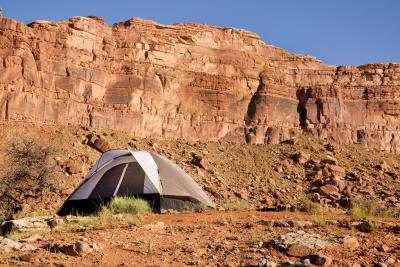 Some visitors like to enjoy their stay in a primitive style by setting up camp outside of any designated campsite area. This rugged form of dispersed camping, sometimes referred to as "boondocking", is a great way to connect with nature and enjoy parts of Bryce Canyon Country that not many people see. Plus, it's free camping.
Dispersed camping is not permitted in all areas. If you're going to set up a primitive camp in this way, please be sure to adhere to the following guidelines:
Only camp on public land

Keep your campsite minimal so as not to disturb the natural environment

Remove any waste you produce, and Leave No Trace

Be respectful of other visitors and wildlife in the area

Keep track of your location so as not to get lost, and stay away from potentially dangerous areas.
Browse Camping and RV Options
Click any of the other camping and RV sites below to learn more about specific accommodations, pricing and other features.