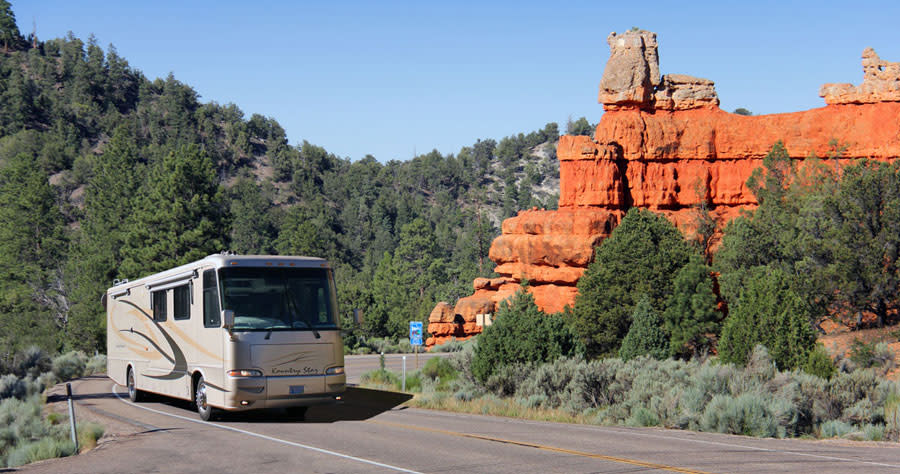 Scenic Byway 12 in Red Canyon, part of the Dixie National Forest.
Scenic Byway 12 takes you on a spectacular 124-mile journey through Bryce Canyon Country's ruggedly beautiful and varied landscape, and was just rated by FoxNews.com as one of the "World's 10 Most Beautiful Highways."   One afternoon on the open road is all it takes to see why.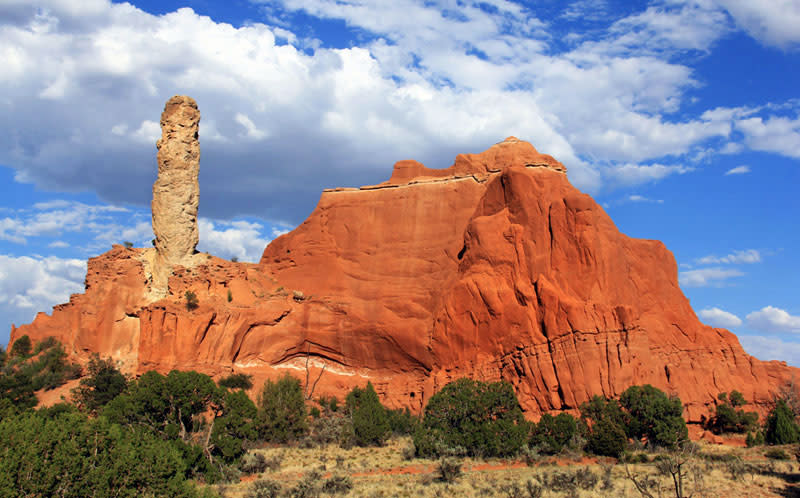 Kodachrome Basin State Park is one of three state parks along Utah's Scenic Byway 12
In Bryce Canyon Country, from Panguitch to Boulder, Scenic Byway 12 cruises at elevations ranging from 4,000 to nearly 10,000 feet through a diverse landscape of red rock formations, cliffs, deep slot canyons, high timbered plateaus and lush alpine forests. Geological, archaeological, historical, and recreational wonders await in the bucolic communities that line the highway, plus three state parks, two national parks, a national forest, and a national monument. Beginning from Panguitch or Hatch, you'll pass through the small towns of Bryce Canyon City (gateway to Bryce Canyon NP), Tropic, Cannonville, Henrieville, Escalante, and Boulder. From the historic red brick buildings in Panguitch to the eroded red hoodoos of Red Canyon and Bryce Canyon to the ancient history unearthed at Anasazi State Park, Scenic Byway 12 takes you on a tour through time, history, and some pretty phenomenal scenery.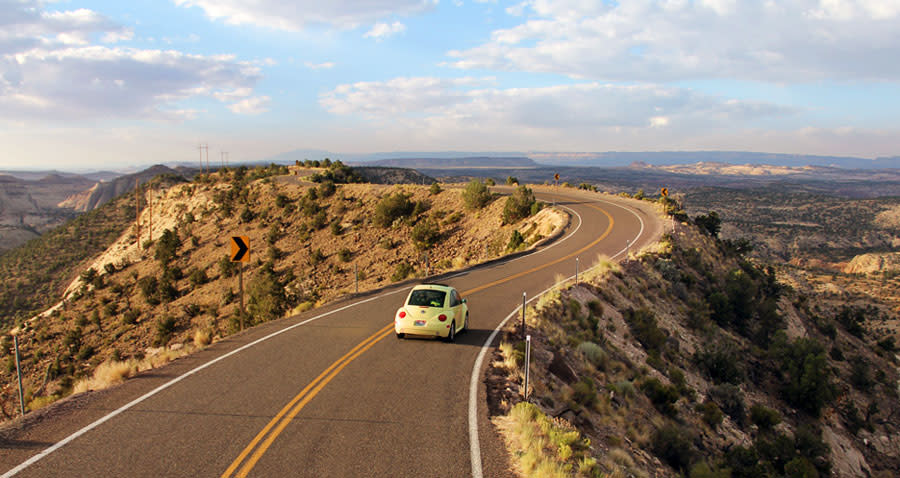 The Hogback on Scenic Byway 12 winds along the spine of this rock formation that drops off 1,000 feet on both sides of the road.  Click on these images to see a larger view.
There are seven official visitor information centers along Scenic Byway 12, also known as Utah's first All-American Road. Interpretive panels are located at points of interest along the highway. Hatch and Panguitch are the gateway towns on the western end of the highway. Boulder is the eastern gateway into Bryce Canyon Country, but you can continue past Boulder and hit the sites on the way to Torrey at the end of Scenic Byway 12. The best-known area destinations include Bryce Canyon and Capitol Reef national parks, Red Canyon, Kodachrome Basin State Park, The Blues/Powell Point Overlook, Upper Valley Graineries, Escalante Petrified Forest State Park, Head of the Rocks Overlook, Boynton Overlook, Escalante River Trailhead, Calf Creek Recreation Area, The Hogback, and Anasazi State Park, plus gems within Dixie National Forest and Grand Staircase-Escalante National Park.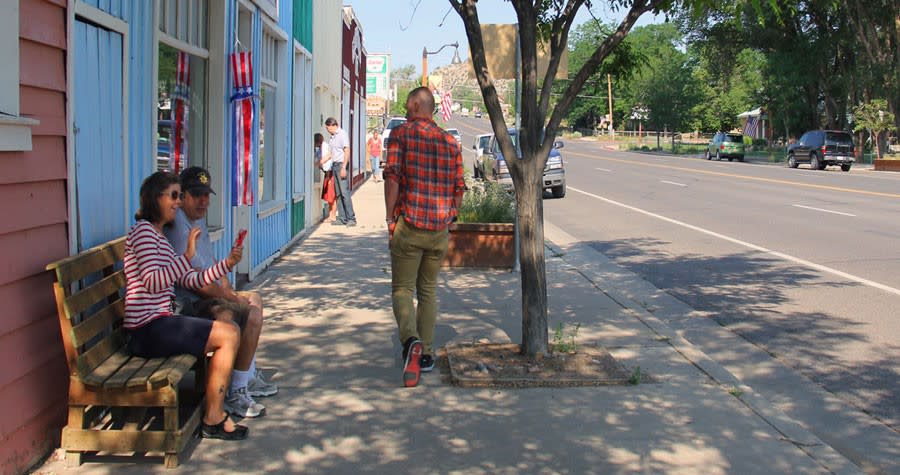 Historic western towns such as Escalante, Utah are part of the Scenic Byway 12 experience.
The byway winds through a recreational paradise that lends itself to all kinds of exciting adventures, including hiking, mountain biking, horseback riding, camping, fishing, rock climbing and canyoneering. Some of the top trails in Bryce Canyon Country accessible from Scenic Byway 12 are Mossy Cave Trail to the Tropic Creek Waterfall, the Escalante River Trailhead, Calf Creek Falls, and the Navajo Loop which descends deep into Bryce Canyon amphitheater.

A view from Scenic Byway 12 toward Boulder, Utah.
From Tropic to Boulder, much of Scenic Byway 12 winds through Grand Staircase Escalante National Monument, one of the most rugged and remote places in the U.S. There's a lot to see but keep in mind that although Scenic Byway 12 has some pretty isolated stretches they make for some pretty impressive views. Head of the Rocks offers expansive views stretching as far as the eye can see. The most famous section of Scenic Byway 12 is The Hogback, a narrow and winding stretch of road along a narrow ledge of slickrock with steep drops into the canyons below. The road peaks out at just over 10,000 feet at Powell Point, and the views are anything but downhill from there.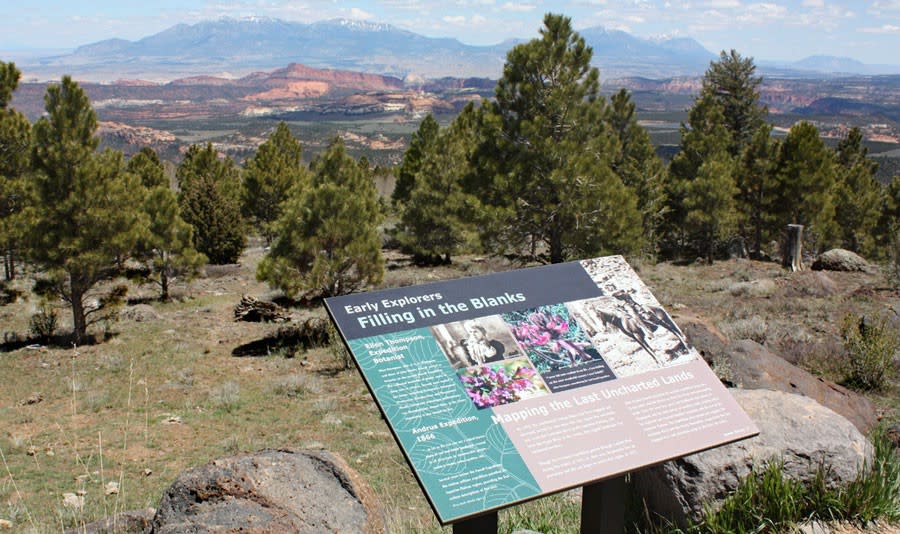 A view toward the Henry Mountains along Scenic Byway 12
As noted by FoxNews.com, "Sometimes, it's not about the destination, but the journey." So hop in the car and head down Scenic Byway 12 through Bryce Canyon Country for a scenic drive you won't forget!
Read the story on FoxNews.com -  World's Most Beautiful Highways. See PDF Version Here. Worlds_10_Most_Beautiful_Highways_FoxNews2013
Read more about Scenic Byway 12.