Stage Two of The Tour of Utah cycling event has just passed through Bryce Canyon Country drawing great crowds to watch these professional riders. On Wednesday of this week, the Tour of Utah ran a course from Panguitch, Utah to Torrey, Utah, covering a distance of 131 miles along Utah's Scenic Byway 12.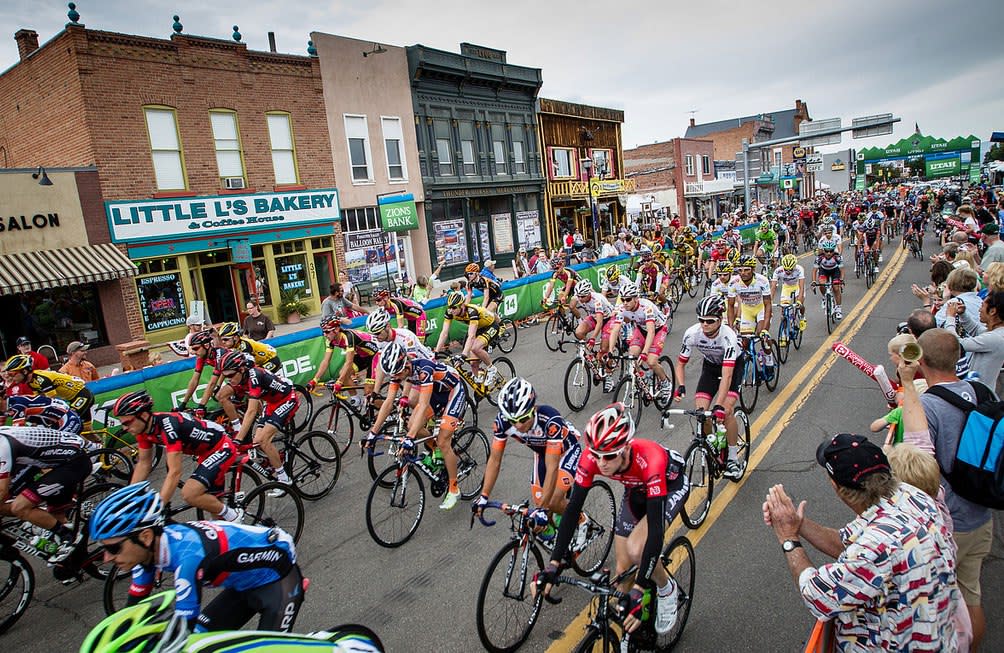 Riders depart Panguitch, Utah as they begin stage two of the Tour of Utah
Horseback riders attempted to keep up with the cyclists at one point of the stage and well wishing fans cheered the riders along the Tour of Utah course. It was not a surprise to have a little drama in the race as three racers crashed, while another cyclist in a second crash had to abandon the race entirely because of injuries. At another point in the race a Brazilian cyclist was able to escape a potential crash, while still being forced of the course.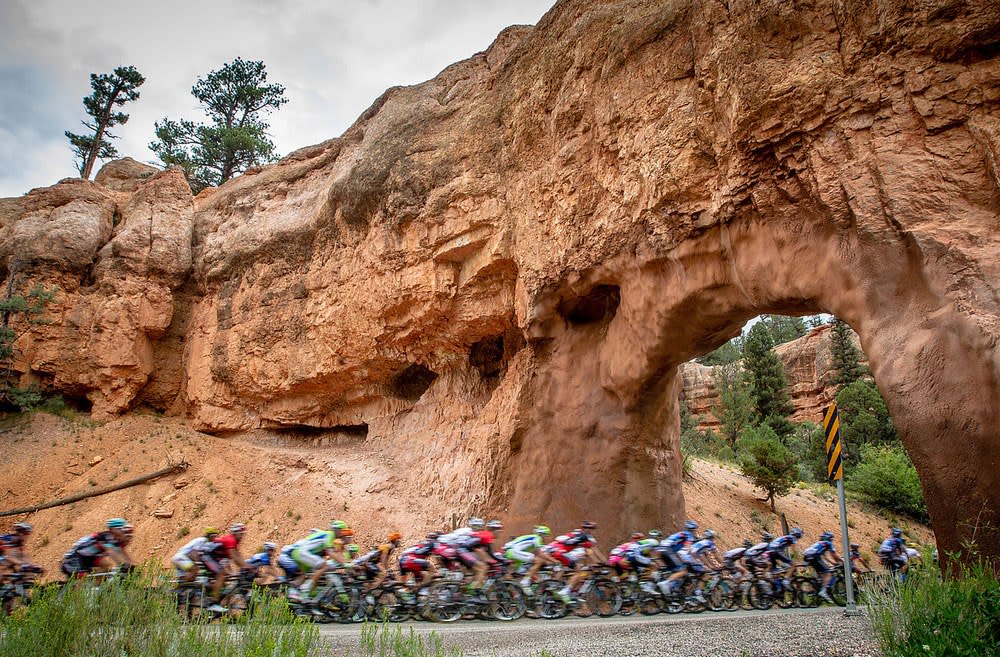 Tour of Utah riders pass through Red Canyon along Scenic Byway 12
Racers passed through the towns of Tropic, Cannonville, Henrieville, Escalante and Boulder before venturing to the top of the Byway 12 summit on Boulder Mountain, and then it was a downhill run toward the town of Torrey. A Latvian racer pulled away from the pack but the main of racers, referred to as a peloton, caught up well before reaching Torrey. Dave Zabriskie of Utah managed to pull away late in the race but he was also reeled in by the main group.
In a time of five hours and 17 minutes Michael Mathews of Australia battled other key racers to the finish line, to win the second stage of the Tour of Utah.
This race began on August 6 and conludes on August 11 and, at its conclusion, racers will have cycled 587 total miles, over six different stages, and climbed over 43,000 of elevation.
When asked what he thought of the Tour of Utah stage two course that runs past Bryce Canyon National Park along Scenic Byway 12 toward Capitol Reef National Park, racer Martin Wesemann of South Africa said, "It's impossible not to notice the mountain and the scenery, it's amazing!"
Learn more about Scenic Byway 12.