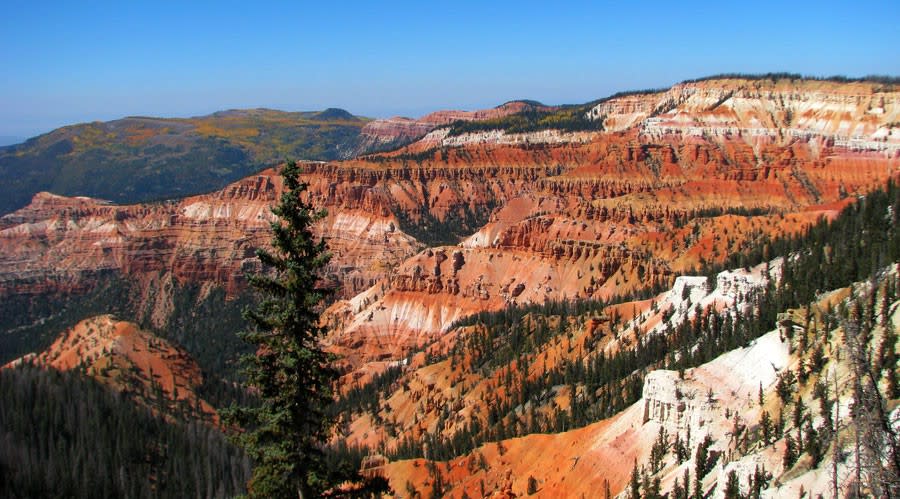 Cedar Breaks National Mounument in the Fall Season.
Scenic Byway 143 winds for 55 miles between Panguitch and Parowan, connecting I-15 to Highway 89 and following the historic migration route used by the ancient Anasazi.  The byway is nicknamed Utah's Patchwork Parkway after the famous Quilt Walk, when pioneers walked on quilts to keep from falling into the deep winter snow as they made the treacherous trek across the mountain pass to save their settlement from starvation.  Bookended by Parowan at 6,000 feet and Panguitch at 6,500 feet, the scenery changes dramatically along the byway as it climbs up over 10,000 feet and back down again, weaving through a patchwork of diverse landscape.  It's a fairly short drive but allow yourself plenty of time to stop and see the sights.
At the intersection of I-15 and Scenic Byway 143, Parowan was settled by pioneers in 1851. The Paiute Indians left their mark in the 600-foot Parowan Gap, nationally recognized for its petroglyphs.   From Parowan you'll pass Hidden Haven on your way to Brian Head, and the spur road to Yankee Meadow Reservoir.  Brian Head is the highest community in Utah at 9,800 feet and a haven for winter sports and recreation.  Brian Head Peak at 11,307 feet is the highest spot on the Markagunt Plateau, and the views stretch for 100 miles from here—you can even see Zion and Bryce Canyon national parks.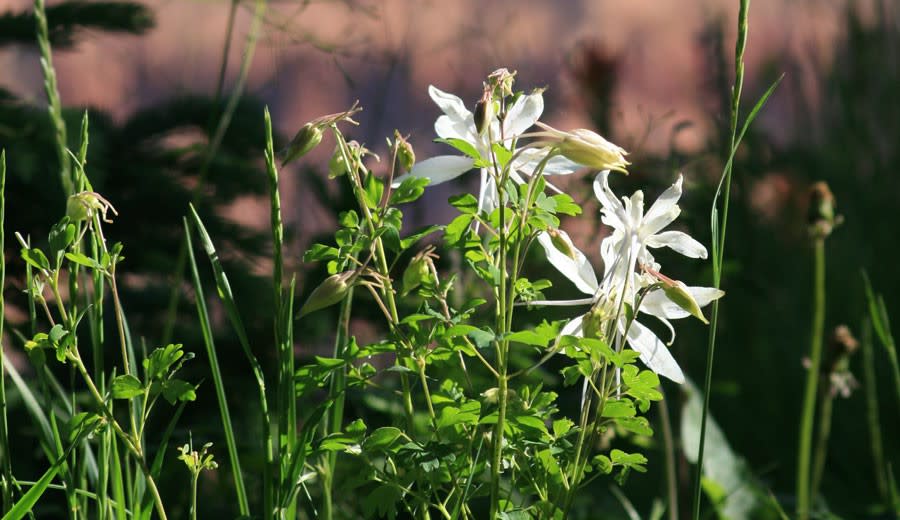 Columbine flowers along Scenic Byway 143 - Utah's Patchwork Parkway
As you cross the Markagunt Plateau you'll be awed by the broad expanse of forests surrounding wide open spaces and the beautiful wildflowers that fill the alpine meadows along the plateau during the summer months. On the edge of the plateau, spectacular Cedar Breaks is a 2,000-foot deep canyon filled with colorful hoodoos and rock formations.  This breathtaking three-mile wide canyon offers incredible views of the Great Basin desert in the distance. From Cedar Breaks National Monument to Panguitch Lake, thousand-year-old lava flows can be found on the plateau, which is the uppermost layer of the Grand Staircase. Panguitch means "big fish" in Paiute, and anglers flock to Panguitch Lake year-round in search of the big catch.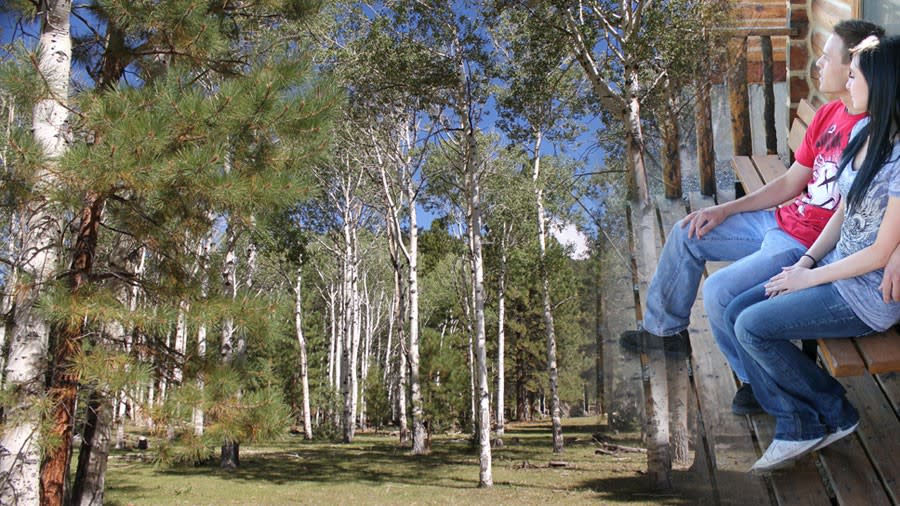 This collage shows the views available from mountain cabins along Scenic Byway 143.
Scenic Byway 143 winds through Dixie National Forest on the way to Panguitch, an old fort town still visually steeped in pioneer history.  Take a walking tour of the historic red brick homes, visit Quilt Walk Park, and the pioneer museum, or take in a show or rodeo at the Triple C Arena. With more than a dozen lodging options plus three campgrounds in Panguitch, you'll be perfectly rested for the next leg of your Bryce Canyon Country adventure.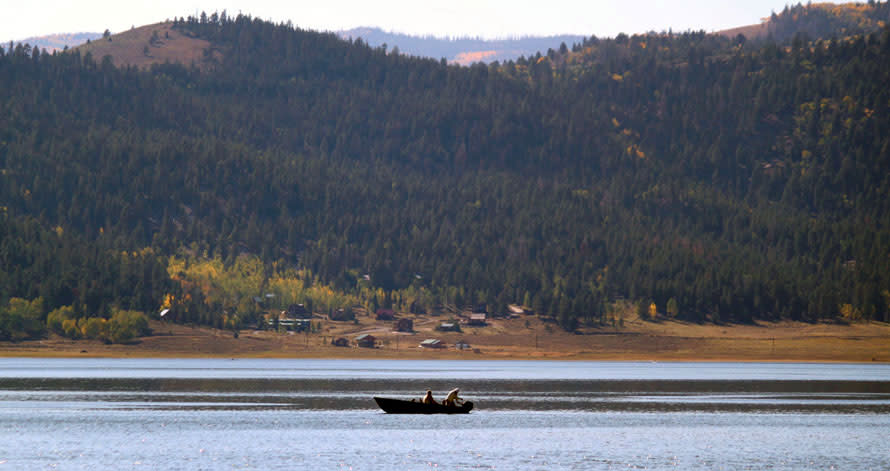 Panguitch Lake along Utah's Scenic Byway 143