Hit the Backcountry Trails: Bryce Canyon National Park's backcountry trails offer rugged adventure in the midst of unimaginable beauty and solitude. Backcountry hikes include the 22.9-mile Under-the-Rim Trail and the 8.8-mile Rigg Springs Loop trail. Expect serious changes in elevation (from 6,800 feet to 9,115 feet) and know your personal limits. There are first-come campsites along both trails and permits are required for all overnight stays. You can also hike into Bryce Canyon from the nearby town of Tropic. Permits are only issued in person at the Visitor Center, and range from $5-15 depending on the size of your group.
We're Here All Year:  Bryce Canyon National Park is open year round. Most visitors flock here in the peak warmer months. At the high elevation (6,800 to 9,000 feet), you can almost always beat the summer heat, especially in the evenings when temperatures drop dramatically. But you can also beat the crowds by visiting in fall or winter, when the snow-capped hoodoos and spires look more beautiful than ever and the air is crisp and dry. It'll be chilly, but since Bryce Canyon is high desert, it rarely drops below freezing.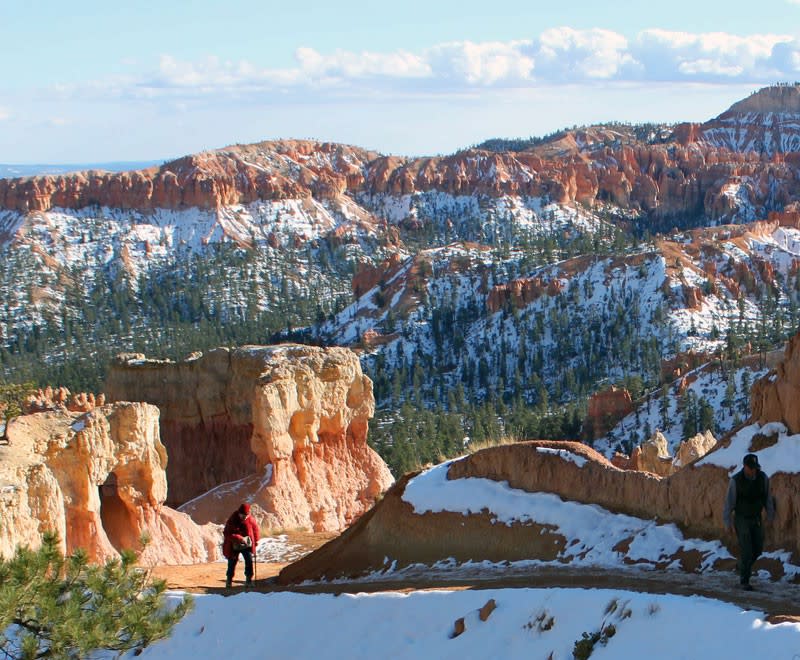 Hiking Trails are usually quite accessible even in winter months.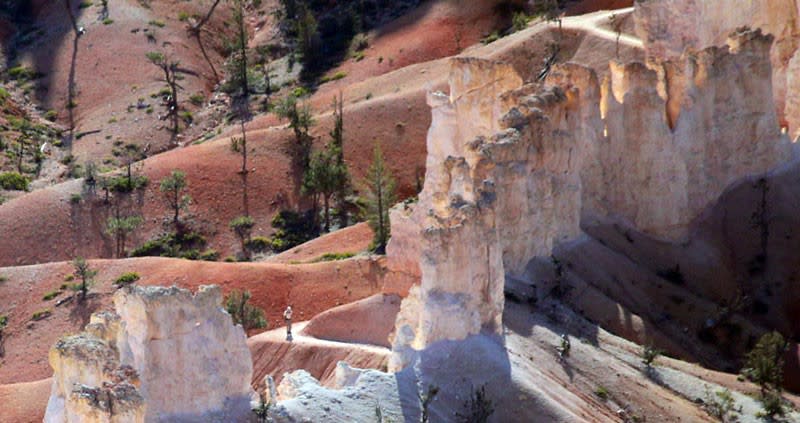 Ranger Programs: Take advantage of Bryce Canyon National Park's free ranger-led programs, including a Junior Ranger program for kids, full moon guided hikes, and an astronomy program. Sign up at the Visitor Center for these programs.
Wish Upon A Star: Bryce Canyon has some of the clearest skies in the country and a 7.4 magnitude night sky, one of the darkest in North America. On a clear night, stargazers can see an estimated 7,500 stars with the naked eye —compared to the dozens typically viewable in brightly lit cities. The annual Bryce Canyon Astronomy Festival attracts thousands of visitors. Check at the Bryce Canyon Visitor Center for stargazing programs that may be available when you visit.
And That's Not All: Bryce Canyon National Park is just the beginning of what Mother Nature has to offer. Red Canyon is just a quick scenic drive along Scenic Byway 12 or ride on the Red Canyon Bike Trail. Known for the 67 towering sand pipes that dominate its desert landscape, Kodachrome Basin State Park is a photographer's paradise. Grosvenor Arch is another must-see, just a short drive through rugged Cottonwood Canyon via Cottonwood Canyon Road.
Sleep and Eat: There are two campgrounds and a lodge inside Bryce Canyon National Park, but if you're looking for other options, there are a variety of lodging, restaurants and other amenities throughout Bryce Canyon Country. Bryce City, Cannonville, Tropic and Panguitch are the closest towns with lodging to Bryce Canyon National Park, but just about anywhere in Bryce Canyon Country is within a reasonable driving distance. Be sure to check out our interactive trip planner, and plan to stay awhile!
Read Part One of the Insider's Guide to Bryce Canyon - here.