Fall is an ideal time to visit Bryce Canyon Country, when colorful foliage and cooler temperatures beckon and the summer crowds dwindle. Autumn's brilliant reds, oranges, and golds typically peak around mid-October at Bryce Canyon Country's lower elevations, which are still upwards of 4,000 feet. Fall colors tend to peak earlier at higher elevations like Panguitch Lake and Boulder Mountain, usually around mid-September to early October. Fall in Bryce Canyon Country generally means pleasant, sunny weather although higher elevations, including Bryce Canyon National Park, may even see light snow.
Fall is an especially agreeable time of year for hiking in and around Bryce Canyon National Park, where average daytime temperatures range from 50 to 70 degrees. Dress accordingly—layers are best—and head down into the amphitheater for a below-the-rim view from the Navajo Loop and Queen's Garden Trail. Small groves of golden Quaking Aspens stand beneath the canyon rim between Sunrise and Sunset Points, and also line the scenic drive near the southern end of the park in colorful contrast to the red rock hoodoos and ancient bristlecone pines.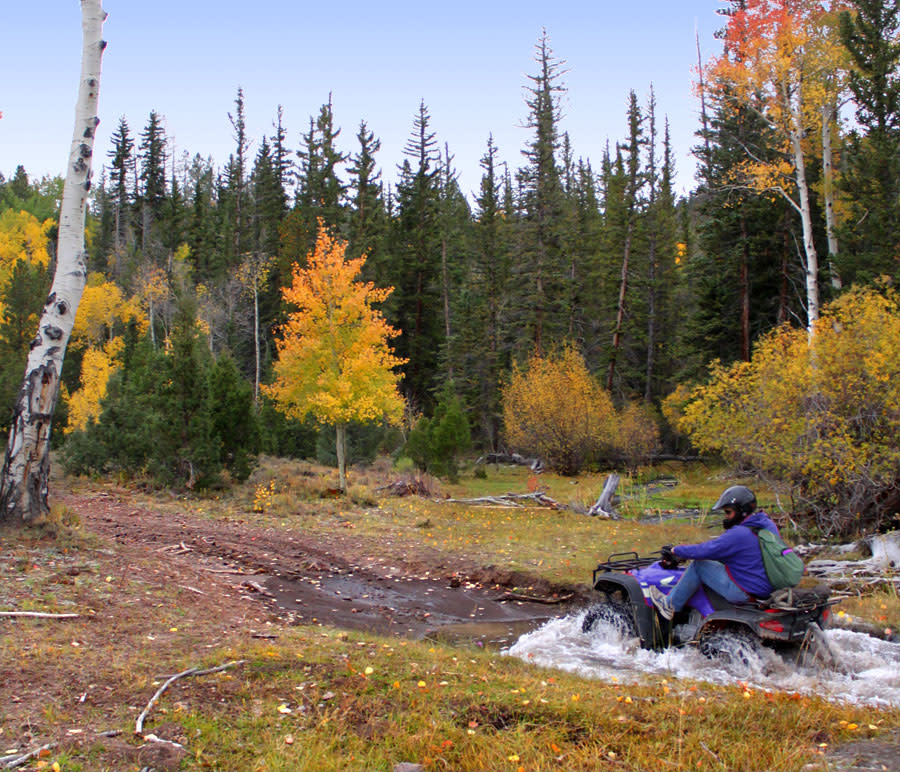 A drive east along Scenic Byway 12 leads to Boulder Mountain, the highest timbered plateau in North America. Boulder Mountain peaks at 11,313 feet and has 50,000 acres of forest that showcase a brilliant display of fall foliage. Autumn on Boulder Mountain is particularly gorgeous, especially along its scenic backcountry roads. Hell's Backbone forks from Scenic Byway 12 near Boulder and climbs about halfway up the mountain to reach Posey Lake, one of 60 fishable lakes on the mountain. Boulder Mountain boasts a long fishing season, and fall can be the best time to fish. Blind Lake is the largest lake on the mountain, 52 feet deep with an abundant trout population and surrounded by lush alpine forest.
The scenic route along Hell's Backbone descends from Boulder Mountain to Escalante, home to two Utah state parks. Fall is a great time to hike the nature trails in Escalante Petrified Forest State Park and visit Anasazi Village State Park.
The perfect way to end a day of hiking and sightseeing near Bryce Canyon is by relaxing in front of the fireplace of the cozy main lounge at Ruby's Inn. Take advantage of lower lodging rates throughout the region, making fall the perfect time of year to enjoy Bryce Canyon Country before it becomes a snow-capped winter wonderland.