Bryce Canyon Country as you gather with friends and family this holiday season we wanted to remind you that the 29th annual Bryce Canyon Winter Festival is just 10 weeks away, and will be held President's Day weekend on February 15, 16, and 17, 2014.   Plan to join us for a weekend of fun and challenging events.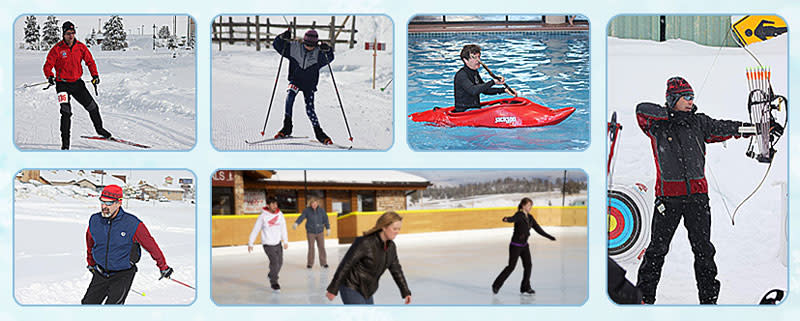 A collage of scenes from the Bryce Canyon Winter Festival
Ruby's Inn is the long-time host of the Bryce Canyon Winter Festival and they are experienced in throwing a celebration.  The Bryce Canyon Winter Festival is a weekend of sleigh rides and sled races, cross-country ski tours, snowshoe races, archery clinics, ski archery competition, plus snow sculptures, photography workshops, yoga classes, children's activities, live music, food and much, much more!  Many activities are free, so you won't want to miss the high altitude fun.
Winter snows blanket the main amphitheater at Bryce Canyon.
At 8,000+ feet February snow normally blankets the gorgeous red rock landscape that dominates Bryce Canyon and Red Canyon.  It's the perfect time of year to take advantage of all the fun activities at the Bryce Canyon Winter Festival, but also to experience all that Bryce Canyon Country has to offer. There's nothing quite like the quiet of winter as you cross country ski or snowshoe past the hoodoos and canyon plateaus and rims. These snowy adventures are available all winter long, even if you can't make it to the Winter Festival.  There are many lodging operations in Bryce Canyon Country that can host you as you enjoy all of these outdoor activities and more.
In past years, the ski archery competition has been one of the most popular events at the Winter Festival, typically taking place on Sunday. The cross country ski races will be held on Monday.
Enjoy everything the Bryce Canyon Winter Festival has to offer, along with the breathtaking views and the unmatched experience of Bryce Canyon in winter. Red rock hoodoos covered in a blanket of white snow beneath the crisp, blue skies...there's nothing quite like it.   Learn more about winter in the Bryce Canyon Country region.
Check www.rubysinn.com for an up-to-date schedule for the Bryce Canyon Winter Festival.