The Bryce Canyon Airport is located just four miles north of Bryce Canyon National Park, making it the perfect gateway access to all of scenic Bryce Canyon Country. The asphalt-paved, single-runway airport accommodates about 3,000 charter, private, and commercial flights each year. The airport is at an elevation of 7,586 feet, and flights from here offer a birds-eye view of some of Bryce Canyon Country's most spectacular scenery.
Bryce Canyon Airlines is the main operator out of Bryce Canyon Airport, offering scenic flights and helicopter rides over Bryce Canyon National Park, the Grand Canyon, Monument Valley, Grand Staircase Escalante National Monument, Zion National Park, and more. Small airlines from Arizona and Nevada also frequent Bryce Canyon Airport. Daily flights will land you in Las Vegas in about two hours. Flights from Bryce Canyon Airport are also available to Salt Lake City, St. George, Phoenix, and more.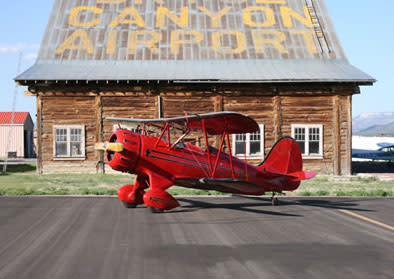 The Bryce Canyon Airport was listed on the National Register of Historic Places in 1978, and its original log hangar from its days as the Garfield County Airport still stands. Built from local ponderosa pine in 1936 by the Works Progress Administration, a New Deal program which employed unskilled workers, the log hangar used traditional construction techniques in stark contrast to the new aviation technology it would soon house. "If you build it they will come," and so the Bryce Canyon Airport has encouraged and enhanced tourism for the past 75 years.
Although the Bryce Canyon Airport typically handles small aircraft, the 7,400-foot long, 75-foot wide runway was designed to accommodate larger aircraft on demand. This fortunate foresight saved the lives of 75 passengers and crew aboard American Airlines flight 2821 on October 6, 2000, when the Los Angeles-bound MD-82 from Denver lost cabin pressure at 33,000 feet and landed safely at Bryce Canyon Airport.
Bryce Canyon Airport is open seven days a week, from 7:30 a.m. to 5:30 p.m. There is a free shuttle service between the airport and Ruby's Inn. Car rentals are available at Ruby's Inn.  Visit our official Bryce Canyon Airport web-site.