The terrain in and around Bryce Canyon offers miles of biking trails that wind through some of the most spectacular scenery in Bryce Canyon Country. While riding is only permitted along the 18-mile paved scenic main road within Bryce Canyon National Park, there are plenty of exciting opportunities to hit the backcountry mountain biking trails in this scenic region.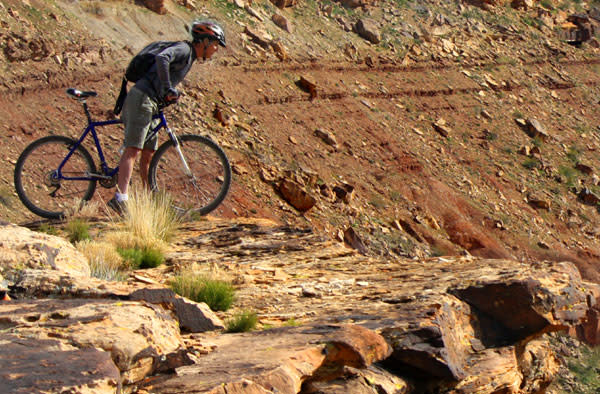 Mountain biking along a rocky ridge.
Nearby Red Canyon offers red rock cliffs, hoodoos, and ponderosa forests similar to the landscape inside Bryce Canyon National Park's borders, with 34 miles of single track mountain biking trails for an exciting riding adventure. The newly paved Red Canyon Bicycle Trail follows Scenic Byway 12 for five miles, through Red Canyon from the Thunder Mountain trailhead all the way to Coyote Hollow Road. The trail shifts in elevation between 7,200 and 8,000 feet, with a fairly strenuous ascent at some points, but is considered an easy ride for the most part.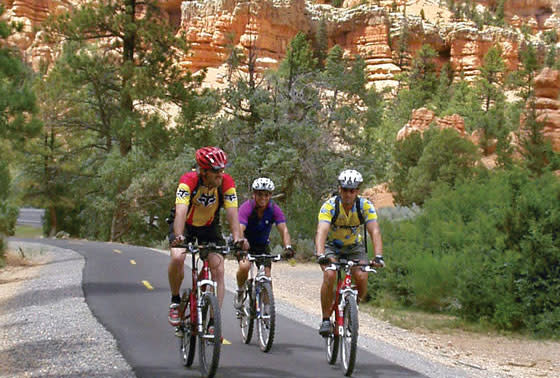 Paved biking trails can connect riders with single track and other mountain biking trails.
Thunder Mountain is a popular 8-mile singletrack trail that follows a steep ridge overlooking Red Canyon and winds through red rock hoodoos. There are a few options for riding this trail, either heading downhill from the Coyote Hollow Trailhead near Red Canyon's east entrance, or biking an uphill loop from the paved Red Canyon Trail and connecting via the Fremont Trail. Expert mountain bikers may choose to experience Thunder Mile as a challenging 16-mile round trip with a 3,000-foot vertical climb.
The Cassidy, Rich, and Ledge Point trails loop together to create trail options of varying lengths and degrees of difficulty. The shortest option is to pick up the Rich Trail at the Red Canyon Trailhead and ride for one mile to Ledge Point, where a half-mile climb leads to views of Red Canyon, the Sevier River, Brian Head, and the Markagunt Plateau. From here, riders can continue along the Cassidy Trail (named for outlaw Butch Cassidy who was rumored to use this trail) to the Rich Trail for a 5-mile loop, or keep going to Brayton Point for a view of Losee Canyon below. Overall, the three trails combine for about eight miles of mountain biking trails.
Dave's Hollow is an easy, 12-mile double-track trail that can be picked up near the entrance to Bryce Canyon National Park and follows the Great Western Trail to Tropic Reservoir. The Skunk and Badger Trail is a more advanced riding option, an 18-mile loop past Tropic Reservoir from Highway 12 near Red Canyon.
Other off-road mountain biking trails in the area include the 3-mile Losee Canyon Trail, which connects to the Cassidy Trail, and the Casto Canyon trail near Red Canyon, with singletrack and doubletrack trails through Dixie National Forest. Shuttle service is available for the Casto Canyon trail through Ruby's Inn, along with mountain bike rentals. Outfitters in Escalante and Panguitch also offer mountain bike rentals and trail information.
Click this link for mountain biking trail information. Click this link for mountain biking tours and rentals.