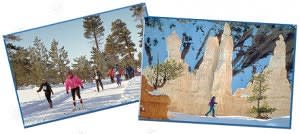 The Bryce Canyon Area is gearing up for the 26th Annual Bryce Canyon Winter Festival.  Yes.. that's right 26 years celebrating winter fun in Bryce Canyon!!!!! The events will take place February 19-21, 2011.
With so many activities to choose from this event is fun for all ages.  Imagine a day filled in Bryce Canyon with XC skiing, Snowshoeing, and Archery Biathlon, Yoga, Photography, Races and much more.  Enjoy these activities along with breathtaking views of Bryce Canyon National park and the red rock hoodoos covered in a blanket of white snow.  Something very few people take advantage of seeing.
Join us this weekend for the Bryce Canyon Winter Festival!!!! Check www.ruby'sinn.com for updates on the events and more information.