Bryce Canyon National Park

General Bryce Canyon Information
Bryce Canyon National Park, open all year for camping and tours, is located near the junction of Utah Scenic Byway 12 and U-63. Bryce Canyon is a series of large natural amphitheaters with thousands of multi-colored rock pinnacles called "hoodoos." These formations shine brilliantly under sunny skies, but glow most exquisitely under the soft light of the rising or setting sun. Visitors often drive through the 20-mile-long park, stopping to take in scenic viewpoints. You'll be astonished by the contrast of the red rock formations and vibrant blue sky.
There are endless trails, sites, and activities to enjoy in Bryce Canyon. What will you do first?
Download a Bryce Canyon Travel Guide
Things to Do in Bryce Canyon National Park
Bryce Canyon is worth the trip just for the view alone. It's a breathtaking sight to gaze over the towering hoodoos as the sun rises on this stretch of unique Utah landscape. But there are a lot of unique ways to enjoy the views in this national park!
These are some of the most popular things to do and see in Bryce Canyon National Park.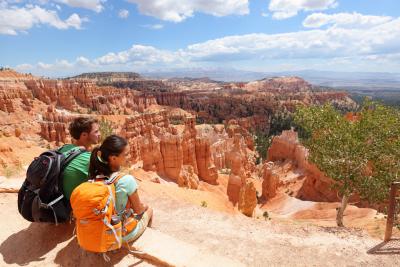 Hiking
Bryce Canyon itself is huge! But the national park includes a variety of unique angles from which to experience the canyon as well as some more secluded scenic areas that you don't want to miss. Hiking is a popular way to explore Bryce Canyon, all year round.
There are trails available throughout the park for hikers of all skill levels. Some trails are short, and stay mainly in the upper areas of overlooking the canyon, others go deep into the canyon and provide more of a challenge. Depending on what you're looking for, you can find the perfect hike for you. Check out some of the most popular Bryce Canyon hiking trails here.
Snowshoeing and Cross-Country Skiing
Don't let a little snow or cooler temperatures stop you from enjoying the beauty of Bryce Canyon National Park! Many visitors enjoy strapping on some skis or snowshoes and trekking across the same trails available for hiking during the warmer months. Some areas are not accessible when there is snow, but many still are.
Winter is actually a great time to visit Bryce Canyon Country. The crowds are usually a little smaller, but the views are even more incredible when the sunlight sparkles on the snow-covered hoodoos and canyon walls. Just be sure you dress warm! 
Learn more about visiting Bryce Canyon during the winter months here.
Horseback Riding
Another fun and unique way to explore the canyon and surrounding area is by horseback. Many visitors pull in horse-trailers from far and wide to be able to do some trail riding in one of the most beautiful and scenic areas in the West. 
If you're not an experienced rider or don't have horses of your own, you can book a guided ride through the canyon and surrounding area with local outfitters. 
Visiting Bryce Canyon
Tourists and locals alike visit Bryce Canyon National Park for a variety of reasons and in a wide variety of ways. Here are the things you should know about visiting Bryce Canyon.
Entrance Fees
Visitors must pay a fee for access to the park. You have the option to buy regular passes that allow access for up to 7 days, or extended use passes.
7-Day Passes
The price for these passes depends on the vehicle you use to enter the park, or if you walk in on foot.
The fee for one private vehicle and its occupants is $35 (7 days).

The fee for an individual on foot or bicycle to enter the park is $20 (7 days).

The fee for a motorcycle is $30 (7 days).
Extended Use and Special Passes
An annual pass to Bryce Canyon National Park costs $40 (The Bryce Canyon annual pass will be increasing from $40 to $70 on January 1, 2022).

The "America the Beautiful Annual Pass", which allows access into any National Park or Federal Recreation Land costs $80.

The "America the Beautiful Senior Pass" – $10 annually or $80 for a lifetime pass, for ages 62 and older.
You can purchase any of these passes at the entrance to Bryce Canyon National Park.
Note: The "America the Beautiful Access Pass" is free to permanently disabled U.S. residents. For more information on passes, visit www.nps.gov/brca.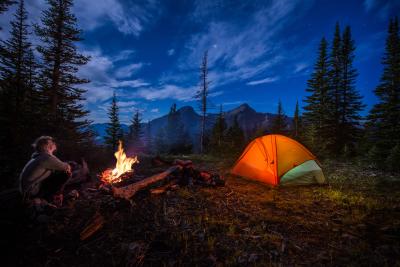 Campground Fees
North and Sunset Campgrounds have a total of 216 sites, available on a first-come, first-served basis. The North Campground is open all year. Camping is $20 a night per tent site. One group campsite is available by reservation only at Sunset Campground. Some pull-through motor-home sites are available.
For adventurous visitors who prefer to camp out in the backcountry, a backcountry camping permit is required. This permit costs $5 per person and is valid for 14 days. Permits are issued at the Visitor Center from 8 A.M.to 6 P.M. or one hour before the Visitor Center closes (whichever is earlier).
Learn more about camping in Bryce Canyon National Park here.
Visitor Center
Whether you come from near or far, there is plenty of travel information available for you at the Bryce Canyon Visitor Center. 
The visitor center is open year-round except for Thanksgiving Day, Christmas Day, and New Years Day. Hours are 8:00am to 6:00pm through Memorial Day, and then 8:00am to 8:00pm after Memorial Day through Labor Day.
Check the visitor center for times of Ranger-led walks & talks.
Interpretive programs are offered throughout the year, weather permitting.
Transportation
Shuttle service is included in the price of your entrance fee to the park. The Bryce Canyon shuttle runs from mid-April through mid-October and stops at various scenic locations, lodging, and service areas along its route.
You are welcome to drive your own vehicle within the park, but we recommend saving gas and taking the shuttle instead of fighting the hustle and bustle of traffic yourself.
Limited shuttle service is also available to get you to Bryce Canyon National Park from the nearby lodging sites.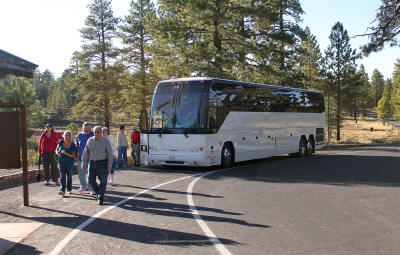 Bryce Canyon Tours
If you'd prefer to explore the national park on your own, that's just fine! But keep in mind that there are some exciting and unique ways to see Bryce Canyon and the surrounding area with a guided tour. They are great for tourists or even just locals who want to see Bryce from a new perspective!
Commercial Tours
Commercial tours fees are based on vehicle capacity for all tour groups and bus companies. Group size is determined on vehicle seating capacity, not the number of actual people in the vehicle.
Vehicles with a seating capacity of 26 or greater will be charged a flat fee of $150

Vehicles with a seating capacity of 16-25 seats will be charged a flat fee of $60.00

Vehicles with a seating capacity of 7-15 seats (Passenger Van) will be charged a flat fee of $50.00

Vehicles with a seating capacity of 1-6 seats will be charged a fee of $30.00 plus a per person fee of $15.00 for those over 16 years (not to exceed $50).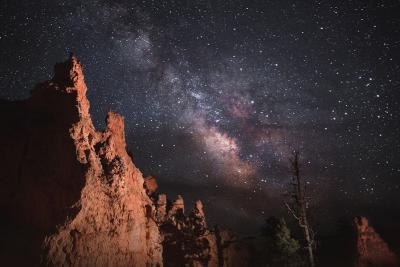 Stargazing and Astronomy Tours
Bryce Canyon is beautiful in the daytime, but seeing it at night is a completely different experience! Free of light pollution, the night sky above Bryce Canyon National Park has the Milky Way on full display with over 7,500 visible stars. The starlight shining down is so bright, in fact, that you'll still see your shadow on the ground in the middle of the night.
On Wednesday and Friday evenings between from May to September, trained park rangers and volunteers provide detailed astronomy presentations. You can also enjoy guided night hikes during each month's new moon. These exclusive night-time activities at Bryce Canyon are limited to a relatively small number of people, so you'll want to make sure to book your spot early. The hoodoos at night are still beautiful, but in an eerie sort of way!
During the Bryce Canyon Astronomy Festival, more night hikes are available along with telescope-viewing sessions. These unique Bryce Canyon experiences are fun for the whole family.
Book a private night sky activity through Dark Ranger Telescope Tours here.
Aerial Tours
For a little extra adventure, you can also experience Bryce Canyon from the sky! Aerial tours are available through Bryce Canyon Airlines. You can choose from a variety of aircraft, including helicopters and open-cockpit biplanes, then take to the sky to see this incredible national park from above. Learn more about aerial tours here.

Bryce Canyon Brochures and Itineraries
Bryce Canyon National Park is an exciting and unique place that offers fun and recreation for all kinds of visitors. Utah is proud to provide such an abundance of unique natural beauty and outdoor recreation. 
If you're ready to start planning your visit to Bryce Canyon Country, be sure to check out our helpful travel brochures and itineraries. 
Request a Bryce Canyon Country Travel Brochure
Free Bryce Canyon Maps and Itineraries for Download and Printing
Or, you can start looking over the Bryce Canyon Country website to start building your own custom itinerary with our online trip planner!
Get ready for a fun-filled adventure at Bryce Canyon and the others attractions in Garfield County, Utah!
Bryce Canyon FAQs
Are dogs allowed in Bryce Canyon? / Is Bryce Canyon dog-friendly?
While dogs are not allowed on the unpaved trails of Bryce Canyon, there are many other trails in the area where you and your dog can explore together. Check out the best dog-friendly hikes in Bryce Canyon Country!