From Old West theme restaurants to organic eateries with a focus on sustainability, you won't be disappointed on your culinary trek through Bryce Canyon Country. From cowboy-size portions and live country music to vegetarian dishes and dinner with a view, we've got you covered.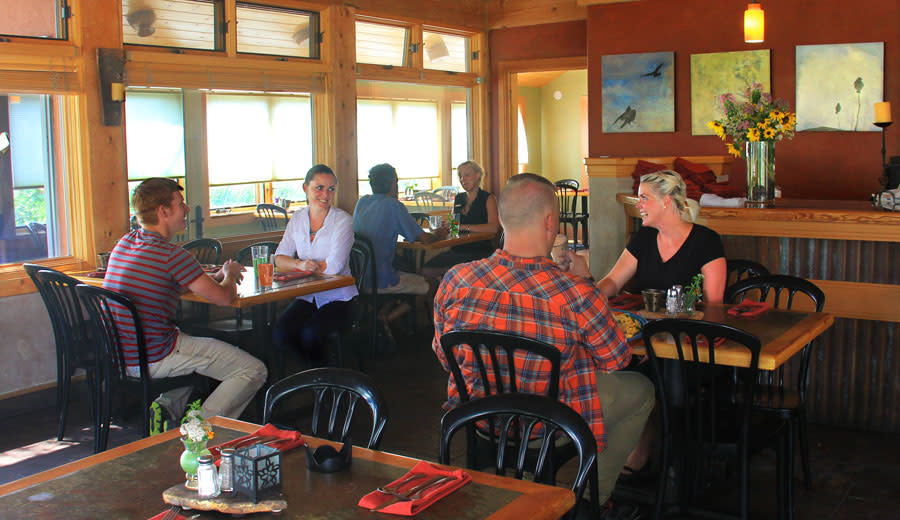 Diners enjoy the ambience of the Hell's Backbone Grill in Boulder, Utah
Hell's Backbone Grill is probably the most unexpected eatery you'll find in Bryce Canyon Country.  Located in Boulder, one of the most remote towns in the region, Hell's Backbone Grill is operated under Buddhist principles and a commitment to sustainability.  The menu is a regional mix of Western Range, Pueblo Indian, Southwestern and local flavors—think Spicy Cowgal Chipotle Meatloaf, Utah goat cheese fondue with organic fruit and handmade crackers, Chocolate Chile Cream Pot—and changes seasonally to accommodate availability.  Everything on the menu is made from scratch using organic and heirloom produce from the Hell's Backbone farm, locally raised grass-fed meat, and handmade artisan breads. You'll also find Utah micro-brews and organic wine, not to mention vegetarian dishes and luscious desserts worth the calories. The restaurant seats up to 80 people, and is kid-friendly and wheelchair-accessible. This highly-acclaimed and award-winning restaurant is located on the grounds of the Boulder Mountain Lodge at the junction of Scenic Highway 12 and the Burr Trail. The restaurant is open seasonally from mid-March to Thanksgiving, and dinner reservations are recommended. Website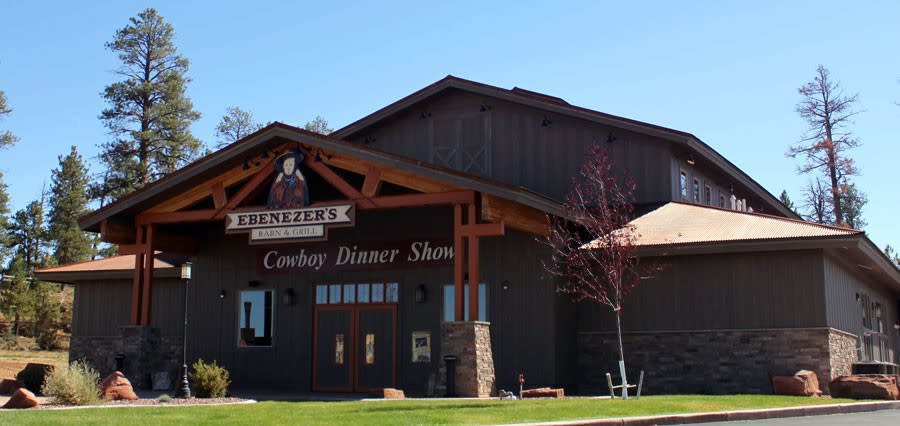 Ebenezer's Barn and Grill with the Bar G Wranglers is a great western experience.
Enjoy an unforgettable evening of great country grub and foot-stompin' country music with the Bar G Wranglers at Ebenezer's Barn and Grill in Bryce Canyon. Voted the 'Best Place to Eat in Bryce Canyon National Park,' Ebenezer's all-inclusive package includes dinner, dessert, drinks, and entertainment. Work off the cowboy-size portions of hand-cut ribeyes and pulled pork smothered in Ebenezer's HooDoo BBQ sauce with boot-scootin' to the best country western entertainment in the county. Website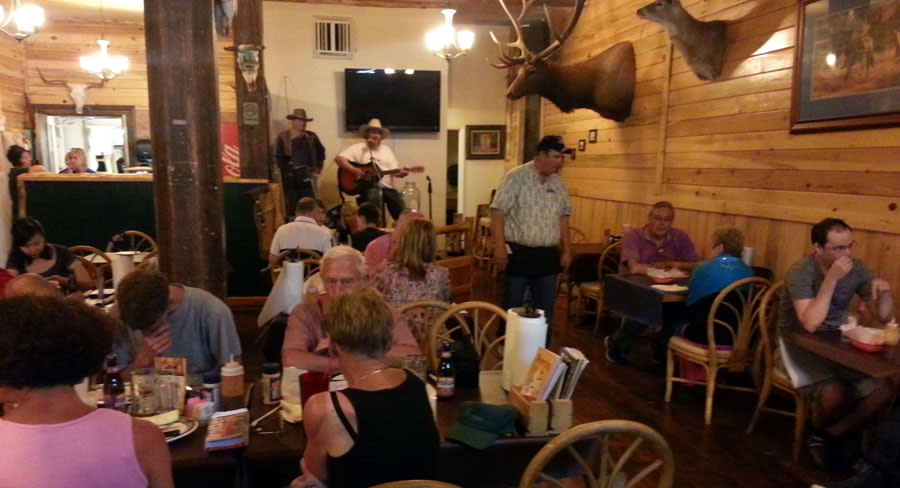 Cowboy Smokehouse
Housed in one of Panguitch's historic downtown brick buildings, the Cowboy's Smokehouse serves up real mesquite barbeque with a side of live country music. Menu variety has something for everyone, including steak, chicken, and ribs homemade ranch-style beans, appetizers, salads and cobbler, plus a kid's menu that caters to your littlest cowboys and cowgirls. This seasonal restaurant is open from March to October.  Website
For more one-of-a-kind dining experiences, consider a Dutch-oven dinner at the Wild West Retreat in Escalante.  Perfect for groups, you can look forward to authentic country-style pork ribs, rib-eye steaks, or BBQ chicken served up with hearty portions of Dutch oven baked beans, coleslaw, Utah-style scones with honey butter, lemonade and brownie sundaes.  Website
The Cactus Cowboy at the Riverside Resort in Hatch serves up buffalo burgers, BBQ ribs, and homemade peach cobbler with western hospitality and a river view. Website
And last but not least, take in the incredible scenery and good food at The Burr Trail Grill and Outpost, an 'oasis at the end of the trail', located at the corner of the Burr Trail and Scenic Highway 12 in beautiful Boulder Website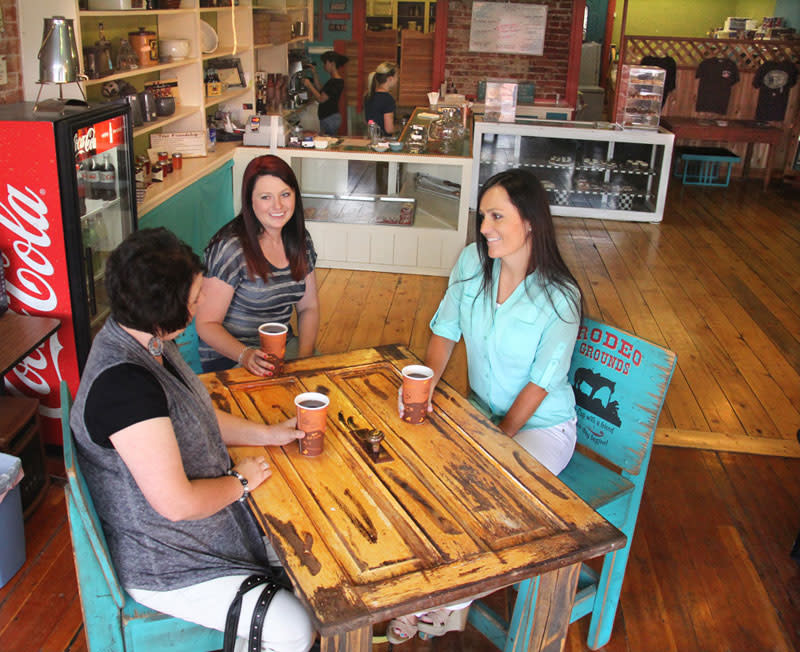 Women enjoy drinks at a Panguitch Utah coffee shop and bakery.
For more information about the restaurants in the Bryce Canyon region - visit this link.