BryceCanyonCountry.com has a great new Trip Planner feature to help you build the perfect itinerary. Get started by browsing around our site to see all that Bryce Canyon Country has to offer, or click on the Trip Planner tab to bring up an interactive map of the region. You'll see several tabs at the top of the map. Choose from Parks and Attractions, Communities, Scenic Backways, Visitor Centers, Main Map, or Adventure Map to get started.  Each map offers numbered destinations/locations.  Use the horizontal scroll bar at the bottom for a full view of the map and legend.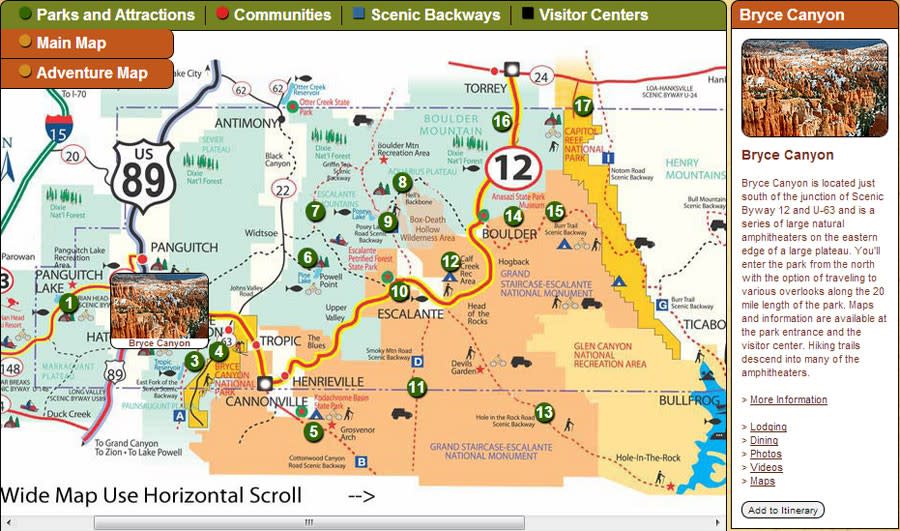 View this map on the itinerary builder section of our web-site.
Let's start with the Main Map for an overview of Bryce Canyon Country's most popular destinations.  As you click on each number, a description populates on the right.  Clicking on #4, for example, gives you a brief overview of Bryce Canyon National Park.  Click on "more information" to be taken to a full page about the park, or choose from the lodging, dining, pictures, videos, and maps links. Then simply click "Add to Itinerary."
The first time you select "Add to Itinerary" you will be redirected to a log-in page where you can set up your account. From here it's just three simple steps to create your account, build, and print your itinerary. In addition to route and sightseeing information, you can add lodging and dining, including contact information, so it's all conveniently located in one place. There's a space to add personal notes, and you can even check out sample itineraries created by other travelers to help you plan your trip.
On the Itinerary page, you have the option to select the Interactive Map or Itinerary icon on the top right, or click from a list of communities on the right to be taken to a full information page. For example, if you select Panguitch the link takes you to an overview page of the town, with tabs for more information about lodging, dining, photos, videos, maps, and info. Choose "Add Panguitch to Itinerary," select the day and time, then be sure to click "add." You can then return to the Panguitch page and click on a tab to find more information about the area, and add options like lodging and dining. Keep in mind that you'll still have to make your lodging reservations, but this is a great way to keep all of your information organized at your fingertips.
A sample of how your itinerary will look when you are ready to print.
You can organize your trip by day, and even time of day. When you're done, simply click "view printable page" and you'll see a complete, printable, personal itinerary which includes a map, trip details, and contact information. Right click to print. You can even choose to email the itinerary to yourself or to a friend. At any time you can log back in and revise your trip, or create a new one. We look forward to your visit to Bryce Canyon Country!   Build your own itinerary now - by visiting this link "interactive map".