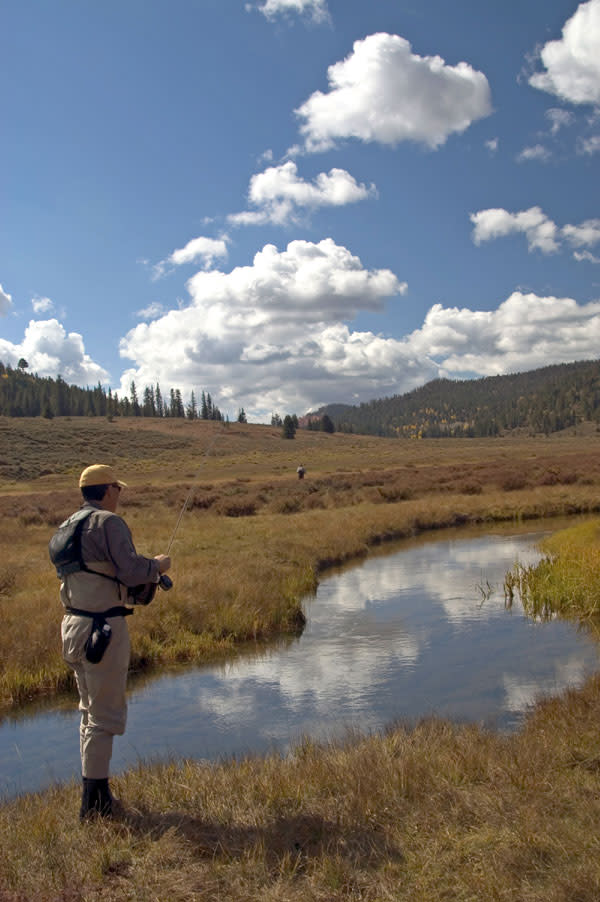 Bryce Canyon Country's lakes, rivers, and streams offer some of the best trout fishing in southern Utah. From high-elevation mountain lakes to remote creeks and popular recreation areas surrounded by incredible scenery, you'll discover Blue Ribbon trout fishing at its best here in Bryce Canyon Country.
Panguitch Lake is one of the most popular fishing lakes in Bryce Canyon Country, located in the Dixie National Forest at an elevation of 8,400 feet. The name Panguitch was adopted from the Paiute word for "big fish" and there's no shortage of them here. The lake has excellent fishing year-round, especially in summer when you'll find some of the largest rainbow trout in Utah. And with several lodges on the shores open year-round, Panguitch Lake is a hotspot for winter ice fishing. It's easy to find a quiet spot to yourself along its ten miles of shoreline, and it's a great lake for fly fishing. Panguitch Lake is 18 miles southwest of Panguitch just off Scenic Highway 143, and can be easily reached from Bryce Canyon City, Tropic, Henrieville, Cannonville, Escalante, and Boulder via Scenic Byway 12 to Scenic Highway 143. Nearby attractions include Cedar Breaks National Monument, Duck Creek Village, and Brian Head.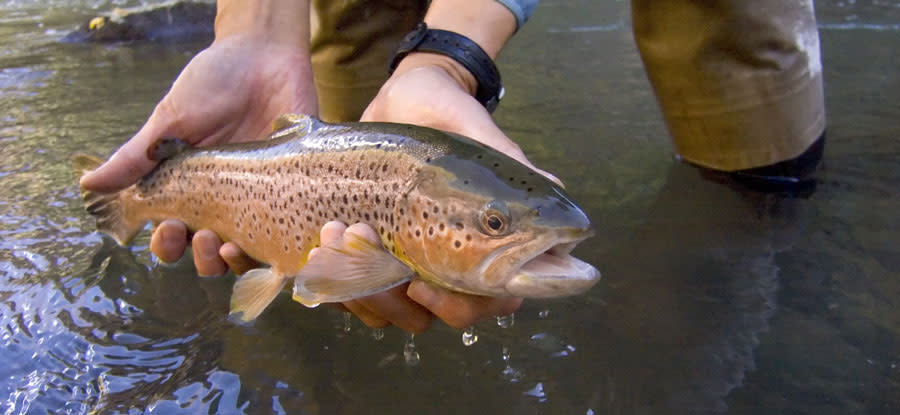 With more than 80 lakes, Boulder Mountain offers a world-class fishing experience. It's considered one of Utah's major high-elevation lake areas at 10,238 feet, and has a fairly long fishing season. The majority of the lakes on Boulder Mountain are fishable, either stocked or with significant natural fish populations. Most of the lakes on Boulder Mountain can be reached by a short hike from the road, and cutthroat and brook trout are often within casting distance of the shoreline of smaller lakes. With so many remote lakes to choose from, it won't be hard for anglers to find a haven where they can fish the clear mountain waters in solitude. The 52-acre, 57-foot deep Blind Lake is the largest on Boulder Mountain, and one of the premier lakes in Utah for large-catch brook, rainbow, and cutthroat trout. To reach Blind Lake, take Forest Road 179 to Green Lake and hike south for one mile. Located just north and west of Boulder and Escalante, Boulder Mountain is easily accessible from most points in Bryce Canyon Country via Scenic Byway 12. Boulder is a great base of operations for fishing Boulder Mountain, with lodging, dining, and outfitters at the ready.
Otter Creek Reservoir is one of Utah's top spots for year-round rainbow trout fishing thanks to regular stocking and plenty of natural food sources. Anglers will also find a fair amount of cutthroat and brown trout, plus small mouth bass at this premiere fishery. Ice fishing season begins about mid-December, and waters usually thaw in April for open fishing. Bait fishing from shore is best in spring, early summer, and early fall. Traditional trout baits and small lures are effective for fishing Otter Creek Reservoir. Otter Creek Reservoir is located at Otter Creek State Park, just four miles north of Antimony via UT-22. The East Fork of the Sevier River just below Otter Creek also offers decent rainbow, cutthroat, and brown trout fishing with limited access to public lands.
Fishing licenses, Utah State fishing rules, and detailed area maps can be obtained at local outfitters throughout Bryce Canyon Country, or from the BLM and U.S. Forest Service. Be sure to check road conditions prior to heading out, as some dirt or mountain roads may be impassable in winter or when wet. As always, respect the lands and waters of Bryce Canyon Country by packing out what you bring in.