The Bryce Wildlife Adventure Museum gives visitors a chance to truly experience wildlife and natural history. Located just northwest of Bryce Canyon National Park, the museum features more than 800 mounted animals from around the world exhibited in replicas of their natural habitats, as well as a collection of animal skulls, sea shells and other sea life, and 1,600 mounted butterflies.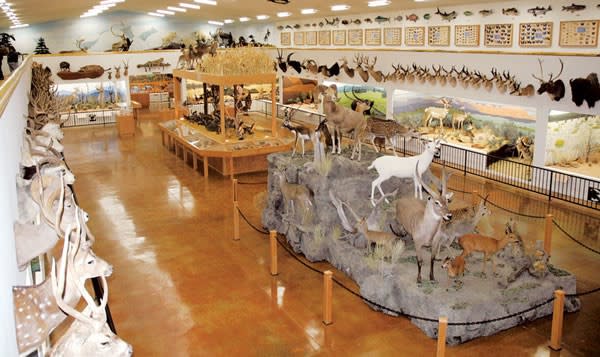 Bryce Canyon Utah Wildlife Museum and Adventure Experiences
A display of Anasazi and Paiute Native American artifacts offers a great opportunity to learn about the ancient humans who once lived in Bryce Canyon Country. Visitors can also get up close and personal with the herd of exotic Fallow Deer, which can be hand-feed and photographed.
The Bryce Wildlife Adventure Museum was founded in 1995 by museum curator Robert Driedonks in collaboration with Panguitch City. Driedonks has dedicated much of his life to collecting and preserving wildlife from around the world. The natural history museum is housed in a 14,000-square-foot building featuring state-of-the-art balanced color temperature lighting, and accurate habitat murals created by renowned museum artist Brian Wignall.
The Bryce Wildlife Adventure Museum is located on Scenic Byway 12, just four miles from Bryce Canyon National Park. ATVs and bicycles are available for rent, and offer a great way to explore nearby Red Canyon.