Utah's five national parks are all spectacular scenic attractions, but nowhere are the forces of nature more strikingly apparent than at Bryce Canyon National Park.   At this park you'll find distinctly shaped towers of stone that have been formed by unique erosion factors.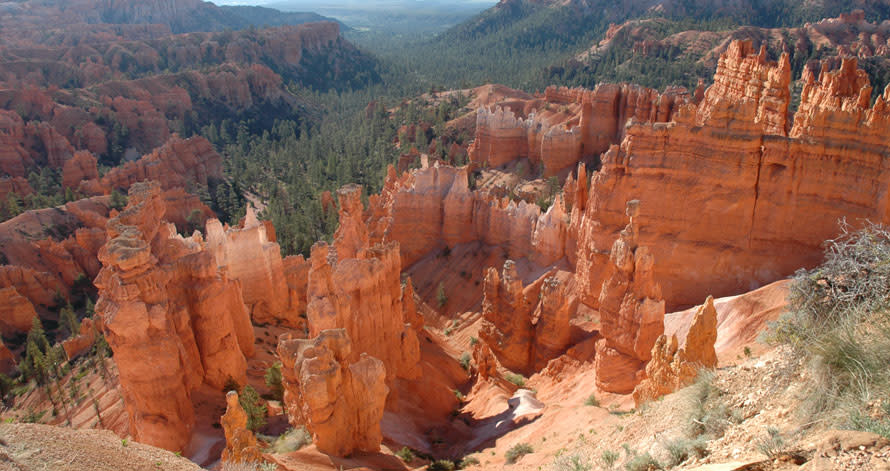 These formations
, called Hoodoos, rise from the canyon floor, and add an air of mystery and splendor to the landscape.   This twenty mile long national park offers a series of horseshoe-shaped amphitheaters that are filled with clusters of the multi-hued hoodoos.   These hoodoos seem to come alive in the light and shadows that sweep with the sun across the park.    Ancient Indians believed these fiery orange and red pinnacles were evil people that were frozen in time by the omnipotent Coyote.   Today these silent stone personages stand at stalwart attention within the amphitheaters, leaving visitors spellbound by their presence.
The main Bryce Canyon Amphitheater is the scenic heart of the park, encompassing six square miles of colored limestone formations.   Those who get an early morning start at Bryce Point or Sunrise Point will experience breathtaking color as sunrise washes over Bryce Amphitheater.   Nearby Inspiration Point and Sunset Point are optional points for some of the most intriguing views of Bryce Amphitheater.     Bryce Canyon National Park's tallest hoodoo, Thor's Hammer, is most easily viewed from Sunset Point and can be seen up close by walking a short distance down the Navajo Loop Trail.
Rim views of Bryce Canyon are indeed spectacular, but descending a trail into the canyon offers a completely different yet equally dramatic perspective.    Remember that you are at elevations around 8,000 feet and any trail you descend, you will necessarily need to come back up.   Carefully judge your level of endurance and fitness, so you can enjoy the experience.    Bryce Canyon National Park offers many trails with varying degrees of difficulty.  These trails range from the easy, paved Rim Trail to the 23-mile back-country Under the Rim Trail.   Visitors have the choice of experiencing all or just part of any of these trails.
Read more
about the available trails in Bryce Canyon by visiting this page –
link
.