Winter Activities in Bryce Canyon Country
The beautiful vistas that bring visitors to Bryce Canyon Country from all over the world aren't any less stunning in the winter months! And there are so many winter activities to enjoy. 
You may be thinking, "Really? Bryce Canyon in the winter?" 
Yes! And here are some reasons why you should start planning a winter trip this year... 

Why Visit Bryce Canyon in the Winter?
Unique Beauty
Anytime is a good time to be in Bryce Canyon Country, but winter holds special treats for those who venture here. Winter visitors can witness the rays of light hitting the hoodoos and spires as they sparkle and shimmer in the light with a blanket of white snow.
Bryce Canyon Country as a winter wonderland is an experience not as many tourists enjoy. But the locals know it might be the best time to explore.
Less Crowds
Bryce Canyon Country is more crowded in the summer, which can make it harder to find parking, an empty trail or a restaurant table. Visiting in winter is a great way to enjoy this beautiful area while avoiding the masses. 
If you visit in the winter, you can also expect a quieter scene in town. Because of the seasonal shift in travelers, and the limited access to businesses because of snow, some restaurants are closed for the winter season. When planning your vacation, be sure to view seasonal hours of restaurants or ask local businesses for accurate information. 
There are still many cozy lodging and dining services readily available throughout winter in the Bryce Canyon region and county roads are all hastily cleared of new fallen snow.
Fun in the Snow
Snow only adds to the fun experiences Bryce Canyon has to offer! Although some places in the park may be closed for safety, there is hiking and plenty of other activities available when it gets colder. Bryce Canyon averages 15 to 18 inches of precipitation a year while heavier snowfall comes at higher elevations in areas such as Boulder Mountain. Colder winter temperatures are generally offset by the lack of wind and by the frequently sunny skies and dry climate.
Winter weather requires slightly different preparation than a summer visit. In addition to bringing water and staying hydrated, try to wear a non-cotton base layer for your clothing to wick away perspiration and keep you at a consistent temperature on your adventures. 
Winter Activities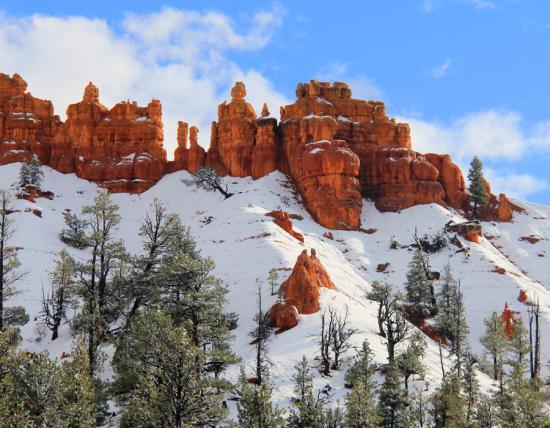 Winter Hiking
You can bring your snowshoes or cross country skis to move more quickly in the back-country, but you'll find that a good pair of snow boots is often sufficient to negotiate many areas of Bryce Canyon and other sites near the park. Of course, it is always good to check snow levels as you make your hiking plans. A few days after a snowstorm, the snow often melts and compacts enough for walking.
For safety reasons, visitors should be well-equipped with the right gear. Mountaineering crampons work decently, but they are heavier and much more expensive than other traction devices. You can get traction devices at the Bryce Canyon Natural History Association's bookstore at the Visitor Center for the discounted price of $25.
Trail explorers will find that the amphitheaters inside Bryce Canyon are quite comfortable, away from any breezes and sheltered amidst the hoodoos. Less snow will fall in the lower sections of Bryce Canyon Country, such as Grand Staircase, and winter hiking and exploring in this area can be quite ideal.
Hiking through the areas found in Bryce Canyon Country's six-day hiking itinerary during the winter is amazing. Every place in the itinerary has its own beauty and majesty and is worth a visit.
Peek-a-Boo Loop Trail
There is hiking access to the Peek-a-Boo Loop Trail from the Navajo Loop Trail. This trail is perfect for families. You can go as far as you'd like and then turn back to the trailhead. The perfect way to experience this trail is at sunrise, with the sunlight hitting the hoodoos. Often, you'll find the trails less crowded at early hours as well.
Mossy Cave
Another good trail for a morning adventure is Mossy Caves, just outside Bryce Canyon City. The hike is only a half mile and you'll get to see amazing icicle formations that were once streams of water in the summer.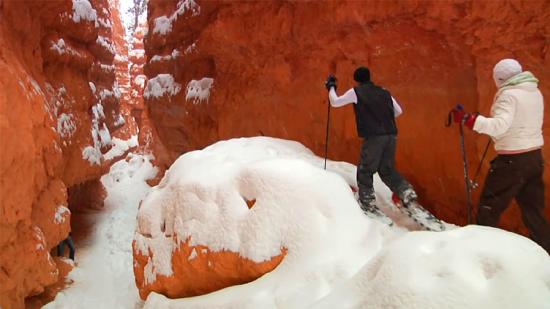 Snow-shoeing
After a big snowfall, the safest way to hike is with snowshoes. Take advantage of this opportunity and venture out on these winter devices to get a first-hand look at the ponderosa pines and looming hoodoos of Bryce Canyon. Snowshoeing makes it possible to travel through deep powdery snow that would be tough to get through with normal hiking shoes.
Bryce Canyon offers a Snowshoe Program designed for beginner snowshoers but enjoyed by explorers of all levels. When visitors become "Bryce Canyon Snowshoe Rangers", snowshoes and poles of all sizes are available at no cost.
Bryce Canyon National Park also offers ranger-guided, full moon snowshoe hikes from November through March when snow depth exceeds 12"-18."

Cross Country Skiing
Ruby's Inn grooms approximately 30 kilometers of cross country ski trails throughout the forested area near Bryce Canyon. If you stay at the hotel, you can literally ski right from your door! Some of the trails offer glimpses of sections of Bryce Canyon, and others connect with trails inside the national park.
The Bryce Canyon Winter Festival (usually hosted over President's Day Weekend) provides an opportunity for free snowshoeing and cross country skiing, along with ski archery tours and clinics. Snowshoe and cross country ski equipment rentals are available at Ruby's Inn, near the entrance to Bryce Canyon National Park.
The roads to Fairyland and Paria Point are purposely not plowed to allow a smooth trek for cross-country ski enthusiasts.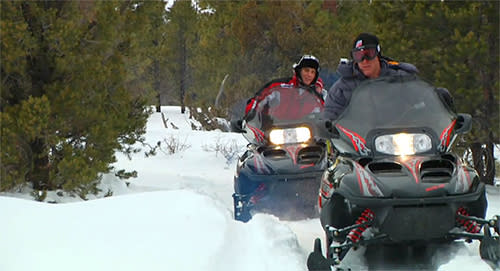 Snowmobiling
Thrillseekers will love gliding over numerous snowmobiling trails around gorgeous sites and fantastic views during the winter season. More than 20 miles of trails run through Dixie National Forest along the East Fork Trail and the East Fork of the Sevier River, near Tropic Reservoir, and lead to scenic plateaus overlooking Bryce Canyon. These trails are accessible just to the west of Bryce Canyon from Scenic Byway 12.
Badger Loop, Dave's Hollow, Coyote Hollow Loop and King's Creek Loop are snowmobile trails in the Dixie National Forest that connect areas between Bryce Canyon City and Panguitch Lake to the west. These trails are maintained by the Forest Service and are available for snowmobiling unless otherwise posted. 
Boulder Mountain access roads are closed to normal vehicles from November through April, but can be accessed by snowmobile.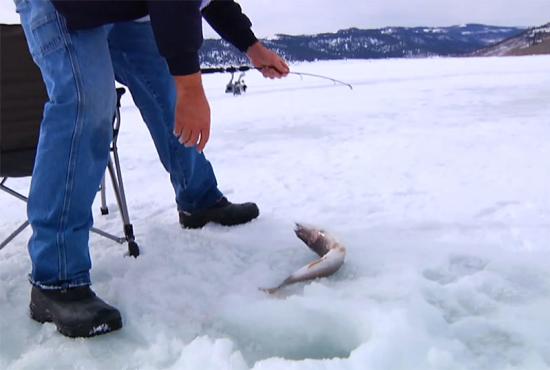 Ice Fishing
Panguitch Lake is very well-known in Utah as one of the best locations for ice-fishing. This area is best accessed from the town of Panguitch during winter months. Three local lodges stay open year-round at Panguitch Lake to accommodate winter visitors.
The Panguitch Lake Big Fish Derby brings ice fishing enthusiasts together to compete for great prizes and a fun time out on the lake. Learn more about this year's upcoming Derby.
The Boulder Mountain area has more than 60 fishable lakes that are well-stocked with trout for winter ice fishing. Most of the roads that lead to Boulder Mountain's high-elevation lakes are closed from November through April, but may be accessible by snowmobile.

Sleigh Rides at Ruby's Inn
For a romantic outing or fun family excursion, take a sleigh ride through a picturesque snowy scene and take in the winter beauty. Bryce Canyon truly feels like a winter wonderland on a horse-drawn sleigh.
Sleigh rides can be booked through Ruby's Horseback Adventures.
Winter Festival
Each year, Ruby's Inn and Bryce Canyon National Park team up to provide an array of winter activities for visitors and locals to enjoy as part of the Winter Festival. 
Activities include cross-country ski and snowshoe tours, crafts and classes, special speakers, music and more. It's a great time to dive into all there is to enjoy during winter in Bryce Canyon Country. Visit the Ruby's Inn website for a list of activities and registration info for the next upcoming festival.
Best Places For Winter Fun in Bryce Canyon Country
Bryce Canyon National Park
Down inside the amphitheaters of Bryce Canyon, the snow muffles the sounds of nature and winter breezes are deflected overhead, creating a literal feeling of stepping into a serene winter wonderland.
Snowshoeing is an adventurous way to experience Bryce Canyon National Park. Yes, you can snowshoe inside the park! Other winter activities such as sledding, cross-country skiing and ice skating can be found outside the park in the nearby area.
The most popular trail in Bryce Canyon is Navajo Loop Trail, which spans 1.3 miles round trip. The hike for Navajo Loop begins at the rim of Bryce Amphitheater and travels down 800 feet through its narrow walls. Navajo Loop intersects Queens Garden and Peekaboo Loop, providing the opportunity to add onto the snow-capped scenic adventure. Because of Wall Street's closure during the winter, Navajo Loop Trail is an out and back hike.
Another favorite hike is the Rim Trail, which is roughly 4.7 miles one way. The trail begins at the rim of Fairyland Point, passes Bryce Canyon Lodge and ends at Bryce Point. The trail allows visitors to take in the hoodoo towers as they stand majestically in contrast to the white, powder snow. Note: the 1.5 mile section between Inspiration Point and Bryce Point is closed during the winter.

Red Canyon
Located just 9 miles from Bryce Canyon National Park, Red Canyon enchants with snow shimmering on the red sandstone rocks. The canyon is nestled in Dixie National Forest, which sweeps along red rock hoodoos before wandering up to the lush snow-filled woodlands of the Cedar Mountain forest.
One of the most famous views of Red Canyon is seen from a ridge located on the 7-mile Thunder Mountain Trail. This trail boasts some of the most spectacular red rock formations in all of Utah, passing tree-covered washes to the pink and white limestone cliffs of the Claron Formation. From the top of the trail, you have amazing views looking out over the red cliffs below.
The Red Canyon paved path that parallels Scenic Byway 12 offers a smooth and easy track, when covered in snow, for cross country skiing or snowshoeing.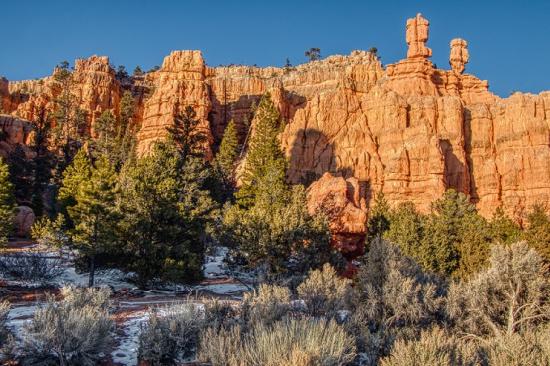 Dixie National Forest
Dave's Hollow, Badger Loop, Coyote Hollow Loop and King's Creek Loop are snowmobile/ATV trails in the Dixie National Forest between Bryce Canyon City and Panguitch Lake. The trails are maintained by the Forest Service and available for winter snowmobiling unless otherwise posted.
Miles of trails run through Dixie National Forest offering endless exploration and winter beauty.
Panguitch Lake
Panguitch Lake is a serene and scenic winter escape; three local lodges stay open year-round to accommodate winter visitors. It's a very popular spot for ice fishing. There is even an ice fishing derby here every year!
In the area surrounding Panguitch Lake, cross country and snow-shoeing trails zig zag across the terrain for miles.
Willis Creek
Winter visitors enjoy the colorful Willis Creek and Bull Valley Gorge slot canyons during the off season when people are scarce. These slot canyons were formed by the pressure of water rushing through rock, making the canyons significantly deeper than they are wide. If the area has received a lot of rain, it may be wise to choose a different activity because of flooding in the slot canyons.
Escalante Canyons
The colder months are a great time to experience the many hikes found along the Hole-in-the Rock Road because there are less crowds in these tummy-sucking, tight slot canyons. The towns of Escalante and Boulder have many guides and outfitters to choose from to help you experience the stunning and diverse canyons. 
Dry Fork Trailhead accesses both Spooky and Peek-a-Boo slot canyons, two of the most popular canyons in the area. Before arriving, take a short side trip to Devils Garden and hike around the unique hoodoos or stop for a while at Metate Arch.
Lower Calf Creek Falls
Lower Calf Creek Falls is located in the vast canyons of Utah's desert landscapes. The Calf Creek Falls trailhead is situated off Utah's All-American Road, Scenic Byway 12, and is a moderate, 6-mile round-trip hike to the Lower Falls. Winter is the best time to visit because the air is refreshingly brisk and the crowds are practically non-existent. 
As you hike, look for the petroglyph art on the canyon walls before admiring the pool that lies 130 feet below the falls.
Upper Calf Creek Falls
Upper Calf Creek Falls is a much different adventure than Lower Calf Creek, as this trail is steep and requires some rock scrambling. This short, 2-mile round-trip hike offers sweeping views of the pink cliffs and the Kaiparowits Plateau. The sandy trail splits with one option to go to the head of the falls and the other to a small pool at the foot of the falls. This is a beautiful hike in the winter with less crowds and cool, crisp air. Plus, the exposed sun will not hinder you like it often does in the summer.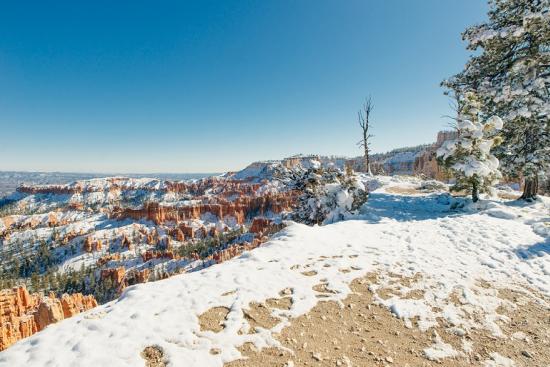 Winter Wonder Awaits
Bryce Canyon Country is full of natural wonders that stand out even more beautifully in the wintertime. Come, take your time, and enjoy the off-season months in majestic Bryce Canyon Country!
Bryce Canyon Country - Winter FAQs
Does It Snow in Bryce Canyon?
Roads to the four most scenic overlooks of Sunset, Sunrise, Bryce, and Inspiration points are plowed immediately after snow storms. Longer roads to the southern end of the park and some other areas may take several hours to be cleared after a snow storm.