Mountain Biking
Information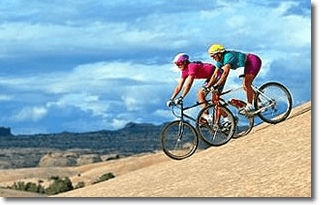 Imagine riding your mountain bike through Bryce Canyon National Park!
While that is not possible, you can ride through nearby Red Canyon which is under the management of the National Forest Service. In Red Canyon you'll find scenery and terrain nearly identical to that of Bryce Canyon, but you'll be able to enjoy it on your bike.
The entire Bryce Canyon region is loaded with great Mountain Biking trails. Here are a few of the great trails in the area in and around Red Canyon which covers an area of 41,431 acres and ranges in elevation between 7,000 and 8,000 feet.
Recently completed is the new 5 mile paved Red Canyon Bicycle Trail which parallels Scenic Highway 12. The trail extends through Red Canyon from the Thunder Mountain Trail head to the Coyote Hollow Road on the upper plateau. The elevations ranges from approximately 7,200 feet to 8,000 feet. The ascent is quite strenuous but the descent is very easy. Parking areas are available at both ends of the trail. This trail is available for only for non-motorized use (no ATV's), and there are 34 miles of single track trails in Red Canyon. To view a map of this area – This will take a minute to load on your computer.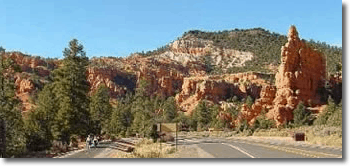 Off-road and unpaved trails include the following:
1. Casto Canyon Trail – 5.5 miles. Spectacular red rock scenery.
2. Losee Canyon Trail – 2.9. There are many red rock formation along this trail which connects to Cassidy Trail and you can go north to Casto Canyon or south to Red Canyon.
3. Thunder Mountain Trail – 7.8 miles. The upper half of the trail is through large ponderosa pine forest and lower half of trail features spectacular red rock country.
4. Cassidy Trail – 8.9 miles. The trail winds through scenic red rock country and majestic ponderosa pine. Sections of the trail are believed to have been used by Butch Cassidy, the famous outlaw.
Call for more details on Mountain Biking in the Bryce Canyon area. Toll Free: 1-800-444-6689 o (435) 676-1160 o Fax: (435) 676-8239. Or contact the National Forest service for more details at (435) 676-9300.