ROAD CONSTRUCTION UPDATE
June 12, 2020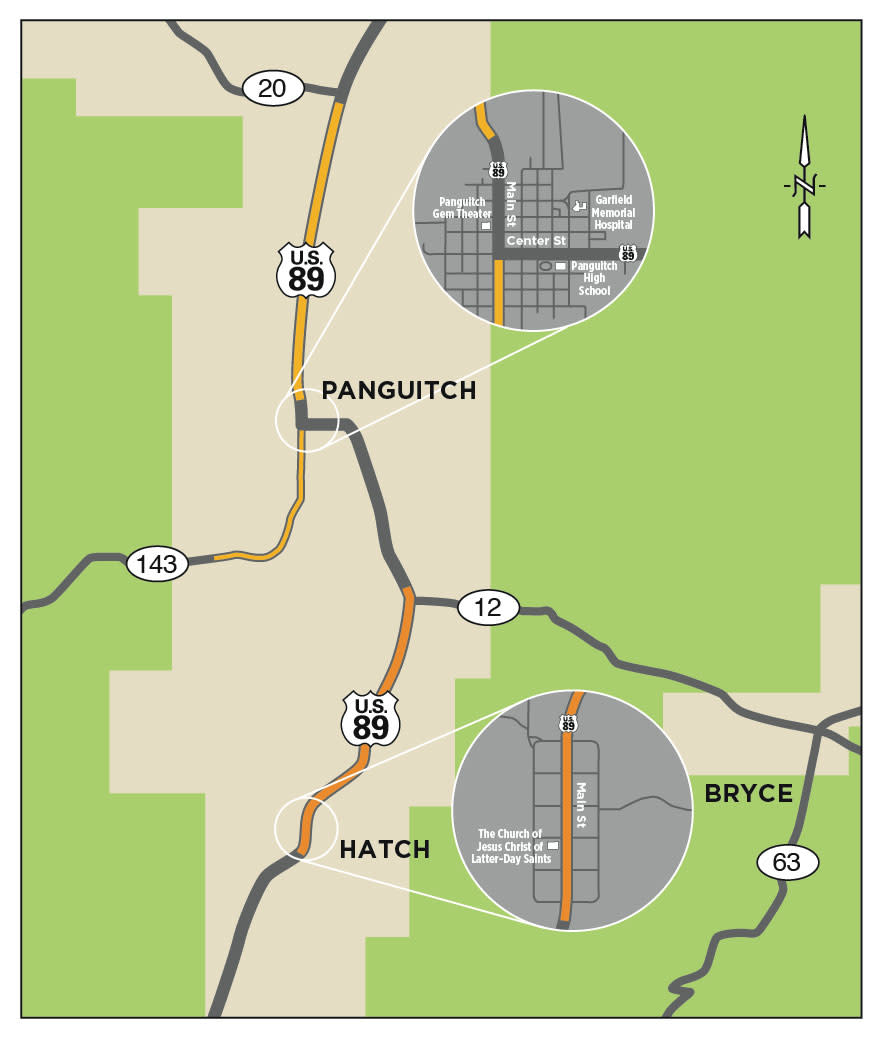 ---
The Utah Department of Transportation is working to improve U.S. Highway 89 near Hatch and Panguitch and a section of State Route 143 towards Panguitch Lake. The project will remove and replace the pavement to extend the life of the roadway.
Work is ongoing through November 2020. Work on S.R. 143 will occur in late Summer and is expected to extend through November 1, 2020. 
ACTIVITIES 
Crews are currently working on paving side streets through Hatch and will be patching U.S. 89 up to S.R. 12. This work is requiring 1-way traffic controlled by a pilot car. 
Beginning as early as Monday, June 15, crews will begin repaving U.S. 89 at S.R. 20 headed south towards Panguitch. Crews will be using an innovative technique called Cold In-place Recycling that reuses the old asphalt by mixing an asphalt recycling agent to the asphalt and laying it back down with a paver. 1-way traffic will be used where work is taking place. Please be aware and drive with caution.
Safety improvements along the UT SR-12 at mile marker 14-16 and near Mossy Cave will be on-going this Fall. These improvements are intended to stabilize road surfaces and increase visitor safety in these areas. Construction will began August 31, 2020 and will continue through the Fall season. Visitors traveling both east and west bound, should expect traffic delays of 10 to 15 minutes.
IMPACTS:
Work is expected to occur during the day and will involve one-way traffic operations. Lane widths will be reduced and traffic stoppages of up to 20 minutes are planned. Motorists should plan ahead for delays.
UT SR-12: During construction, motorists should plan for single lane closures with alternating traffic and delays of up to 15 minutes during daylight hours. In addition, residents and businesses can expect increased noise, dust and vibration during construction. Crews will be working Monday through Friday, 7 a.m. - 6 p.m. and at night as needed. There will be no weekend work as part of the project. The project will be completed in July 2021.
STAY INFORMED:
Project information will be provided via regular email updates. Sign up by emailing US89PanguitchHatch@utah.gov. You can also reach the project team at 888-966-6624.
---