Roundabout / Rehabilitation Construction Update >
Schedule
Approx. Completion Date:  *Mid-September 2021
                *Schedules are subject to change due to weather and materials available.
Upcoming Holiday Note: Crews will be offsite with all lanes open starting Friday, Sept. 3rd through Labor Day
Work Days/Hours: 6 am – Sunset / Mon-Fri
Upcoming Work (Monday, Aug 30th – Friday, Sept 3rd)
Miscellaneous electrical work ongoing near roundabout
Various signage and delineator installations along S.R. 12 and roundabout segments
Permanent painting/striping application along various stretches of the project
Concrete barrier installation near mossy cave
Pouring additional sidewalk per Bryce City municipal work
Project / Traffic Impacts described as 3 segments below
See https://udottraffic.utah.gov/  for real-time traffic updates.
---
S.R. 12/S.R. 63 Roundabout
UDOT is constructing a new roundabout at the intersection of S.R. 12 and S.R. 63 in Bryce Canyon City.  The project is part of UDOT's effort to improve driver safety through reduced speeds, traffic calming, improved visibility, and navigation improvements.
Expected Traffic Impacts Next Week: 
Travel delays should not exceed more than 5 minutes.  One-way alternating traffic may be in place intermittently to provide crews and equipment space for work at the roundabout entry areas.  Please reduce speeds and adhere to all traffic controls/signage.  Permanent Rumble strips are in place to alert approaching drivers prior to entering the roundabout configuration. Business access will remain open.  Be aware of increased dust around the area that may reduce visibility during construction.
---
S.R. 12 Rehabilitation
Various rehabilitation activities and safety enhancements continue from the roundabout at S.R 12/S.R. 63 along a 15-mile stretch to Henrieville.
Expected Traffic Impacts Next Week:
Travel delays should be brief and not exceed more than 5 minutes.  Be prepared to stop for flaggers as some alternating one-way traffic may be utilized in short distances.
---
S.R. 63 Rehabilitation in Bryce Canyon City
Safety enhancements will resume from the roundabout at S.R 12/S.R. 63 along a 2-mile stretch through Bryce City.
Expected Traffic Impacts Next Week:
Primary travel lanes will remain open from this point forward.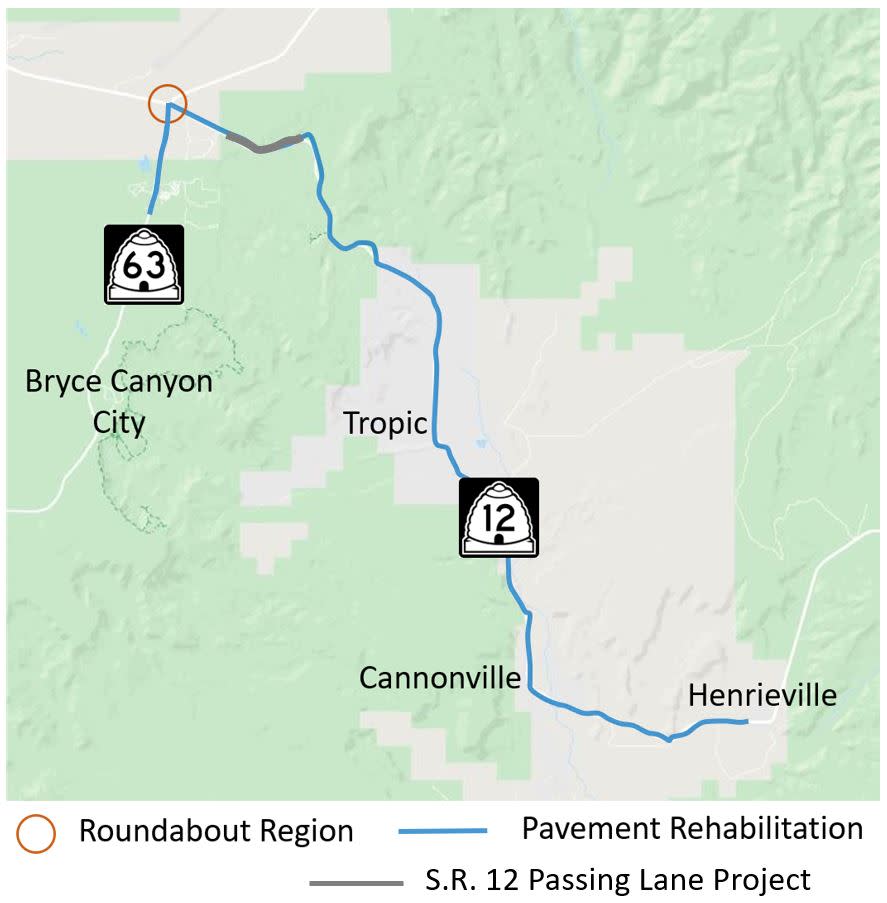 Stay Informed
UDOT has established a project-dedicated public involvement team for the roundabout and rehabilitation project. You can learn more or ask questions using the information below.
Public Information
Hotline: 435-990-1050
Email: sr12corridor@utah.gov
Website: udot.utah.gov/sr12corridor
Nearby Projects:
S.R. 12 Passing Lane Project
Hotline: 435-216-0096 Email: sr12brycecanyon@utah.gov
S.R. 24/ S.R. 12; Asphalt Rehabilitations
Hotline: 435-979-4551 Email: udotregion4@utah.gov
---
Safety Notice:
For your safety and the safety of those working in the area, please use extra caution, reduce speeds, and follow all posted signs and signals when driving through construction zones. Barrels and other traffic control devices are placed to guide motorists safely through the work zone and to protect the project team.