A drive through Cottonwood Canyon is a great way to get up close and personal with Grand Staircase Escalante National Monument's rugged landscape.
Cottonwood Canyon Road winds through Grand Staircase Escalante National Monument for 47 miles, starting near Cannonville at the intersection of Scenic Byway 12 and ending at Scenic Highway 89 near milepost 18.
Some people use the road as a scenic "shortcut" between Bryce Canyon National Park and Lake Powell, but plan at least half a day for exploring some of Cottonwood Canyon's narrow slot canyons, natural stone arches, and gorgeous Navajo sandstone cliffs and formations. Cottonwood Canyon Road is paved from Cannonville to Kodachrome Basin State Park. From there, the unpaved backcountry road cuts through colorful Cottonwood Canyon following the curves of the Paria River and Cottonwood Wash for most of the way. The road gives access to Cottonwood Canyon's can't miss highlights like Kodachrome Basin State Park, Grosvenor Arch, views of Paria Valley, Butler Valley, Lower and Upper Slickrock, and Cockscomb Ridge, as well as to trailheads and spur roads for slot canyons like Cottonwood Narrows, Bull Valley Gorge, Willis Creek, Sheep Creek, Lick Wash, Round Valley Draw, and Hackberry Canyon.
Begin the scenic adventure through Cottonwood Canyon at the BLM in Cannonville for info on current road conditions. Grab a camera to capture the bright multi-hued formations at Kodachrome Basin State Park, named for Kodak's experimental film in the 1930s. The turnoff for Grosvenor Arch, a massive, natural double arch spanning more than 60 feet, is just a few miles from the park. Follow Cottonwood Canyon Road for about 3.5 miles to Cottonwood Wash, an easy-to-moderate hike through a deep and narrow slot canyon along the Cockscomb Ridge, a series of jagged fins created by erosion. Two more slot canyons popular with hikers are Bull Valley Gorge and Round Valley Draw. The 2.8-mile journey through the steep and narrow sandstone walls of Round Valley Draw slot canyon leads to the junction of Hackberry Canyon. A man-made surprise awaits hikers at Bull Valley Gorge. To reach Bull Valley Gorge from the north end of Cottonwood Canyon Road, take Skutumpah Road to Johnson Canyon for nine miles to Willis Creek and Sheep Creek.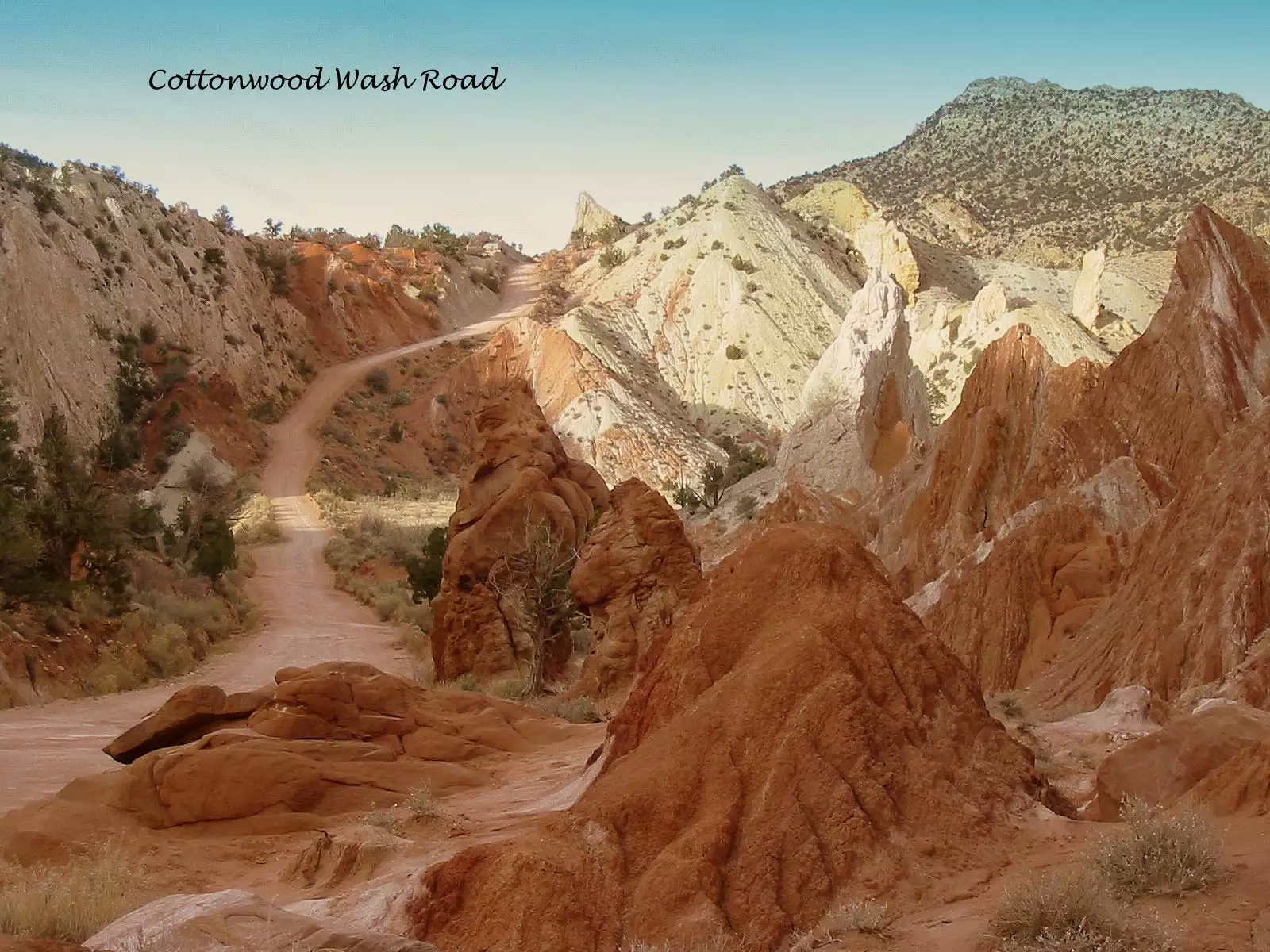 At the end of Cottonwood Canyon Road, it's just a 40-mile drive along Scenic Highway 89 to Big Water and fantastic access to stunning Lake Powell and the Glen Canyon National Recreation Area. Cottonwood Canyon Road is mostly unpaved and can become impassable when wet. It can be steep and narrow in sections, and the dirt road can be rocky and muddy after a rain. While a passenger car may be able to make the 47-mile trip under ideal conditions, a high-clearance, a four-wheel-drive vehicle is recommended. Head out with a full tank of gas, and enjoy the scenic drive through Cottonwood Canyon.