Just outside Bryce Canyon National Park, Ruby's Inn is responsible for more than 30 miles of cross country ski trails which begin right near the hotel—you can literally ski right outside your door—and wind through alpine meadows and Ponderosa pine forests. Some of the trails lead to breathtaking overlooks of Bryce Canyon, and some connect with designated trails inside Bryce Canyon National Park. The Bryce Canyon Winter Festival (hosted by Ruby's Inn over President's Day Weekend) offers free snowshoeing, cross country skiing and ski archery tours and clinics. Ski and snowshoe equipment rentals are available at Ruby's Inn.
The Red Canyon paved path near Scenic Byway 12 is a great place to ski or snowshoe amongst the red rock hoodoos, and a great place to enjoy sledding. The East Fork Trail near Tropic Reservoir and the East Fork of the Sevier River has more than twenty miles of scenic snowmobile trails through the Dixie National Forest.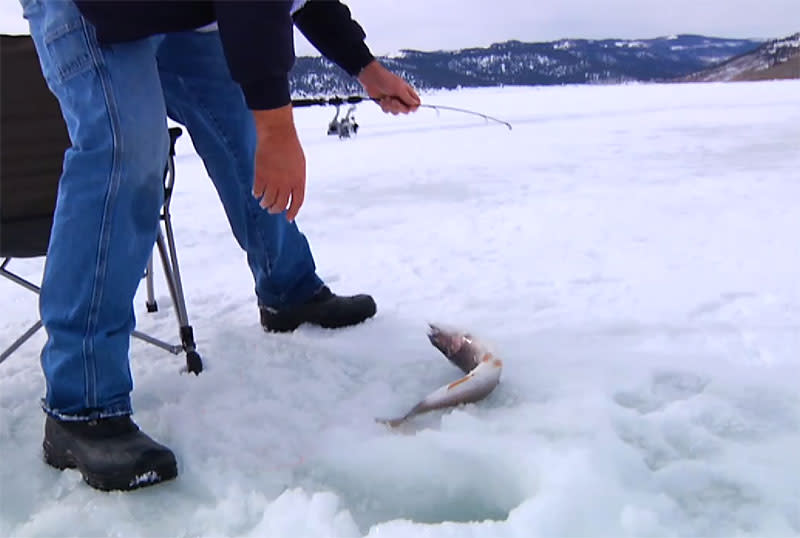 Also located in Dixie National Forest, Panguitch Lake is a popular spot for ice fishing, boasting an abundant stock of rainbow and cutthroat trout. The high-elevation lake area also offers many miles of trails for cross-country skiing, snowshoeing, and snowmobiling. Nearby Brian Head offers world-class downhill skiing. Panguitch Lake is a serene and scenic winter escape; three local lodges stay open year-round to accommodate winter visitors, and Scenic Highway 143 is a fairly well-maintained for winter access.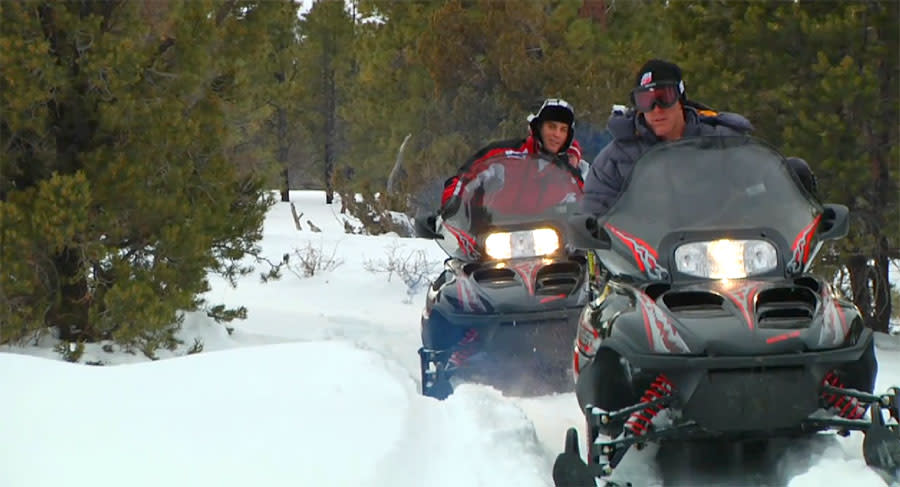 Dave's Hollow, Badger Loop, Coyote Hollow Loop and King's Creek Loop are snowmobile/ATV trails in the Dixie National Forest between Bryce Canyon City and Panguitch Lake. The trails are maintained by the Forest Service and available for winter snowmobiling unless otherwise posted.
Boulder Mountain has more than 60 fishable lakes, well-stocked with trout for winter ice fishing. Most of the roads that lead to Boulder Mountain's high-elevation lakes are closed from November through April, but may be accessible by snowmobile. Panguitch Lake is well-known as one of the best ice-fishing locations in Utah.
Bryce Canyon Country in winter offers phenomenal lodging rates, fewer crowds, and well-maintained main roads. Access to higher elevations throughout the region may be limited, and road to the south end of Bryce Canyon National Park is usually closed during and after a snow storm. Last, don't forget your camera, as Bryce Canyon Country may arguably be at its most beautiful in winter.