Utah weather patterns bring limited amounts of water to fill streams like this that flows down the side of Utah's Boulder Mountain.
With elevations ranging from about 4,500 to more than 10,000 feet, Bryce Canyon Country is generally considered high desert with a semi-arid climate. The dry climate is created from the rain shadow formed by the Sierra Nevada mountain range to the west that acts as a barrier to the moist air and storms coming from the Pacific. As the air rises over the mountains it loses moisture. By the time the air currents hit Utah they are drier and warmer, so precipitation remains light. The Wasatch Mountains to the east also act as a rain shadow, and mountains to the north are a barrier to frigid Arctic air.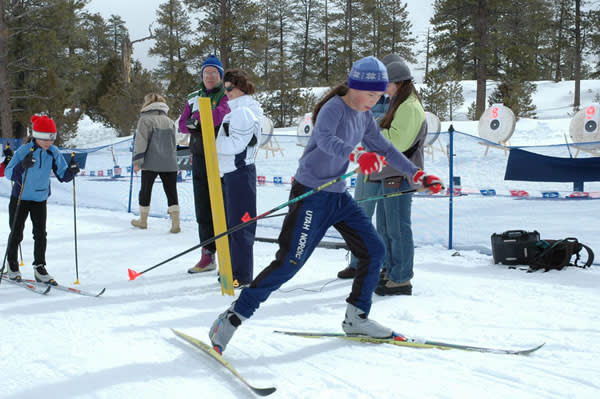 Snowfall is often enough to allow for cross country skiing in and around Bryce Canyon or on Boulder Mountain.
Although snowfall is common in Bryce Canyon Country, cumulative precipitation is low. Bryce Canyon averages 15 to 18 inches a year precipitation (rain erosion is a primary force of hoodoo formation, along with frost wedging), with heavier snowfall at higher elevations such as Boulder Mountain. Peak water flow occurs during spring runoff from melting mountain snow, a principal reservoir in this high desert. Much of the water in Bryce Canyon Country flows down mountains and through canyons into desert slot canyons. Spring runoff and intense summer thunderstorms can cause flash flooding in slot canyons. Much of Bryce Canyon Country's vegetation is drought-tolerant, with juniper and pinyon pine forests at high elevations.
Temperature variations are extreme between winter and summer, but nights generally cool down to comfortable temperatures even after the hottest days, due to the dry climate. Bryce Canyon Country is enjoyable year-round. Summer days are generally hot, cooling down at night,with occasional afternoon thunderstorms. Summer usually sees the highest amount of rainfall. Cold winter temperatures are offset by the often-sunny skies and dry climate. Spring and fall temperatures vary from day to day, but the high altitude sun and dry climate make outdoor activities possible for much of the year.