There are four main visitor information centers in the Bryce Canyon region.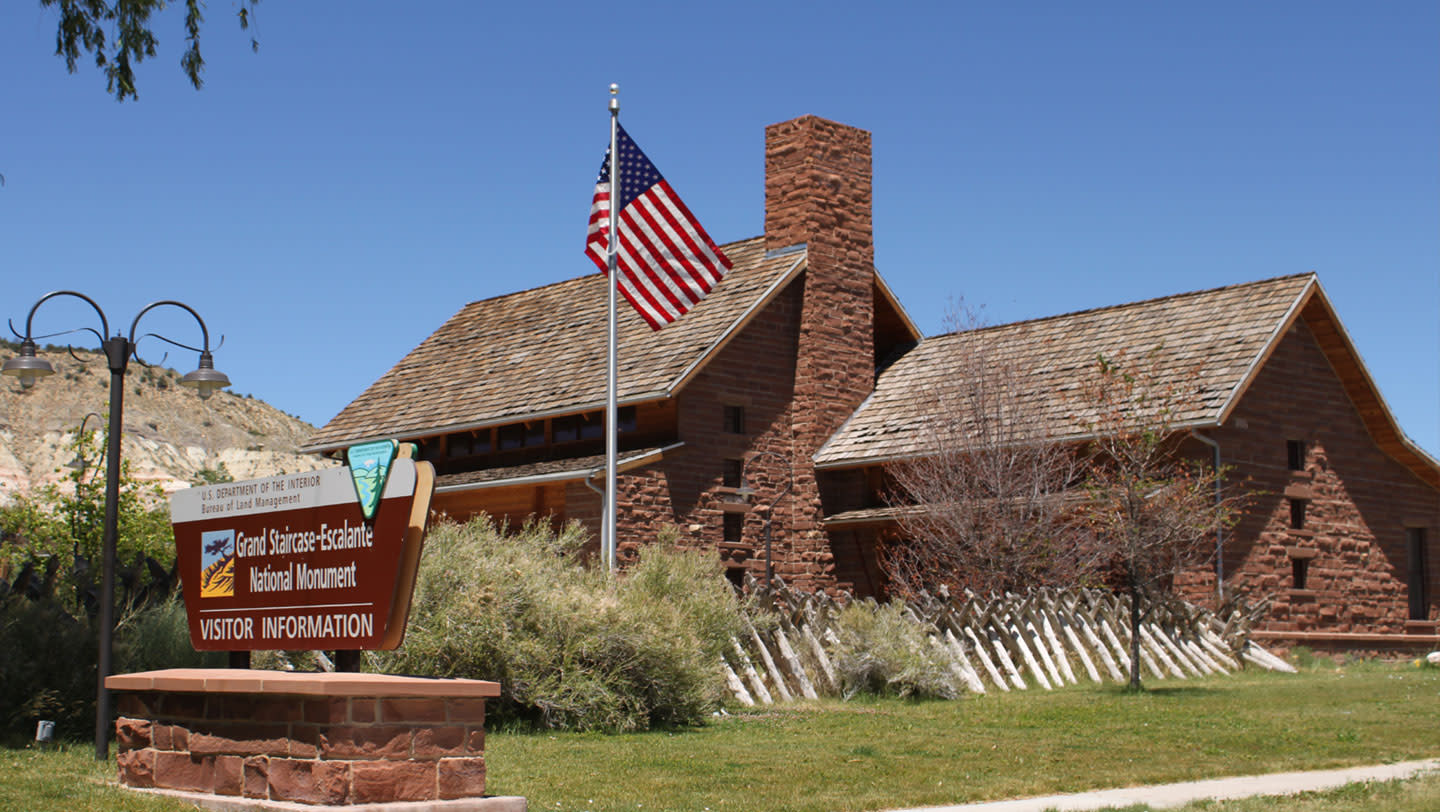 Escalante (Grand Staircase) The Escalante Interagency Office visitor information center specializes in the ecology and biology of Grand Staircase Escalante National Monument. The visitor center features scientific exhibits, photos, dioramas, and a topographic relief model of Grand Staircase Escalante National Monument. Grand Staircase Escalante National Monument includes 1.9 million acres of some of the most remote wilderness in the southwest, so be sure to obtain a backcountry permit at the Escalante visitor center.   ermits are required for all organized groups including scouts, schools, and hiking clubs. Permits are free, except for commercial outfitters.  Itinerary information and trail maps are also available at this visitor information center.  The Escalante Interagency Office is open from 8:00 a.m. to 4:30 p.m. seven days a week, with extended hours during peak summer travel season, and is located at 755 West Main, Escalante, UT 84726. Call (435) 826-5499 for more information.
Cannonville (Grand Staircase). This additional visitor center is open from mid-May to mid-November each year.   Visitors are able to view presentations on how geography affected local peoples ability to settle on the landscapes of this region.  Also view a topographical model of the Grand Staircase Eslcalante National Monument.   435-826-5640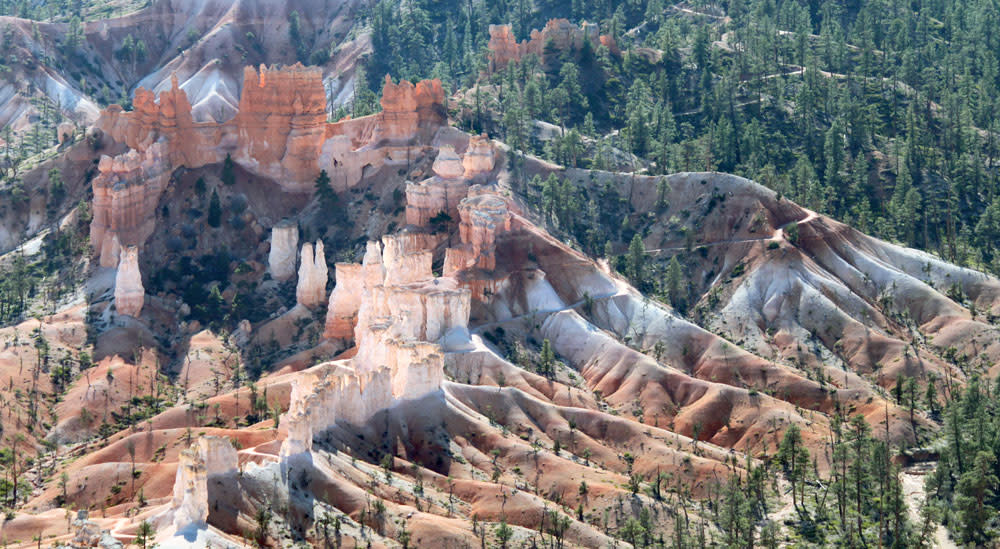 Red Canyon (Dixie National Forest) Red Canyon is located in the Dixie National Forest, and features red rock hoodoos and a striking landscape similar to that inside Bryce Canyon National Park. The Red Canyon visitor center is on Scenic Byway 12, about 3.5 miles from the intersection of Scenic Byway 12 and Highway 89.  The closest town is Panguitch, just seven miles down Highway 89, and Bryce Canyon National Park is about nine miles down Scenic Byway 12. Completed in 2004, the Red Canyon visitor center is operated by the U.S. Forest Service. It provides information about camping, sightseeing, and local hiking, biking, equestrian, and ATV trails such as Pink Ledges, Hoodoo, Birdseye, Golden Wall, Thunder Mountain, and Red Canyon Bicycle Trail. Several of the trailheads can be easily accessed from the parking lot of the visitor center. There is an interpretive site, picnic tables, restrooms, and drinking water available, and Red Canyon Campground is nearby. Visitor center services are available from Memorial Day to Labor Day. The Red Canyon Visitor Center can be reached at (435) 676-2676.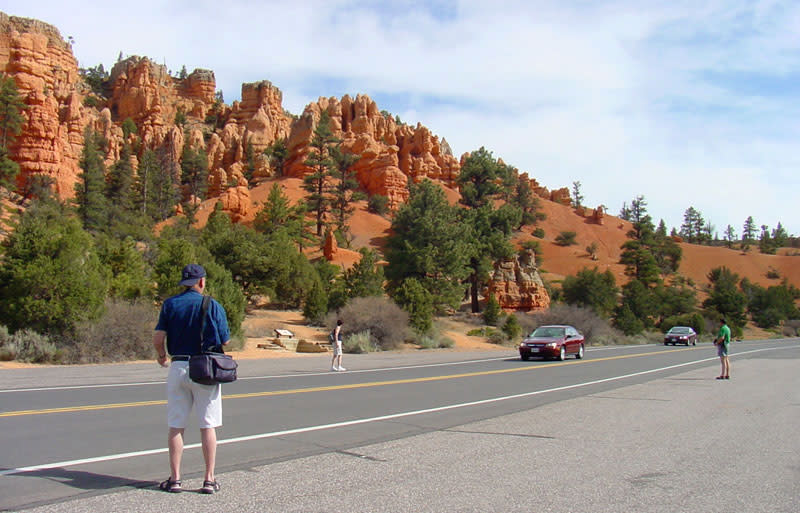 Bryce Canyon National Park The Bryce Canyon visitor center is an excellent starting point for your national park visit. Services include restrooms, ranger services, first aid, backcountry permits, a gift shop, and a comprehensive museum about the park's unique geology, pioneer and Native American history, and wildlife. The Bryce Canyon Visitor Center gift shop sells books, souvenirs, and postcards; don't forget to stamp your National Parks Passport here, too. "Shadows of Time," an award-winning 20-minute film about Bryce Canyon's unique formation plays every half hour and is an excellent introduction to the park.  Available park staff  provide information on trails, current weather and road conditions, overnight backcountry permits, Junior Ranger programs, and local area information. The Bryce Canyon Visitor Center is open year round except for Thanksgiving, Christmas, and New Year's Day. The visitor center is open from 8 a.m. to 8 p.m. in the summer, with slightly shorter hours of operation the rest of the seasons. The visitor center is located about 1.5 miles inside the Bryce Canyon National Park main entrance, and 4.5 miles south of the Highway 63/Scenic Byway 12 junction. For more information call (435) 834-5322.
These are the main visitor information centers in Garfield County, Utah (the Bryce Canyon Country region).