Boulder Mountain looms just north and west of Boulder and Escalante, and is easily accessible from most points in Bryce Canyon Country via Scenic Byway 12.  Boulder Mountain is the highest timbered plateau in North America, peaking at 11,313 feet at Blue Bell Knoll—known fondly by locals as Boulder Top—and its 50,000 forested acres cover nearly half of the Aquarius Plateau.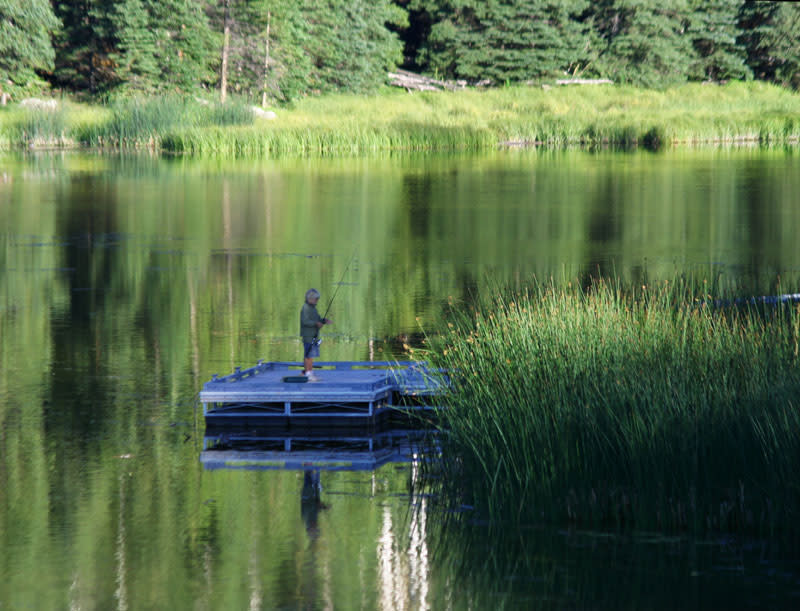 The views from Boulder Mountain are spectacular in every direction, overlooking Capitol Reef National Park from the east slope, the Escalante River from the south slope, Box Death Hollow wilderness area to the south, and Powell Point (near Escalante) to the southwest.
Boulder Mountain is an angler's haven, with about 80 lakes, most of them fishable. According to local lore Boulder Mountain was confused with nearby Thousand Lakes Mountain, which actually has very few lakes, and the names just stuck. Boulder Mountain is one of the major high-elevation lake areas in Utah, with a relatively long fishing season from April to November. Blind Lake, the largest on Boulder Mountain at 52-acres and 52 feet deep, offers excellent trout fishing. Other popular lakes on Boulder Mountain include Boulder Creek, Calf Creek, Pine Creek, and Sand Creek. Most lakes are close to the road, or can be reached by hiking a mile or two.
Camping and hiking are also popular on Boulder Mountain, including extended backcountry trips. Posey Lake and Hell's Backbone are popular mountain highlights for backcountry travelers. A high-clearance, four-wheel drive vehicle is recommended for many of Boulder Mountain's incredibly scenic yet rugged back roads. Many of Boulder Mountain's high-elevation backcountry roads can close due to snow as early as November, and peak mountain roads are often snow-packed until June. Scenic Byway 12 is well-maintained, making Boulder Mountain's lower elevations accessible almost year-round.
The town of Boulder at the junction of the Burr Trail and Scenic Byway 12 offers easy access to Boulder Mountain, plus lodging and services. Nearby Escalante is also an easy gateway to Boulder Mountain via Scenic Byway 12, as is Ticaboo from the Burr Trail Road. Local outfitters can assist with horseback riding trips on Boulder Mountain's exciting backcountry trails.