Experience southern Utah's diverse geologic and cultural history by visiting Bryce Canyon Country's three state parks. Enjoy the views as you travel along beautiful Scenic Byway 12 from park to park.
KODACHROME BASIN STATE PARK
Start your state park journey near at Kodachrome Basin State Park, the closest park to Bryce Canyon National Park. The scenic state park is best known for 67 towering sand pipes that grace the southern Utah landscape as high as 170 feet above ground. The colorful monoliths, also called chimney rocks, are ancient geysers filled with hardened sediment exposed by eroded outer layers of Entrada sandstone. Visitors today are as awed as early photographers, who were so impressed by the massive and colorful stone monoliths they nicknamed the area after Kodak's famous film.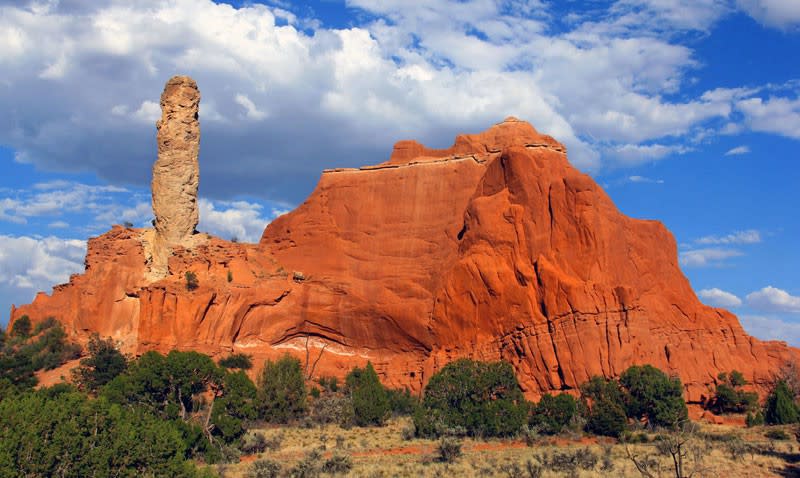 Formations in Kodachrome Basin State Park
Location: 20 miles southeast of Bryce Canyon National Park
Elevation: 5,800 feet
Open: Year round
Amenities: Campground, modern restrooms, showers, picnic pavilion, convenience store, visitor center
Campground: Cabins, tent and RV sites (some sites have full hook ups)
Must see/do: Photography, hiking, sand pipes

ANASAZI STATE PARK MUSEUM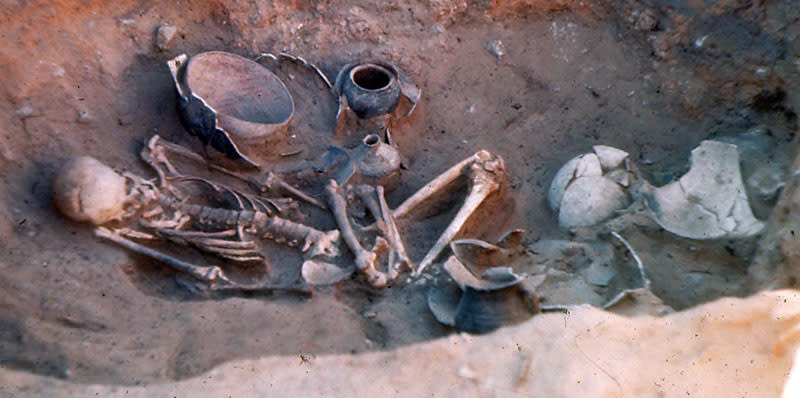 Remains of ancient civilization.If history is your thing, a stop at Anasazi State Park Museum is in order. The six-acre state park encompasses a partially excavated ancient village known as the Coombs Site that was once the site of the largest Ancestral Puebloan communities west of the Colorado River (occupied around 1050-1200 A.D.). Excavations have unearthed nearly 100 structures and more than 10,000 artifacts. Walk the paved trail around the Coombs Site behind the museum for a fascinating exploration through Anasazi history. Most of the dwelling ruins are low stone walls, but you get a great sense of how the village was structured. The excavated ruins include a partially restored kiva and fully replicated 6-room dwelling. Inside, an in-depth visitor center museum displays interpretive exhibits, arrowheads and other tools, pottery and much more.
Give yourself about an hour to explore the ruins and browse the museum. A short interpretive trail guides around the Coombs Site, which is shielded from the harsh sun by a protective roof. Enjoy the view of the ruins set against Bryce Canyon Country's gorgeous red rock landscape.
Location: Boulder, Utah on the east side of Scenic Byway 12
Elevation: 6,700 feet
Open: Year round
Amenities: Visitor center, interpretive museum, picnic areas, drinking water, modern restrooms
Must see/do: Coombs Site; visitor center museum

ESCALANTE PETRIFIED FOREST STATE PARK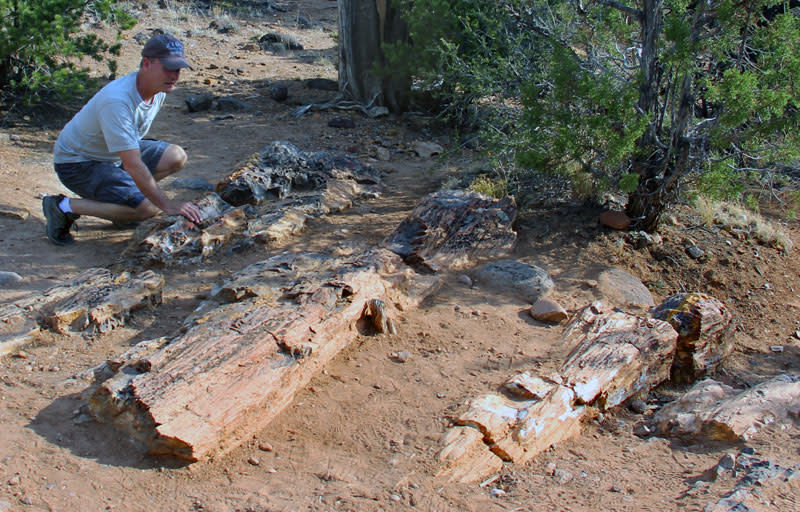 Examing petrified trees trunks.
Escalante Petrified Forest State Park delivers twice the bang for your buck. Located at Wide Hollow Reservoir, there are tons of opportunities for boating, fishing, swimming, and hiking at the 1,000-acre state park. But the other big draw is the incredible Petrified Forest, and a visitor center that boasts 100-million-year-old dinosaur fossils. Two nature trails wind through the park for a good look at the ancient trees that once breathed here. The moderately strenuous Petrified Forest Trail loops for one mile through a maze of petrified logs and ancient lava flows. The 3/4-mile Sleeping Rainbow Trail spurs off the Petrified Forest Trail. Sleeping Rainbow is short but steep as you scramble around the petrified wood. Please remember that it is illegal (and some say bad luck) to remove pieces of petrified wood from the park.
After hiking around the petrified forest, cool off in Wide Hollow Reservoir's clear blue waters. The lake is a favorite Bryce Canyon Country destination for boating, swimming, and fishing. Take advantage of the on-site campgrounds and stay for a while!
Location: Two miles from Escalante; 44 miles east of Bryce Canyon National Park
Elevation: 5,900 feet
Open: Year round
Amenities: Boat launch, Wide Hollow Campground and Lake View RV campground, seasonal showers, group day-use pavilion, interpretive trail, showers, dump station
Must see/do: Hiking in the petrified forest; boating/fishing/swimming in Wide Hollow Reservoir.
Learn more about these state parks here.