Side trip from Escalante, Utah
Perhaps one of Southern Utah's best kept secrets, Upper Calf Creek Falls is an 88 ft cascading waterfall located just upstream for Lower Calf Creek. This secluded little downpour is hidden behind a steep sandstone incline, lined with volcanic boulders and obscured from trail view behind the trailhead register.  Two miles roundtrip, most hikers need to allow at least two hours traversing the uphill trail and scouting for the tricky location (it's easy to get lost). But once you find it, the majestic gravitational potential of energy is worth the hike. In a very real sense, waterfalls harness an enormous amount of energy, which is first transformed into kinetic energy, then into thermal energy when it hits the ground. It's no wonder why the ancients have found the waterfall's elusive power beneficial for the soul's healing.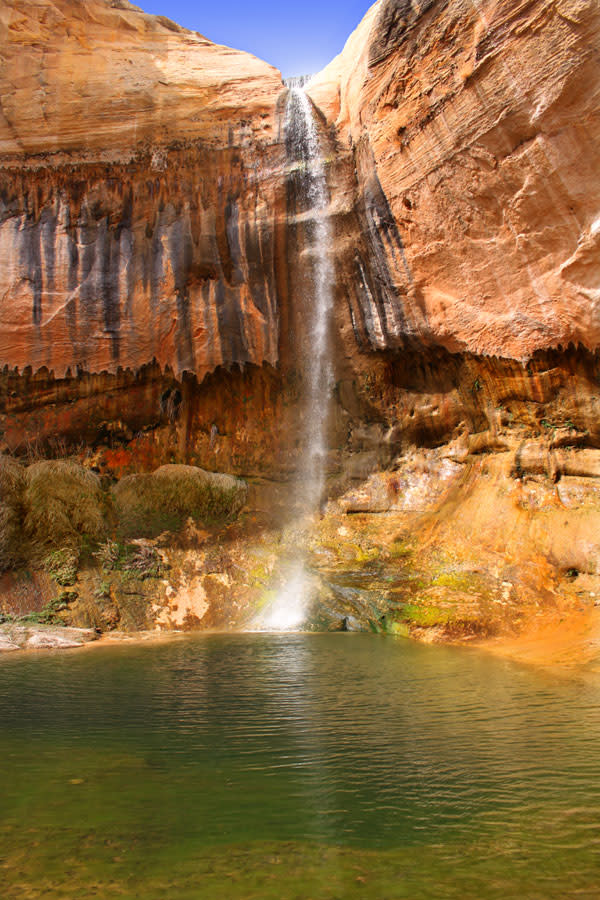 A gorgeous day at Upper Calf Creek Falls near Escalante, Utah
Upper Calf Creek carries a special form of Native magic, creating an almost vortex-like energy that transports visitors to a long-forgotten past. Its seclusion and loneliness make for a more authentic experience than many of the area's over touristy spots. The water flowing from Calf Creek comes from the native magic of a nearby spring. This restorative water flows along a shallow valley, pooling into several deep bowls before the upper falls, where it's ancient whisper spill over an 88 foot cliff at the head of Calf Creek Canyon. The water continues to deepen for 2.5 miles before it doubles its size below the 126 foot lower falls.
The Canyon Part of the allure of Upper Calf Creek is the seclusion and relative obscurity of its canyon. Overgrown with reeds, sage bushes, and tall green grass, walking around the canyon involves a combination of wading through water, climbing through wild desert plant life, and hopping from boulder to giant boulder. It's an adventure made for the wild at heart.
Directions Perhaps the reason many travelers get lost on their way to Upper Calf Creek is due to the unmarked trailhead. The entrance lies between mile makers 81 and 80 on the west side of UT12, 22.4 miles Northeast of Escalante. The 200-300 yards of road leading up to the trail is rough and dispersed in sand. Low clearance vehicles can park on the side of the road and walk up to the trailhead.