Bryce Canyon Country's rich, red-mineral rock has made it one of the top spots to view jaw-dropping sunrises and sunsets. What's more, the region has one of the darkest skies in North America, making it a prime destination for moonlit walks and stargazing adventures.
Scenery at Sunrise & Sunset
Sunrise and Sunset Points are two of the most popular hikes inside Bryce Canyon National Park. With crimson rock on every side of the natural amphitheater, these two trails offer some of the best sunrises and sunsets in the U.S.A.
In the early hours of the morning, hikers can climb the mild terrain and catch the first rays of the enchanting sunshine peeking through red rock crevices. When finishing up a day of exploration, visitors swoon over the views created by the sun sinking in the sky behind Sunset Point. As the sun sets, the hoodoos glow in vivid red, orange and pink hues.
Moonlit Hikes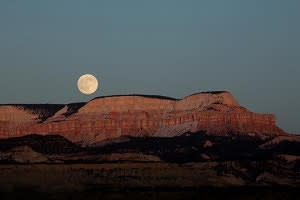 Moonlit hikes provide some of the most intimate experiences in Bryce Canyon Country.
Guided tours begin just at dusk, while the pink and purple hues of the sunset begin to fade. Without the use of flashlights or lanterns, hikers are led through canyons, hoodoos and hillsides with only the light of the moon to guide them. As eyes adjust, the wilderness seems to come to life as the bright moon highlights the beautiful landscape.
Discovery in the Dark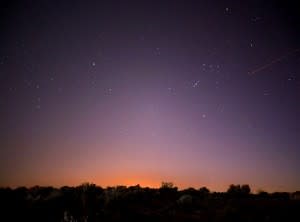 After the sun sets, the towering red rocks disappear and the enveloping darkness reveals brilliant views of the galaxy Andromeda, the planets Jupiter and Venus, and thousands of stars. On a moonless night, visitors can see 7,500 stars light up the sky. The prime viewing is thanks to the high elevation, arid climate and distance from cities and light pollution.
Bryce Canyon National Park has also implemented night sky astronomy programs several times a week inside the park. This free activity, hosted by park rangers, is growing in popularity, allowing visitors to take advantage of the brilliant night skies and view the stars and constellations through telescopes provided at the park.
Astronomical Adventures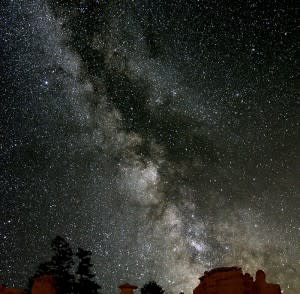 For a more exclusive experience, you can hire your own Dark Ranger to guide you on a moonlit hike and view the starry sky through multiple telescopes. Whether you book a tour with the National Park Service for a larger group, or travel by moonlight with a private outfitter, you are sure to experience an unforgettable night under the stars!
Each year Bryce Canyon National Park hosts an Astronomy Festival. Now in its 15th year, the 2015 festival will take place June 17-20. The event features guest speakers, workshops, telescopes, night hiking opportunities and views that can't be found anyplace else.
With more than 50 telescopes available for public use, the festival provides some of the most unique views of the starry night sky. Rangers and outfitters are equipped to help each individual have a personal experience while stargazing.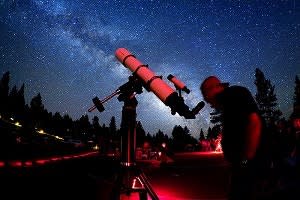 Photo by Kevin Poe courtesy of Dark Ranger Telescope Tours