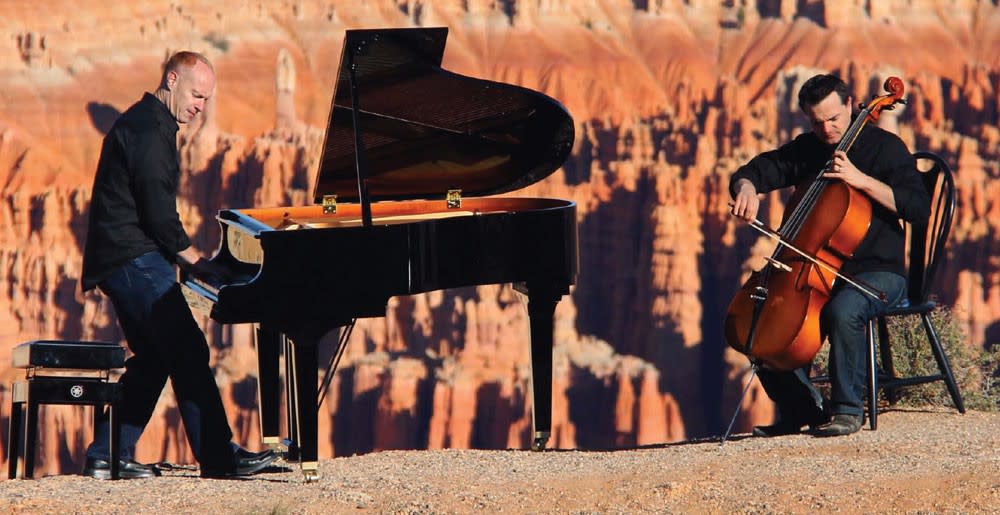 The Piano Guys record video for their Titanium / Pavane cover video at Bryce Canyon National Park.
Last fall we assisted The Piano Guys with shooting the video for their Titanium / Pavane mash-up recording that, after signing with Sony Records, became the first track on their first album.   We recorded video for a lot of what was taking place behind the scenes, on this location shoot at Bryce Canyon, Red Canyon, and the Dixie National Forest.   Click on the video link below to view.
Long before sunrise, under a pitch black sky, on a crisp October morning in 2012, we rolled a grand piano on a four-wheel dolly to the edge of a long precipice.  The drop-off on one side was approximately 200 feet, and the trail was only a few feet wide.  The legs of the piano were installed, and the polished instrument was used for multiple performance runs in the early morning and again in the late evening.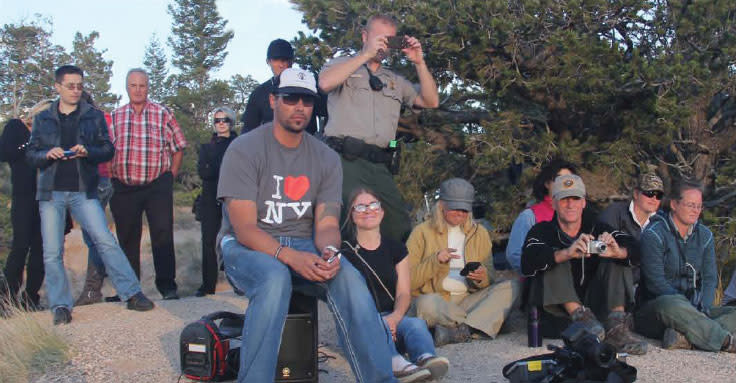 The Piano Guys Members, crew, and a crowd of on-lookers at the rim of Bryce Canyon.
Throughout the day the piano was left sitting alone on the rim while The Piano Guys crew was filming at other locations.  Visitors kept reporting to the park service via phone, and at the visitor center, "There's a baby grand piano sitting on the edge of the canyon, and it's ready to fall off!"
Location scouting was peformed weeks earlier. Permits were acquired from the Dixie National Forest (Red Canyon) and Bryce Canyon National Park.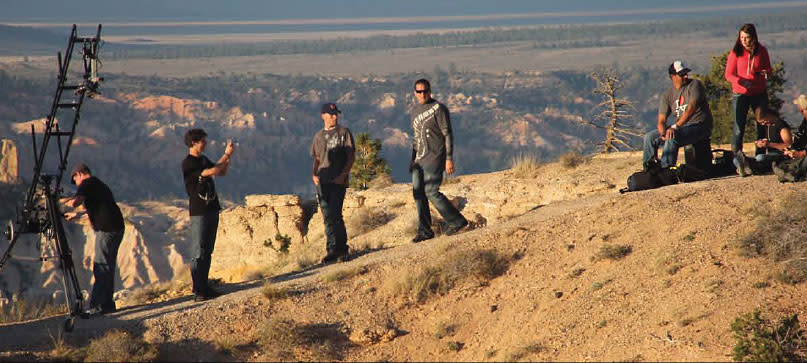 The crew sets up for another shot along the rim of Bryce Canyon.
During the production visitors along the canyon rim took pictures, shot video, and relaxed while listening to the remarkable sounds that only enhanced the world-class setting. Riders on horseback inside the canyon reported to their guide that they could hear a beautiful piano and a stringed instrument. The guide could not explain where the sounds were coming from.
Park officials were pleased as this activity fit their goals for providing artistic expression within the park. This has opened the door for other similar performances.   Click this next link to see more pictures of The Piano Guys and this video shoot.
In just six months, this effort by The Piano Guys has resulted in more than 8,500,000 views and 45,000+ views of the official Bryce Canyon Country promotional video, with many more still expected.
Quote from a Youtube fan:  "I think I just fell in love! I am amazed by the beauty of it all...I feel such awe when I listen to this!   P.S.  Everyone should go to Bryce Canyon at some time in their life, it's the most beautiful place I have ever been."
View The Piano Guys - Titanium video - here.  Location scouting and project coordination by Mark Wade of Oculus Media (Tourism Marketing Consultant).