With accommodations for all types of weather, Bryce Canyon National Park is open all year, with great winter wonderland activities and scenery.
Get the Exclusive Bryce Canyon Experience!
Minimal crowds allow visitors a once-in-a-lifetime chance to experience having the park to themselves. Picturesque weather provides many activity opportunities, including snowshoeing, cross-country skiing, and horse-drawn sleigh rides.
Sunrise and Sunset
With crimson rock on every side of the Bryce Canyon natural amphitheater, these two points offer some of the best sunrises and sunsets in the U.S.A. With the added element of snow, each sunrise and sunset becomes more enchanting. Check out our photo gallery of scenic photos taken in Bryce Canyon Country.
A Snow-Covered Bridge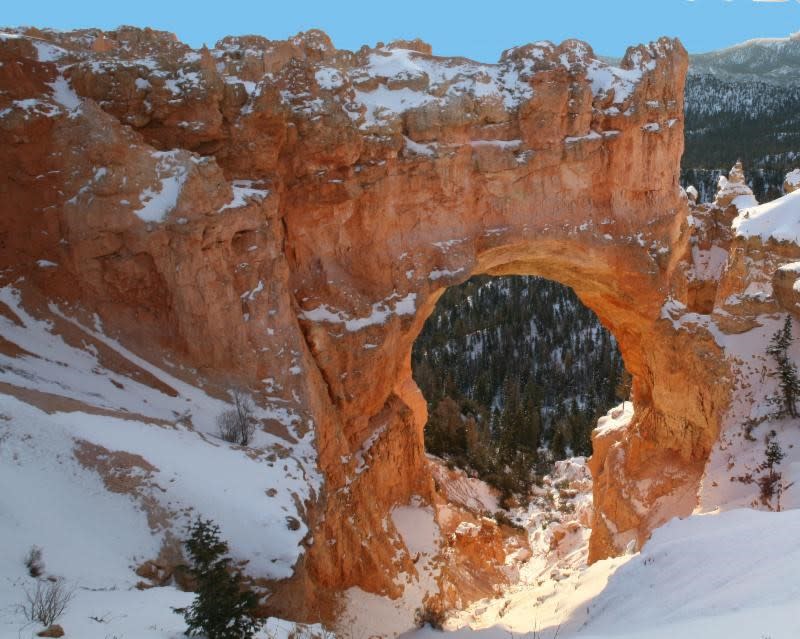 This natural arch in Bryce Canyon is rich in oxide minerals, creating some of the reddest rock in the park. The red rock is beautifully contrasted throughout the park against the dark green forest and bright white snow.
Did You Know?
Geological wonders can be seen throughout Bryce Canyon Country. These natural hoodoos are formed when water seeps into tiny cracks within the rock. The water then freezes and expands, chipping and breaking away pieces of the rock to create beautiful hoodoos. Here are some tips of where to take the best photos.