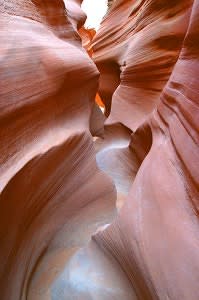 The Escalante River and some of its tributaries wind through the Grand Staircase Escalante National Monument, creating a maze of intricate canyons just waiting to be explored. While many of the Escalante River slot canyons are accessible from Glen Canyon National Recreation Area and the southern tip of Lake Powell, Hole-in-the-Rock Road offers vehicular access from Escalante to several popular slot canyons in the Dry Fork area.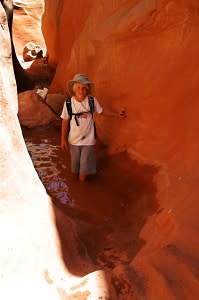 Peek-a-boo Gulch and Spooky Gulch are located within minutes of each other, about 26 miles south of Escalante on the Hole-in-the-Rock Road. Individually, the distance to Peek-a-boo Gulch is two miles roundtrip and Spooky Gulch is just over three miles roundtrip, or they can be combined for a 3.5-mile loop.  Both slot canyons are close together and only moderately difficult, but still requiring sure footing, some rock-scrambling agility and in some cases the ability to squeeze through tight spaces.
Peek-a-boo Gulch slot canyon is the recommended starting point. The hike to this slot canyon leads through the sandy Dry Fork Wash to the mouth of Peek-a-boo, a narrow, twisted slot canyon about a quarter-mile long.  Hand and foot holes are carved into a 10-foot high vertical rock wall to help your ascent.  At the top of the wall, a 3-foot deep pothole is often filled with water but skilled scramblers will manage to navigate without getting wet. The highlight of the hike is the last 100 meters of the slot, where interlocking swirls, fins, and arches are cut into the red Navajo sandstone. The route continues up and out of the canyon. From the end of the trail, hikers can choose to retrace their steps back through Peek-a-boo, or follow the cairns south to the mouth of Spooky Gulch slot canyon. Peek-a-boo Gulch is a fun, rock-scrambling slot canyon experience in contrast to Spooky Gulch's deep, dark twists and turns.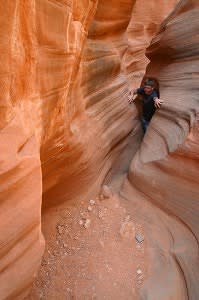 Spooky Gulch isn't for the claustrophobic, but it is a thrilling experience. The canyon walls are so narrow in some places that an average-sized adult will have a hard time passing through. The walls begin closing in just 300 feet in, requiring hikers to turn sideways and squeeze between the slot canyon walls. The bottom openings are typically a little bit wider for those willing to crawl and scoot. Hikers have occasionally gotten stuck in Spooky Gulch so be aware of your girth before squeezing into tight spaces. A section of large boulders near the upper end of the canyon and an extra narrow squeeze through a 5-foot vertical crevice require extra skill and caution. The end of Spooky Gulch opens up to a wide, sandy bed. The floor of this slot canyon is typically dry and sandy although pools of mud and water may form after it rains.
Peek-a-boo and Spooky can be hiked year-round, but be cautious of mud, water, and weather, and never hike the drainages during rain. Combined hiking time for both canyons is about 2-4 hours. To reach Peek-a-boo Gulch and Spooky Gulch from Escalante, take Scenic Byway 12 to Hole-in-the-Rock Road.  Drive south for about 26 miles to Dry Fork Road and head northeast to the trailhead parking area. The Dry Fork turnoff is a rugged, sandy road best suited for four-wheel drive vehicles. At the end of Dry Fork Road, an overlook sits 300 feet above the canyons. A short descent leads to Dry Fork's sandy bed. The trailhead for Peek-a-boo Gulch slot canyon is straight ahead, toward the north, and the trailhead to Spooky Gulch slot canyon is a bit farther down to the east.