Just as the shifting light and shadows bring something different to Bryce Canyon National Park throughout the course of the day, each season also offers a chance to see Bryce Canyon in a new light. Bryce Canyon National Park is open year-round, and with four distinct and beautiful seasons you'll be amazed no matter what time of year you choose to visit.
Summer: Bryce Canyon National Park draws nearly two million annual visitors with the majority showing up during the peak summer months. Long days offer plenty of time to see the sights, and the park's high elevation lends to relatively cooler temperatures (averaging about 80 degrees) than nearby Zion National Park. Although afternoon thunderstorms are common, summer is a generally a great time to explore Bryce Canyon. If you're planning to hike down into the amphitheater, remember to bring plenty of water and wear sunscreen and a hat. Get started early—around sunrise—to take advantage of cooler morning temperatures and to avoid the summer crowds. You may even see some wildlife. You can also avoid the masses by veering a little off the beaten path to lesser-visited trails like Fairyland Loop and Peek-a-boo Loop. Also helpful is the park's voluntary shuttle system, which runs along the 18-mile scenic drive and stops at all of the major overlooks.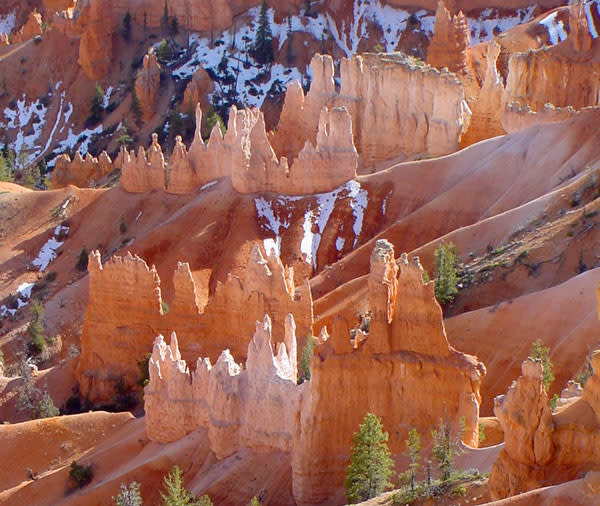 Winter: A winter visit to Bryce Canyon National Park is especially beautiful—and almost guarantees you'll see snow. But in return for braving the crisp weather you'll be rewarded with stunning views and the beautiful contrast of white snow blanketing the craggy red hoodoos. Get an early start to take full advantage of the shorter days, which bring interesting shadows to the hoodoos deep in the amphitheaters. Hiking trails may be snowy, icy, or muddy, so good hiking boots and traction poles are recommended. Snow sport lovers can enjoy snowshoeing and cross country skiing along ungroomed double-track trails. Cross country skiing is also permitted on the Under-the-Rim trail, but downhill skiing, sledding, and snowboarding are prohibited in the park. Some trails and roads may be temporarily closed due to snow, so be sure to check in with the visitor center for weather and road conditions. Also check at nearby Ruby's Inn for information about sleigh rides to the rim, and end your day by cozying up to the fireplace back at the lodge.
Spring and fall visits to Bryce Canyon National Park offer fewer visitors than summer and enjoyable weather. Spring is an excellent time to see Bryce Canyon National Park in full bloom, with wildflowers, newborn wildlife, and lush forests. Fall also offers pleasant temperatures and gorgeous colors on the aspens. Both spring and fall are agreeable for hiking, and while much of Bryce Canyon National Park can be seen from the scenic road there's simply no substitute for hiking down into the amphitheater for a below-the-rim view. Spring and fall generally have daytime temperature ranges between 40 and 70 degrees, so dress accordingly and enjoy the park.
Most of Bryce Canyon National Park's scheduled events and ranger-led hikes occur during the peak summer months. But try to catch the monthly star-gazing program, offered year-round, as Bryce Canyon National Park has some of the clearest air in the country. No matter which season you visit, the 18-mile scenic rim road is a great way to see the park.