Balloon Rally and 5K -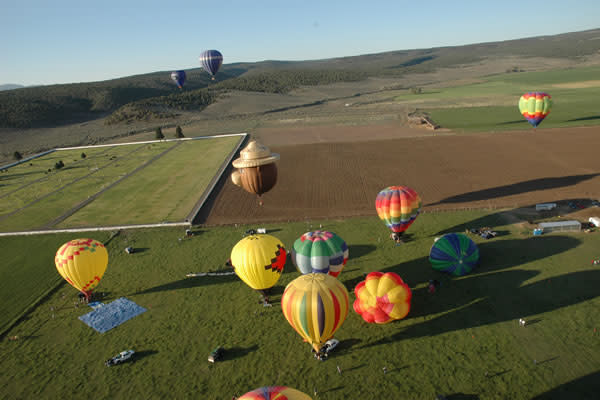 Balloons prepare to rise up from the farm fields surrounding Panguitch, Utah
June 28, 29, 30 2013
Up, up, and away...it's time for the 14th annual Panguitch Balloon Rally and 5K. Hit the skies and the streets on June 28-30, 2013 for this year's incredible festival and race—southern Utah's premiere hot air balloon event.
Watch in awe as the sky fills with brilliant colors as 35 hot air balloons ascend in unison shortly after sunrise each morning for an unforgettable experience. Come early to the launch field to help pilots roll out and inflate their hot air balloons. You might even be invited to go for a ride! The colorful spectacle continues with the Saturday evening balloon glow on historic Main Street. Visitors are encouraged to help pilots inflate and tether the balloons for this magical event.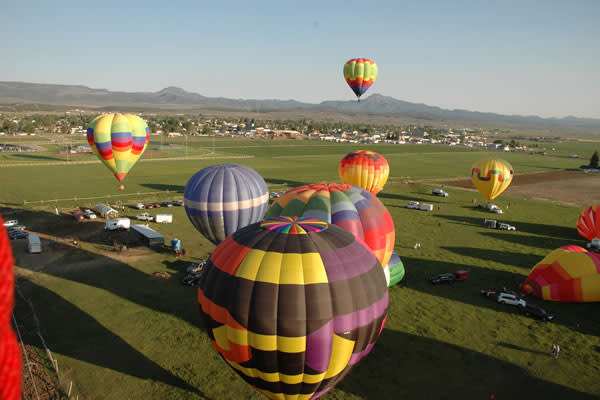 Balloons stretch out toward the horizon in an amazing spectacle of color.
The Balloon Rally Run race around Panguitch begins at 7:30 a.m. on Saturday morning, June 29. Imagine running beneath Bryce Canyon Country's always beautiful early morning blue skies filled with colorful balloons that will set your heart soaring. Starting point is the Panguitch High School. Arrive at 6:30 a.m. sharp for registration.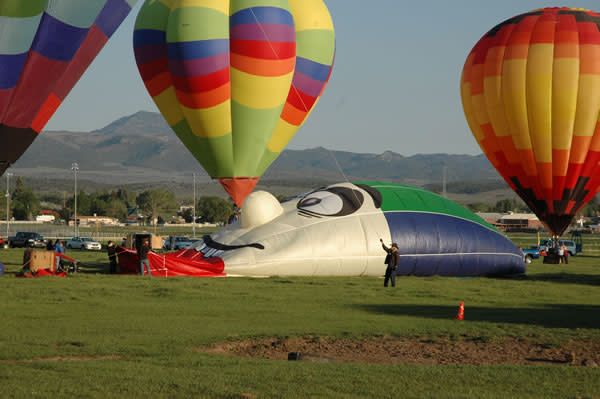 Some balloons are inflating as others begin to rise.
The weekend promises a host of other fun, too. This year, Garfield County residents can compete in the National Anthem Contest at 5 p.m. on Friday for a chance to sing at the opening ceremony for the Tour of Utah in August. There'll be inflatables, face painting, homemade ice cream, karaoke, the Waggin' Tails Dog Contest, a Harley Davidson Parade, and so much more. Saturday evening, historic downtown becomes a street festival with live music, food vendors, the balloon glow, and the After the Glow dance. The festival closes Sunday morning after the final early morning balloon launch.
Stay in town for the entire weekend and take time to visit Bryce Canyon National Park, Red Canyon, or Pangtuich Lake, all within a 20-minute drive from Panguitch.
The sky's the limit this weekend—don't miss it! For a full schedule of events, visit the official Panguitch Valley Balloon Rally.   Learn more about Panguitch, Utah.