Best known for the 67 unique sand pipes that accent the breathtaking desert landscape, Kodachrome Basin Park has a well-deserved reputation as a photographer's paradise. In fact, the multicolored sandstone monoliths, nestled beneath southern Utah's brilliant blue skies, inspired National Geographic Society photographers to nickname the area Kodachrome Flat (after Kodak's then-newest film) during a 1948 photography expedition. Kodachrome Basin, located about 20 miles southeast of Bryce Canyon National Park, awes thousands of visitors each year with its other-worldly landscape, but it rarely feels crowded. Most days it feels like you have this magical landscape all to yourself.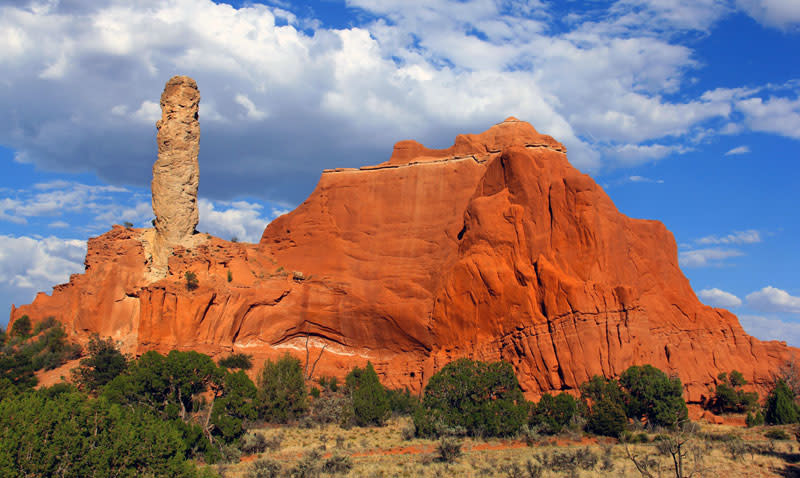 Formations in Kodachrome Basin in late afternoon light.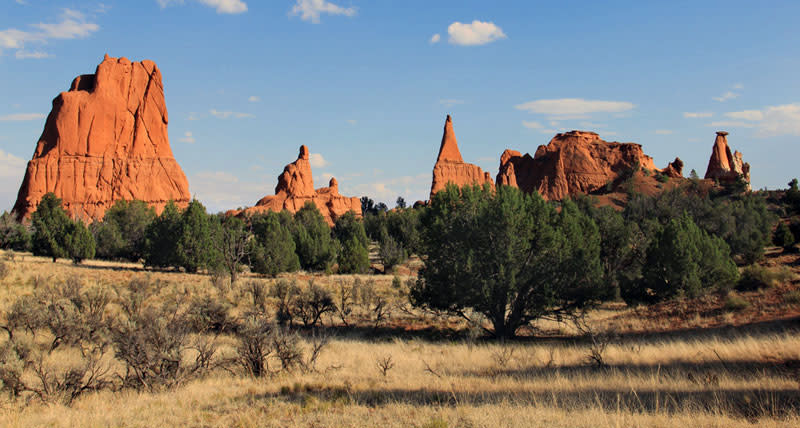 Kodachrome Basin State Park is surrounded by Grand Staircase Escalante National Monument, so there's splendor in every direction. It's easy to get up close to the sand pipes with a series of five shared hiking, biking, and equestrian trails that run throughout Kodachrome Basin State Park. The Grand Parade Trail is an easy, 1.5-mile scenic trail that follows along the park road, perfect for walking, biking, and horses. The easy 0.5-mile Nature Trail is wheelchair- and stroller-friendly, and features informational panels about Kodachrome Basin's unique plants, animals, and geology. Sentinel Trail is an easy 0.5-mile hike to Shakespeare Arch, and affords amazing views of the surrounding GSENM. The total 1.7-mile loop gets a little more challenging after that. The 1.5-mile Angel Palace Trail is ideal for photographers who want to see Kodachrome Basin live up to its name.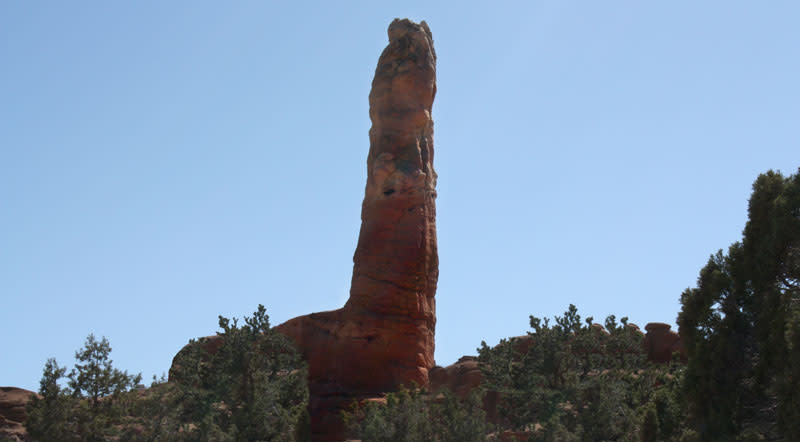 Towers of stone created by sediment that filled ancient geyser tubes.
On the west side of the park, the shared hiking/equestrian Panorama Trail makes a 3-mile loop past some of Kodachrome Basin's most impressive formations, such as the Ballerina Slipper and the Hat Shop, with an optional connection to the Big Bear Geyser/Cool Cave Trail for a total of 6 miles round trip. You can also drive around the park on two short roads. The east road leads to Chimney Rock and Shakespeare Arch. The west road leads to the campground.
At 5,800 feet elevation, Kodachrome Basin State Park boasts pleasant weather for year-round exploring. It's easy to reach Kodachrome Basin from Bryce Canyon National Park by taking Scenic Byway 12 to Cannonville, and then heading south on Cottonwood Canyon Road for about nine miles . Book a stay in nearby Bryce Canyon City, Cannonville, or Tropic for quick and easy access to Scenic Byway 12 and all that Bryce Canyon Country has to offer! There is also cabins, tents and RV sites at the campground in Kodachrome Basin State Park. The 2,240-acre park can be thoroughly explored in a half day, leaving time for a magical side excursion to nearby Grosvenor Arch via the unpaved Cottonwood Canyon Road.  Learn more about Kodachrome Basin State Park.