The recreation opportunities are endless in Bryce Canyon Country. But with so many choices, where do you start? A guided adventure can be a great way to experience all that this spectacular region has to offer.
Aerial charters and tours are a great way to get a bird's eye view of scenic Bryce Canyon Country. Whether you're seeking an exhilarating helicopter flight, scenic airplane ride, or simply want to float above the canyons in a hot air balloon, click here to find the perfect tour for your aerial adventure.
Guided ATV and 4-wheel drive tours are a fun and exciting way to explore off the beaten path. Ruby's Inn offers guided ATV tours, starting at one hour long, on some of the best trails Bryce Canyon has to offer. Or explore some of the most rugged and remote trails in the region, like Hole in the Rock and Hell's Backbone, with Escalante Jeep Rentals. Find more information about local ATV and 4x4 tours here and here .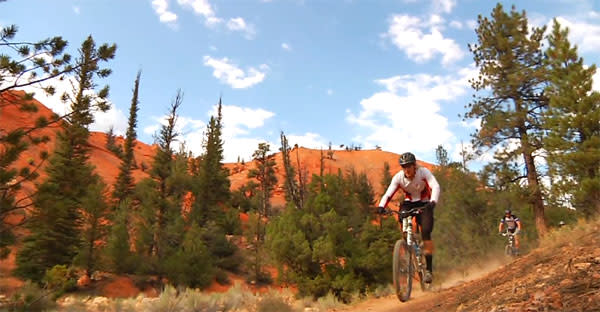 Mountain biking, hiking, horseback riding, ATV riding, aerial tours, and other guided adventures are all available in Utah's Bryce Canyon region.
If you prefer to explore under your own steam, how about hitting the trails with a guided mountain biking tour.  Several outfitters offer guided hikes throughout scenic Bryce Canyon Country. From easy trails inside Bryce Canyon National Park to more adventurous hikes through slot canyons and challenging remote back country trails, there are several options for exploring this rugged region on foot.
Guided horseback day trips, wagon rides and overnight pack trips are another way to view the grandeur of Bryce Canyon Country's red rock hoodoos, sculpted canyons, and bristlecone forests. Clip clop along scenic trails, explore outlaw territory, or saddle up for a week-long cowboy adventure over old cattle trails and through rugged canyons. Last but not least, discover pristine lakes with guided fly fishing tours on Boulder Mountain and the Aquarius Plateau.
Check out these links for more information about special tours and other local tour companies.