Enjoying the surrounding forested lands.
Nearly two million acres stretches throughout the lush, desert landscape of Dixie National Forest. Established on September 25, 1905 by the General Land Office, the name of this famous national treasure was famously dubbed by the locals who deemed the warm Southern climate of Utah as "Dixie." The U.S. Forest Service took over the upkeep and protection of the land in 1906, and the following year on March 4th, Dixie officially became a National Forest. Sevier National Forest was included in Dixie territory on July 1st, 1922, and the famously plentiful Powell National Forest was officially designated as part of Dixie on October 1st, 1944.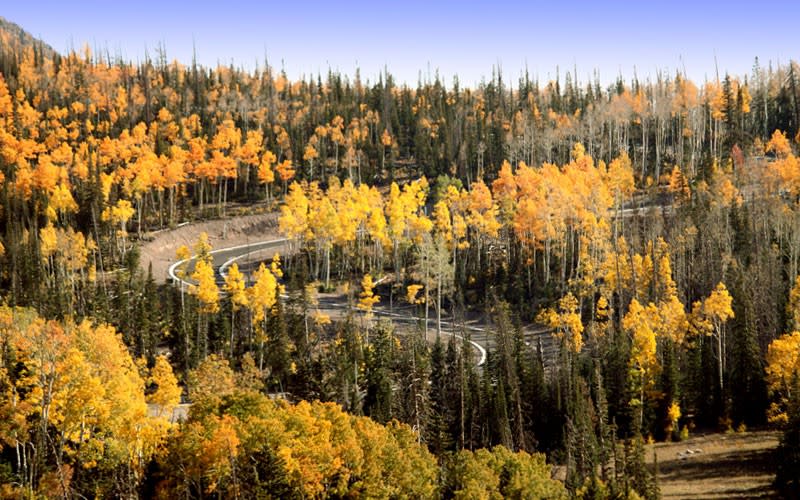 Falls shows-off in the Dixie National Forest along Scenic Byway 143
With proximity to three of Utah's national parks and neighbor to two famous national monuments, Dixie National Forest offers many breathtaking views and colorful desert formations. The notorious red sandstone formations of Red Canyon rival even the majestic landscape of Bryce Canyon. Visitors viewing the vista from the top of Powell Point can enjoy miles of beauty sweeping into the landscapes of three different states. Hiking, fishing, and site seeing can be enjoyed from areas such as Boulder Mountain, Hell's Backbone Bridge, and Death Hollow.

Aspen trees are prevalent in Utah's Dixie National Forest.
The spectacular, multi-colored cliff walls and mesmerizing gorges of the Colorado River canyons can be viewed from the southern rim of the Great Basin, while the famous lakes of Boulder Mountain proudly stands as one of the largest high-elevation plateaus in the United States.
Dixie's famously "warm" climate shifts to many extremes. Summer highs exceed 100 degrees Fahrenheit in the areas near St. George, while winter ushers in a staggering below 30 degrees on the plateau tops.
An enjoyable walk through the Dixie National Forest.
Thunderstorms are common in the late summer months, and rains pour heavy in some areas of the forest. In the lower areas precipitation remains around 10 inches, while in higher elevation areas such as Brian Head Peak rain reaches more than 40 inches per year. Forest elevations range anywhere from 2,800 feet near St. George to 11,322 feet at Blue Bell Knoll on Boulder Mountain, while areas such as Markagunt, Pansaugunt, and the Aquarius plateaus sweetly soak in the high altitude climate of the rolling hills and sweeping peaks.
Famous for its dense vegetation and desert plants, the lower elevation of Dixie National Forest boasts beautiful bounties of juniper and pinyon pine, while higher elevations flaunt the more sought-after and rare forest life of aspens, and variations of conifers such as spruce, fir, and pine.  Read more here...