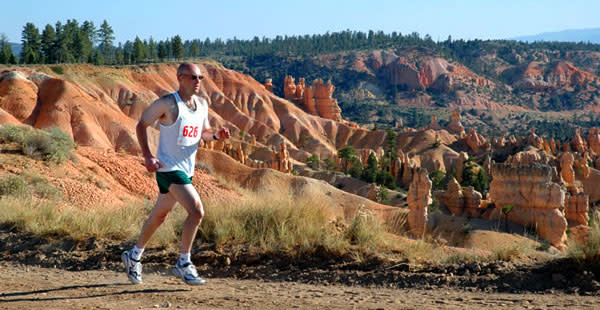 The Bryce Canyon Rim Run is one of Utah's most scenic races.  The five-mile run/walk follows a maintained trail through ponderosa pine forests and open meadows overlooking Bryce Canyon.
The course is at an elevation of 7,600 feet with only gentle elevation changes. The race offers both running and walking divisions. Participants will receive t-shirts, refreshments, a post-race lunch, and awards.
The annual Bryce Canyon Rim Run is held the Saturday before Labor Day.  The 2012 event will take place on August 25.  Pre-register by mail or online, or register in person at Ruby's Inn. Proceeds from the $25 entry fee ($20 if post-marked before August 18) benefit the local Boy Scouts.
Visit the Ruby's Inn website www.rubysinn.com/run.html to register online, or for more information email jean@rubysinn.com, or call 1.435.834.8023 / 1.866.866.6616 (toll free).