For over one hundred years, visitors have been coming to Bryce Canyon National Park to revel in its wonder and beauty. Early travelers and lodgers contributed to Bryce Canyon's fast-growing popularity, such as Ebenezer Bryce, Bryce Canyon's namesake, and Ruby Syrett, who built Bryce Canyon's first tourist lodge. The photos below feature the "then and now" of Bryce Canyon National Park. The juxtaposition of century old and modern photos depicts small and large changes in this world-renowned park.
Visitors Admire Views at the Rim of Bryce Canyon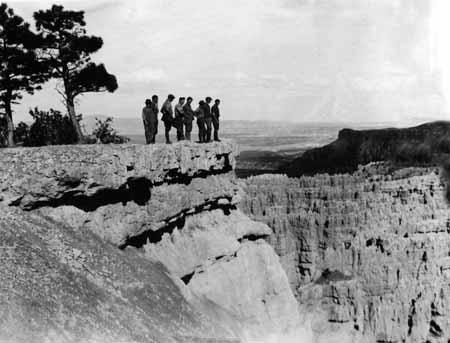 Then: J.W. Humphrey, who was assigned to manage the Sevier Forest in July, 1915 said, "You can perhaps imagine my surprise at the indescribable beauty that greeted us, and it was sundown before I could be dragged from the canyon view. You may be sure that I went back the next morning to see the canyon once more, and to plan in my mind how this attraction could be made accessible to the public" (Seiler, A. J. 2013. Ruby's Inn at Bryce Canyon). Humphrey was the person most responsible for making Bryce Canyon a national park. Photo: Unknown travelers at the rim of Bryce Canyon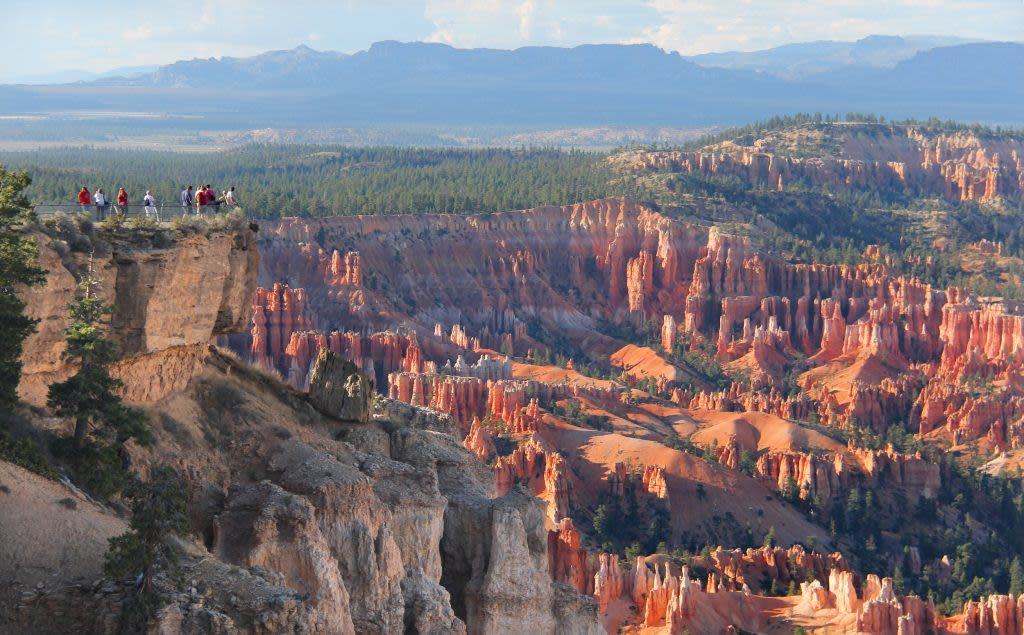 Now: Thanks to J.W. Humphrey and others, Bryce Canyon became a park in 1928. Today, 1.75 million visitors come to Bryce Canyon every year to take in the incredible views. Photo: Visitors enjoying Bryce Canyon's scenery
Looking over Bryce Canyon Invokes Reminiscent Thoughts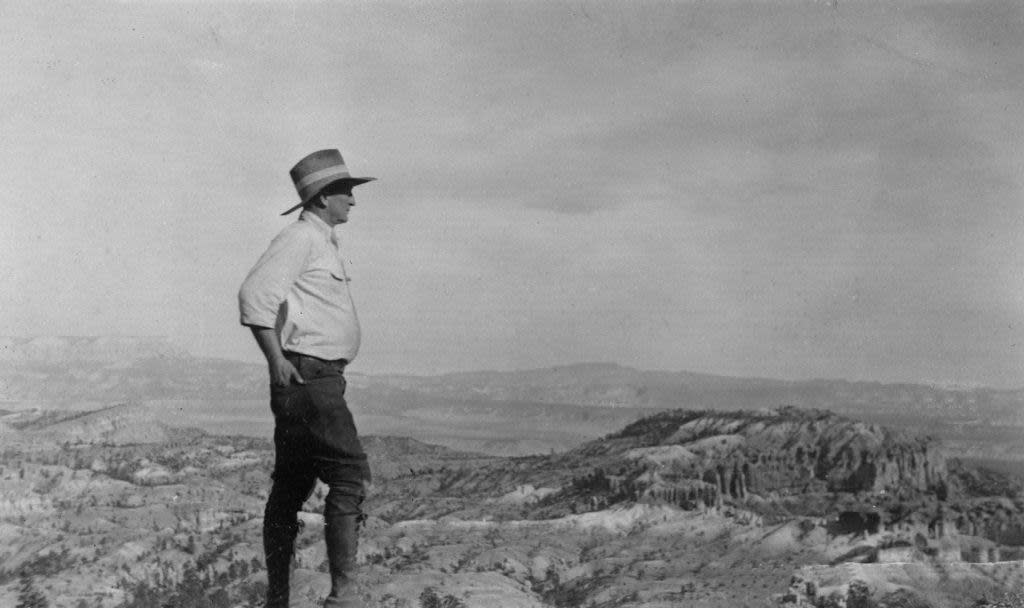 Then: Ruby Syrett, one of Bryce Canyon's first inhabitants and founder of Bryce Canyon's first tourist lodge said, "One Sunday afternoon...my family and I climbed into our white-topped buggy and went to see this 'hole in the ground.' We stood speechless: the coloring, the rock formations, we had never seen anything like it. What a surprise the hole turned out to be! We thought everyone should see it, so from that time on we took our friends there, and we told everyone we met about Bryce" (Seiler, A. J. 2013. Ruby's Inn at Bryce Canyon). Photo: Ruby Syrett gazing over Bryce Canyon's rim.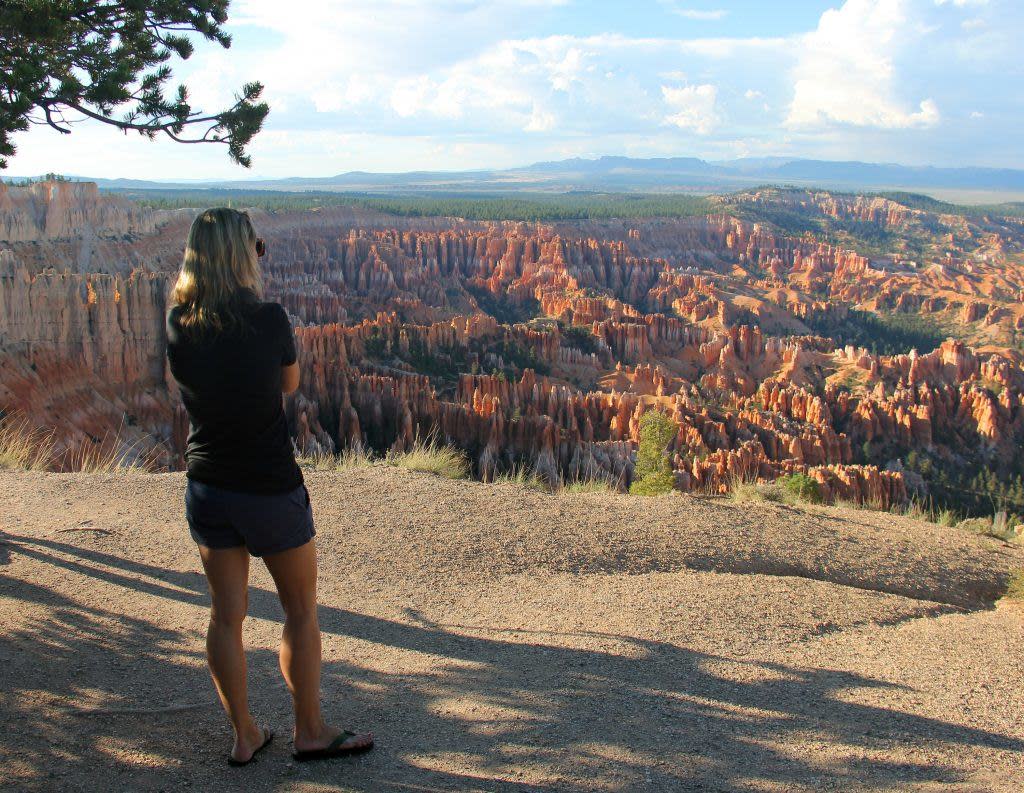 Now: Today, this "hole in the ground" has attracted people world-wide. Photo: Unidentified woman looking over Bryce Canyon's rim.
Bryce Canyon Shines Against the Snow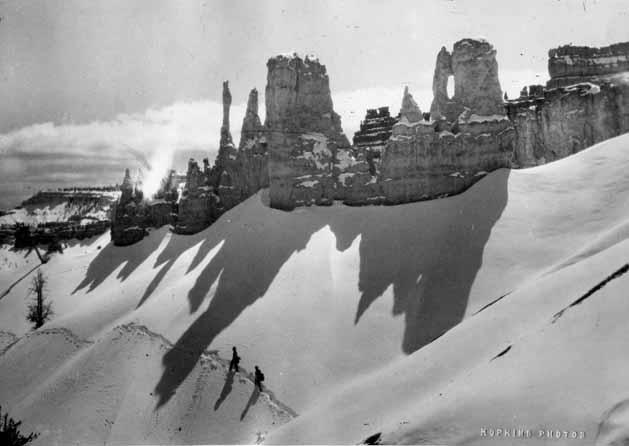 Then: It took some effort to hike in and around Bryce Canyon from the untamed terrain, especially in the snow. Hikers had to make create their own paths. Photo: Hikers following snow trail at Bryce Canyon.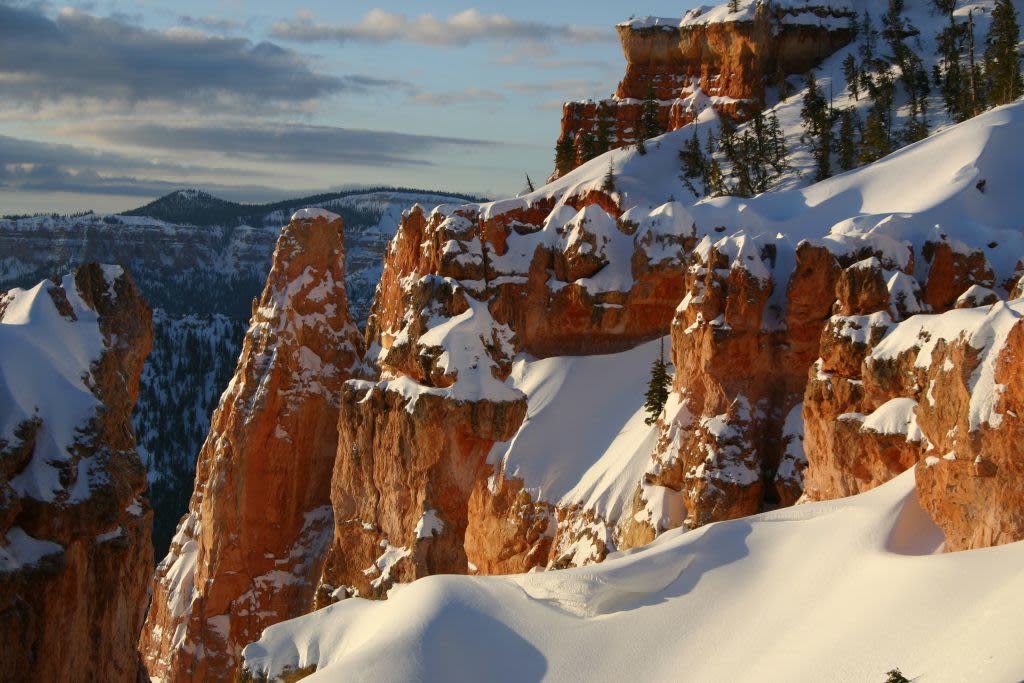 Now: Bryce Canyon is a draw in the wintertime with the white snow juxtaposed against the crimson earth. Visitors can witness firsthand the eroding natural forces that formed the unique hoodoos. Photo: Winter shot of Bryce Canyon.
Bryce Canyon: World's Largest Collection of Hoodoos

Then: Many visitors preferred riding to walking. Because there were no established trails, all you had to do was find a landmark and head toward it to start your own expedition. Photo: Unidentified rider on Bryce Canyon's rim.

Now: Today, visitors can take in the breathtaking views by horseback riding, hiking or mountain biking. Most prefer walking to get the closest look at the orange-red rock formations. Photo: Aerial view of Bryce Canyon's hoodoos.
Hoodoos: Large Pillars of Rock Left Standing from Eroding Forces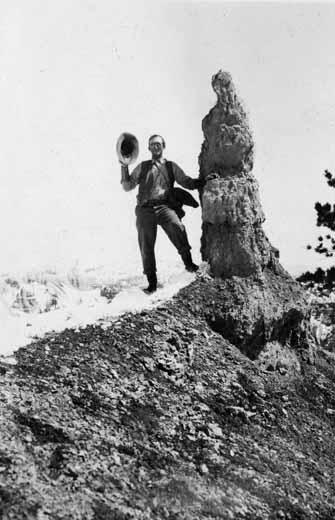 Then: Ruby Syrett is featured in this image during the winter months posing with one of the many Bryce Canyon hoodoos. He often went exploring along with his guests.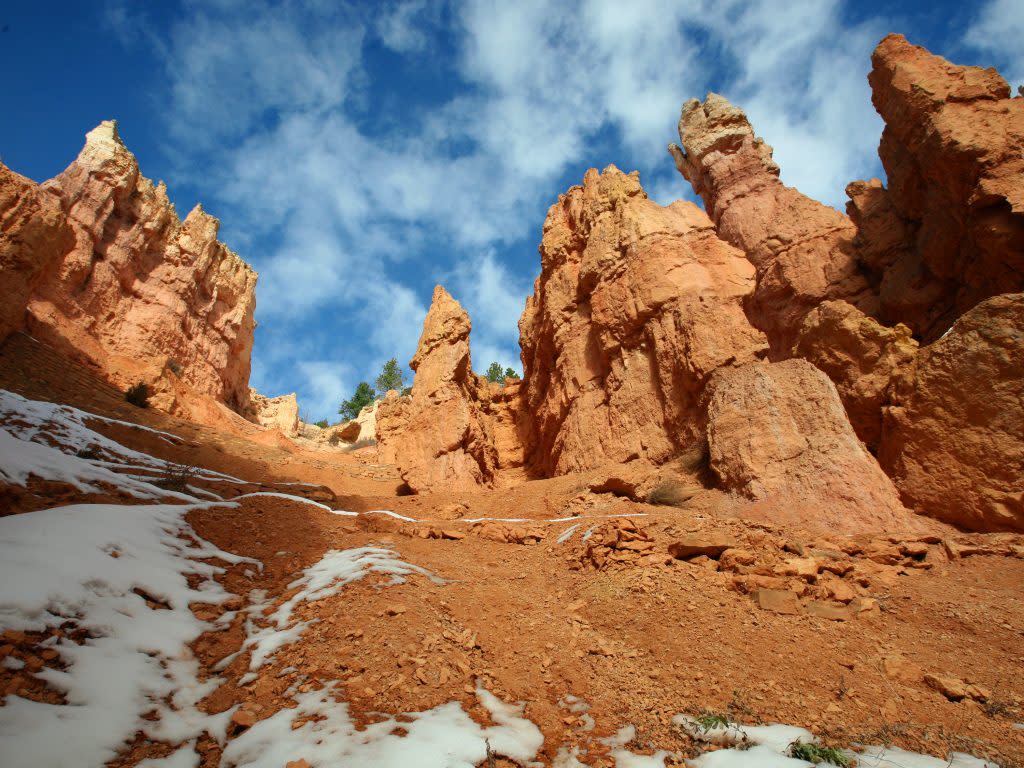 Now: Along with the lively color patterns, hoodoos range from 5 feet or soar to the height of 150 feet. Photo: Low angle shot of Bryce Canyon's hoodoos.
Bryce Canyon Hiking Trails

Then: By 1919, folks kept on coming to visit the park and take advantage of the incredible views. These early visitors were often times on their own when it came to hiking trails. They explored the amazing formations by using streambeds, cattle trails and their own made routes. Photo: A group of travelers staying warm in a rock's crevice.

Now: Today, there are many paved and outlined trails available. Nine popular trails include, Bristlecone Loop, Rim Trail, Mossy Cave, Navajo Loop, Queens Garden Loop, Riggs Spring Loop, Under the Rim Trail, Fairyland Loop and Peekaboo Loop. Photo: Three women resting while enjoying Bryce Canyon's views.
More Tourists Brought More Development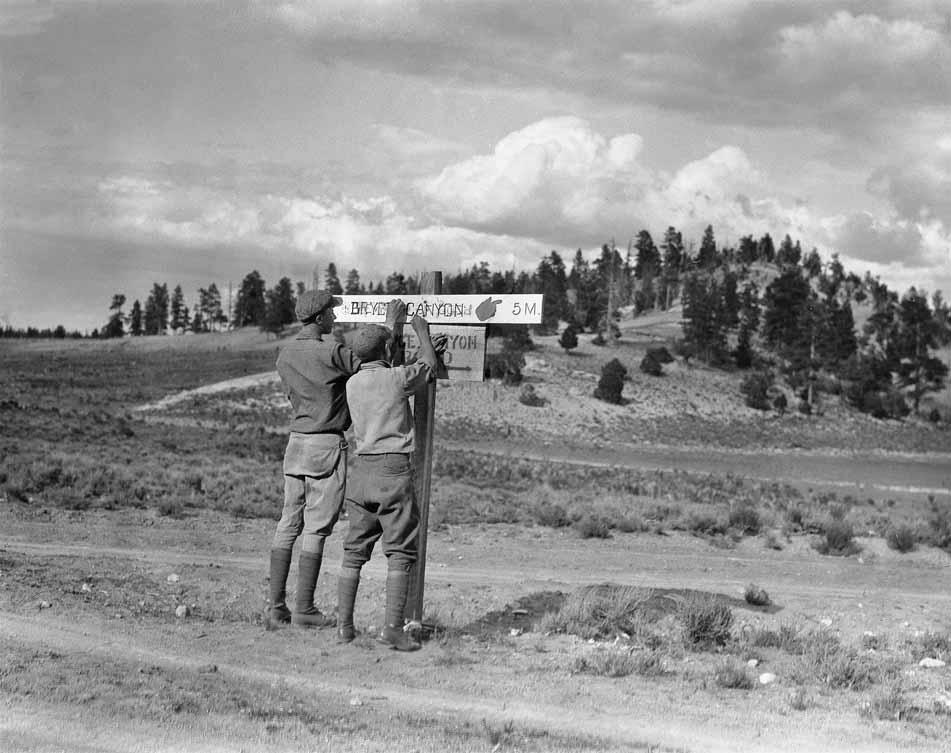 Then: As seen in the above photo, roads were rough and signs were scarce. In the photo, Bryce Canyon is five miles east, Red Canyon is to the west and just north, the picture looks toward a plateau.
Now: Today, paved roads are everywhere. Bryce Canyon sits adjacent to Bryce Canyon City, home to Ruby's Inn. According to the 2015 census, their population is 198. Photo: Bryce Canyon City Main Street.
"Utah's New Wonderland"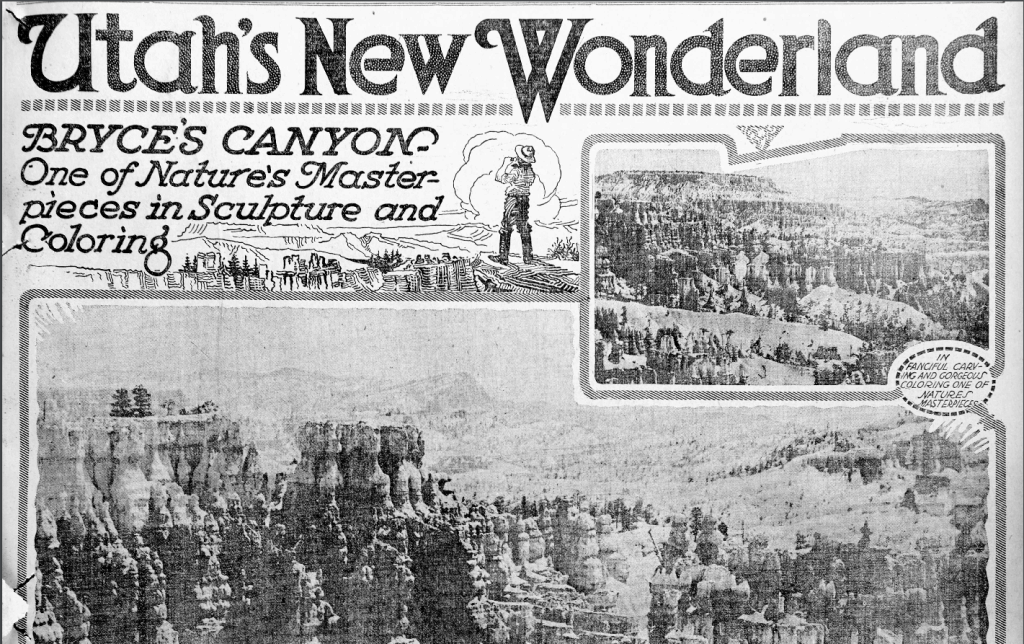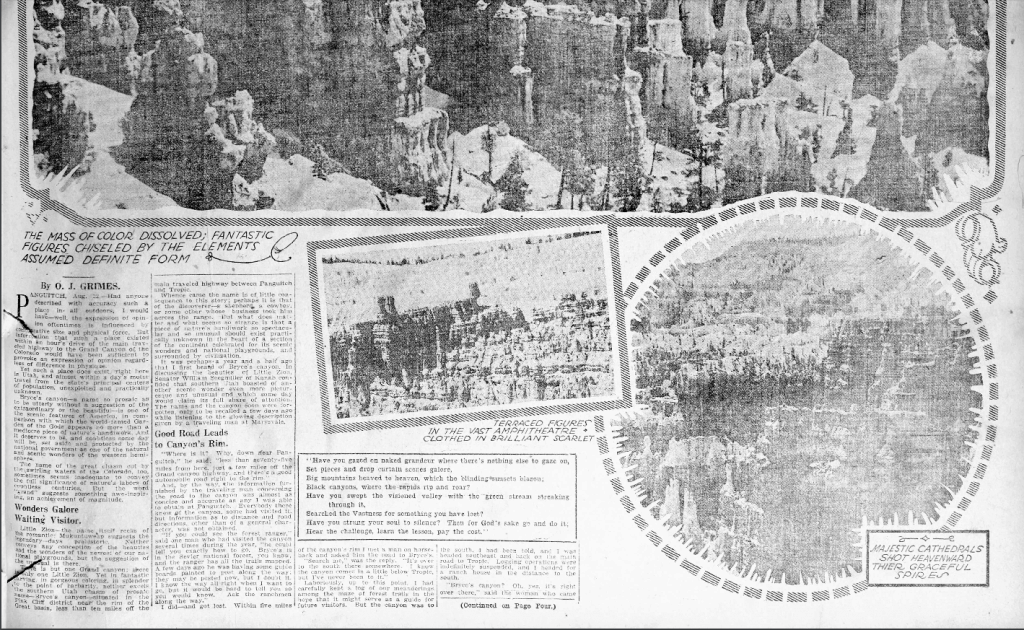 Then: In the summer of 1917, the official photographer of the Salt Lake Tribune, Oliver J. Grimes, visited Bryce Canyon. On August 25, 1918, an article appeared in the newspaper titled, "Utah's New Wonderland" (Seiler, A. J. 2013. Ruby's Inn at Bryce Canyon).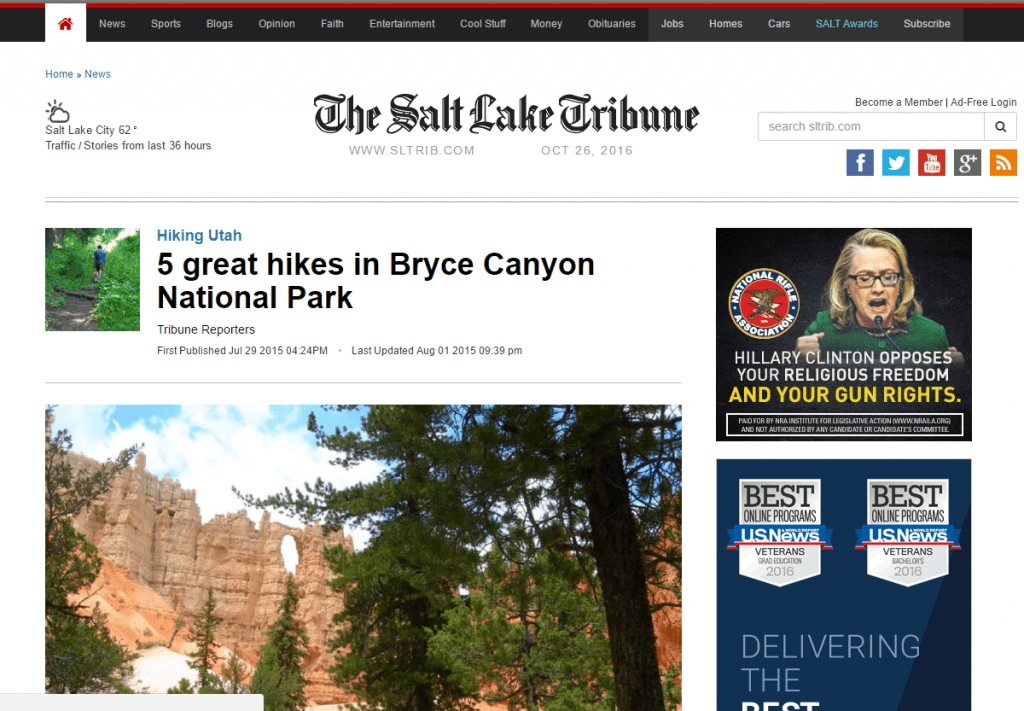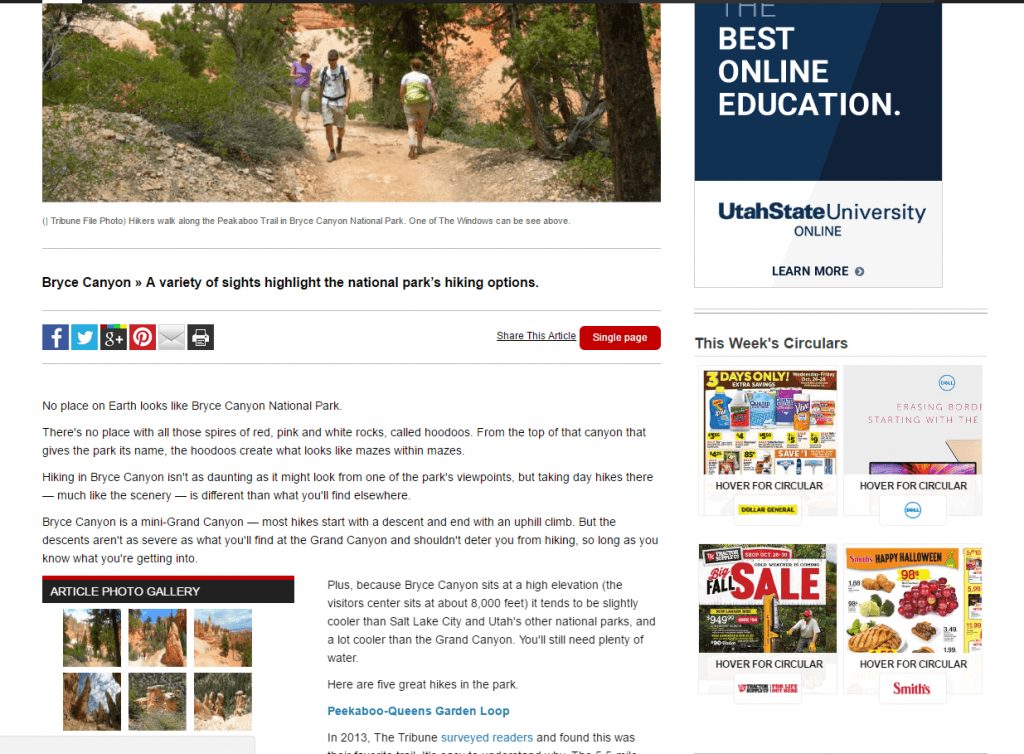 Now: Today, newspapers continue to publish many articles about the wonders of Bryce Canyon. Photo: Screenshot of Salt Lake Tribune online edition, "5 great hikes in Bryce Canyon National Park" dated July 19, 2015.
Bryce Canyon Gains Popularity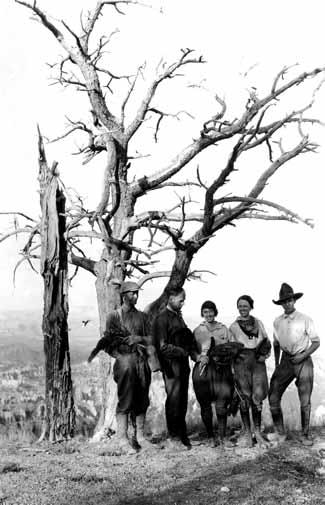 Then: In the early years, the first tourists were a hardy bunch, exploring the 35,835 acres of Bryce Canyon on their own. Photo: Unidentified early visitors to Bryce Canyon.

Now: Bryce Canyon has a lot of history to offer visitors. Bristlecone pines, the oldest trees in the world, are found in Bryce Canyon and are up to 5,000 years old. Photo: Small pine tree on Bryce Canyon's rim.
Travel to Bryce Canyon is a Scenic Road Trip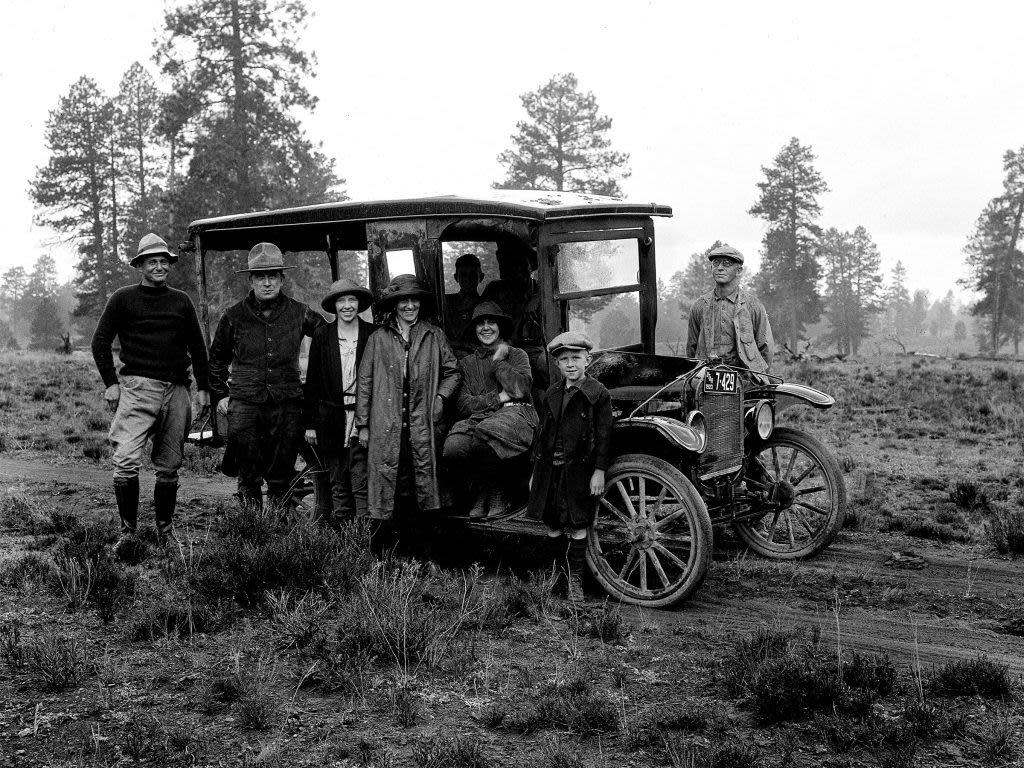 Then: This 1923 photo depicts an excited group who traveled 268.2 miles from Salt Lake City to Bryce Canyon. It was normal to have several breakdowns and the roads made for a bumpy travel.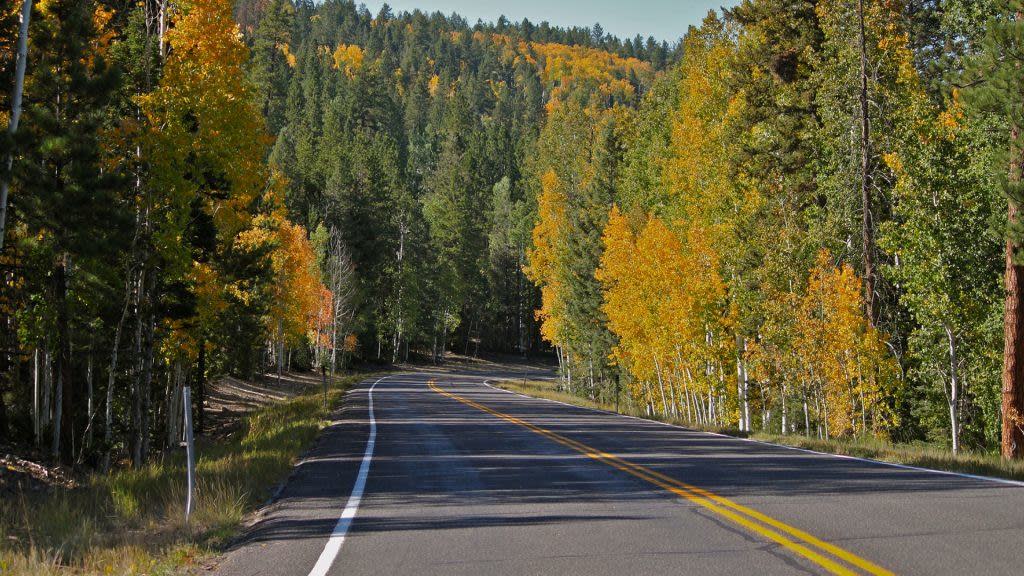 Now: Today, it's much easier to travel to Bryce Canyon. Bryce Canyon has many scenic byways that make for exciting road trips. Visitors find out the journey is just as beautiful as the destination. Scenic drives includes Scenic Byway 12 and 143 and Scenic Highway 89. Photo: Highway 143 near Bryce Canyon.