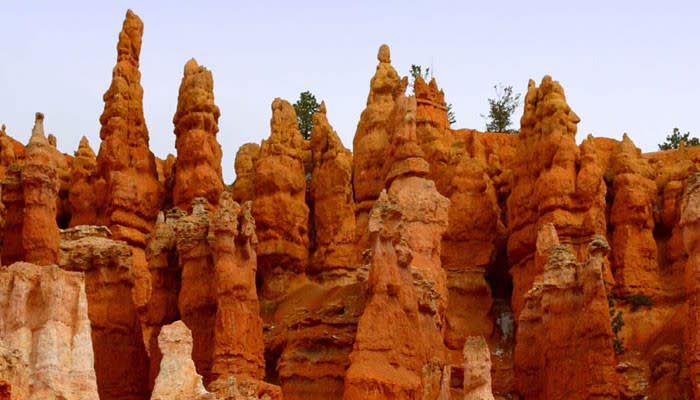 Most famous for the colorful hoodoos which rise from deep within its craggy amphitheaters, Bryce Canyon National Park also boasts a colorful past, rich in Native American lore and pioneer history. Dating back more than 10,000 years, the anthropologic history of Bryce Canyon National Park is as alluring as its distinct landscape.
Little is known about the earliest inhabitants, although archaeologists believe Paleo-Indians hunted about 10,000-15,000 years ago in the region of modern-day Bryce Canyon National Park. Artifacts have been unearthed south of Bryce Canyon National Park from the Anasazi Basketmaker period around 700 A.D., as well as traces of Ancestral Puebloans and the Fremont People who likely searched the area for firewood and game animals. Paiute Indians also inhabited the area as hunters and gatherers beginning around 12oo A.D., staying for several hundred years. The Paiute called Bryce Canyon's mysterious rock formations Anka-ku-was-a-wits—meaning "red painted faces"—and believed that the hoodoos were Evil Legend People turned to stone by the all-powerful Coyote spirit.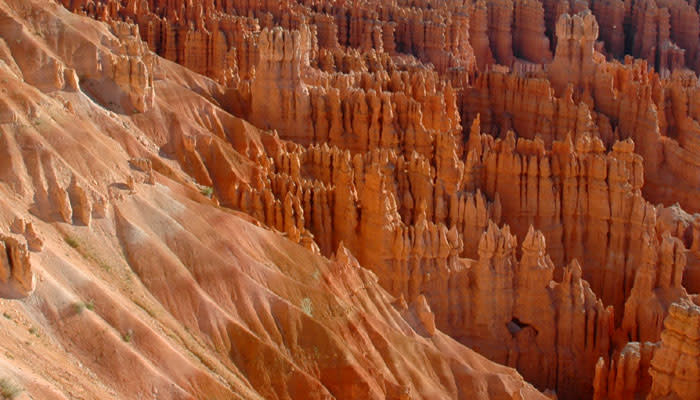 A group of Spanish explorers led by Franciscan friars Silvestre Escalante and Francisco Dominguez traveled near the region around 1776, and a handful of Mormon scouts passed through at the turn of the century, but it wasn't until the late 1800s that area was explored and documented. Major John Wesley Powell surveyed the Bryce Canyon region in 1875, around the same time Mormon pioneer Ebenezer Bryce was sent to the Paria Valley by the LDS Church. Born in Scotland and a carpenter by trade, Ebenezer Bryce originally settled in Clifton with his wife, and built what is now the oldest Mormon chapel in continuous use in nearby Pine Valley. He soon relocated, and literally paved the way to Bryce Canyon when he constructed a timber road to the rim. He also used his skills to help build a seven-mile irrigation canal from Paria Creek to make the area favorable for farming. As a rancher, Ebenezer Bryce is perhaps most famous for saying that the intricate maze of Bryce Canyon was a "helluva place to lose a cow."
The area became known as "Bryce's Canyon" and the name stuck even after the Bryce family and most other local settlers, as well as the Paiute, left the area five years later. But interest in scenic Bryce Canyon peaked as the remote area became more accessible when Union Pacific expanded rail service in the early 1900s. In 1916 pioneer rancher Reuben Syrett, affectionately known as Ruby to locals, moved his family to the region. He and his wife Minnie set up lodging and tour services near Bryce Canyon's rim to accommodate visitors brought by the railroads. A few years later the state of Utah gave the Syretts permission to build a lodge near the canyon rim. Ruby eventually relocated the "Tourist Rest" to his nearby ranch, and today the iconic, western-themed Ruby's Inn still serves visitors as the gateway to Bryce Canyon National Park.
Due to increased tourism, conservationists lobbied for Bryce Canyon's preservation. President Harding established Bryce Canyon National Monument in 1923, and national park status was gained in 1928. The park boundaries were extended in 1931 and again in 1942 to its present-day size of 35,835 acres. In 1934, the Civilian Conservation Corps completed the 18-miles scenic Rim Road through the park, which is still in use by Bryce Canyon National Park's two million annual visitors.