Bryce Canyon National Park has dozens of miles of hiking trails, ranging from easy to backcountry—and everything in between. There's something for everyone, so lace up your hiking boots and get ready to explore scenic Bryce Canyon on foot.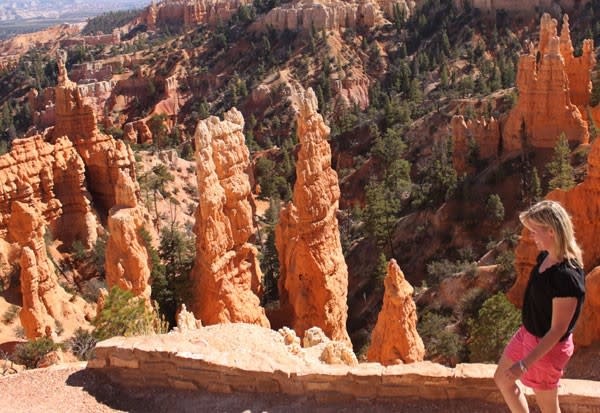 Popular Trails The 4.7-mile Rim Trail connects some of the most popular overlooks in Bryce Canyon National Park, including Sunrise Point, Sunset Point, Inspiration Point, and Bryce Point. The section between Sunrise and Sunset Points is fully paved for wheelchair and stroller accessibility. Stroll all or part of this mostly easy trail, with an elevation gain of only 200 feet over nearly five miles, for spectacular rim views of Bryce Amphitheater.
For a different perspective, hike down into Bryce Amphitheater along the Navajo Loop Trail from Sunset Point. This popular trail is a fairly strenuous 2.2-mile loop descending 521 feet into the canyon along a series of steep switchbacks. This Bryce Canyon trail winds through Wall Street, a steep-walled narrow gorge, past two 700-year-old Douglas fir trees.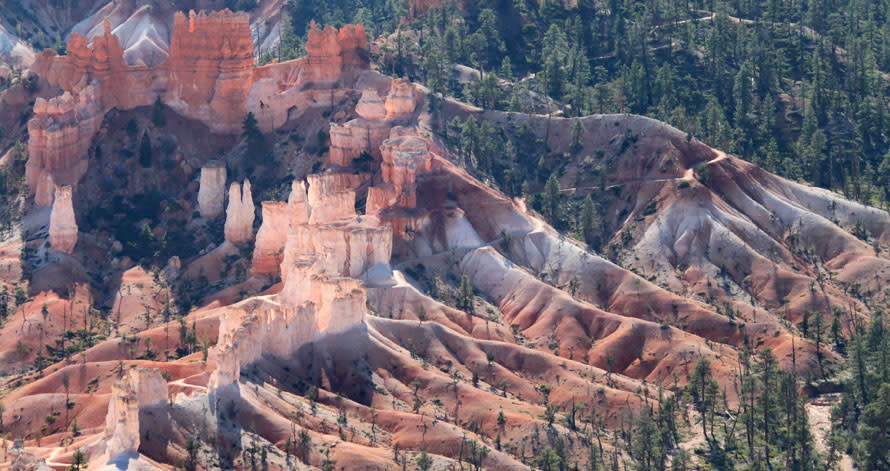 From Navajo Loop hikers can head back up to the rim, or continue along the Queen's Garden Trail. The 1.5-mile moderate trail winds along the amphitheater floor through the Queen's Garden, past unique rock formations like the Queen Victoria (the trail's namesake), the Queen's Castle, and Gulliver's Castle. The Queen's Garden Trail climbs back up to the rim at Sunrise Point, with a total elevation gain of 320 feet. Combined with Navajo Loop, the hike is three miles long and takes two to three hours.
Fairyland Loop Trail begins at Fairyland Point, a lesser visited overlook in Bryce Canyon National Park. The trail descends nearly 1,000 feet into the amphitheater for an up close and personal view of the multi-colored hoodoos. The trail is a strenuous 8.3 miles through Fairyland and Campbell Canyons and circling around Boat Mesa.
At the southwest end of Bryce Canyon National Park, Rainbow Point is the highest point in the park at 9,115 feet. From Rainbow Point, the 1-mile Bristlecone Loop Trail offers a pleasant stroll to some of the most expansive views in the park. A spur trail leads to views of the layered cliffs of the Grand Staircase at Yovimpa Point, and a stand of thousand-year-old bristlecone pines.   Check out our hiking guides for the areas surrounding Bryce Canyon.
Backcountry Trails & Permits The trailheads for two of Bryce Canyon National Park's backcountry trails begin at the southwestern end of the park. Beginning at Rainbow Point, the Under the Rim Trail is a strenuous 23-mile trail through Bryce Canyon's rugged backcountry, ending at Bryce Point. Be prepared to camp at one of the eight designated campgrounds with a mandatory overnight permit obtained from the visitor center before heading out. The same goes for the Riggs Springs Loop Trail, which begins at Yovimpa Point and traverses through ancient bristlecone forest and aspen grove, with spectacular views of the red cliffs. A spring along this backcountry trail is tempting but water should be treated before drinking. Open campfires are not permitted in Bryce Canyon National Park's backcountry.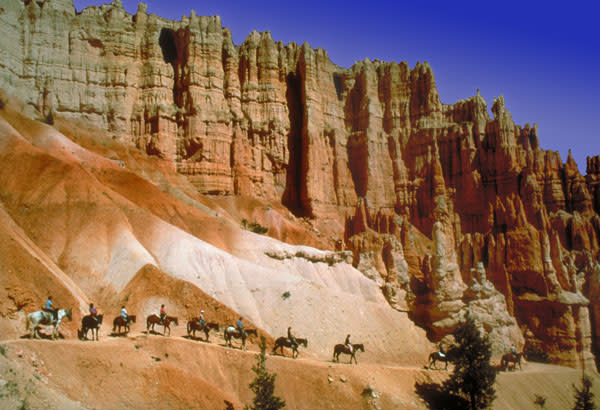 Horseback Trails Hikers and equestrians alike will enjoy the Peekaboo Loop trail. This strenuous 5.5-mile trail takes three to four hours and has an elevation gain of 827 feet. The trail begins at Bryce Point and follows a series of switchbacks 1,000 feet into Bryce Amphitheater, eventually connecting with the Navajo Loop trail.
Fringe Trails The Mossy Cave Trail is an easy, one-mile hike at the north end of Bryce Canyon National Park that allows hikers to stroll among the hoodoos without having to hike down into the amphitheater. The trail can be reached by passing the park's main entrance and continuing on Scenic Byway 12 for four miles, toward Tropic.
Mossy Cave is an extremely popular trail in summer—consider visiting before 10 a.m. or after 4 p.m. to avoid peak visitation.
The Mossy Cave parking lot has recently been changed to improve traffic safety and flow. Slow down when approaching this area as vehicles may be entering or exiting.
Only park in designated areas. Illegally parked vehicles may be damaged by falling rocks along roadsides.
Delicate rocks and sensitive plants exist throughout this area, so please stay on the main trail and respect all posted signs.
Please note that no camping is permitted in the Mossy Cave area, including the parking lot.