10 Years and Running - July 13, 2013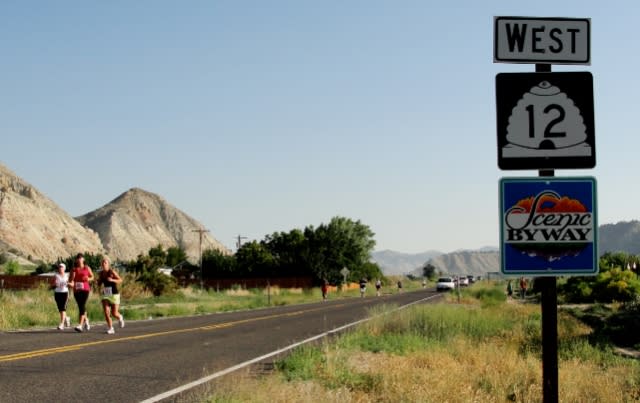 Runners enjoy the views of Scenic Byway 12
The Bryce Canyon Half Marathon celebrates its 10th dash through Bryce Canyon National Park on July 13, 2013. The race begins at Ruby's Inn near the entrance to Bryce Canyon National Park and heads north on Scenic Byway 12, ending in Cannonville. Competitors race through the park from a starting elevation of 7,652 feet, down through the town of Tropic to the finish line in Cannonville at 5,800 feet. The early morning race begins at 6 a.m. and ends at 9 a.m. so runners can avoid the summer heat. A $3,000 purse is divided amongst the top five men and women, and finishing medals are awarded to all runners who cross the finish line before 9 a.m.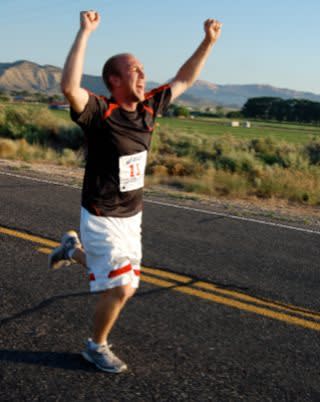 A runner celebrates at the Bryce Canyon Half Marathon
This family-friendly event also includes a 5K Run/Walk loop beginning and ending at Cannonville City Park. The course is flat and follows the paved road to Kodachrome Basin State Park. The 5K Run/Walk begins at 6:30 a.m. but participants should plan to arrive early to avoid the road closure. Walkers are also welcome on the half-marathon course.
Shuttle buses are available, along with several water/first aid stations and port-a-potties. Fruit, bagels and water are available to half-marathon runners at the finish line. Expect early morning road closures along Scenic Highway 12 and Highway 63 to safely accommodate participants.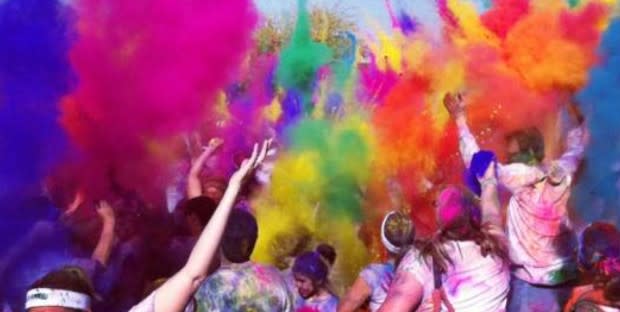 Enjoying the ambience of the Bryce Canyon Color Me Fun Run
Also don't miss the Color Me Fun Run the night before the race. This fun event starts at 6 p.m. on July 12 at Cannonville City Park, where runners of all ages and skill levels will be blasted with color or, if you want to save your energy for the next day, you can throw color for just $5. There will also be a runner's spaghetti dinner from 6 to 9 p.m. at the park.
Register for this extraordinary event online at BryceCanyonHalfMarathon.com.   Learn about other events - brycecanyoncountry.com/events